Many people enjoyed the peaceful and serene energy Falun Dafa practitioners brought to the Pacific Pines Winterfest on July 22, 2017.
The Falun Dafa group has been invited to participate in this annual Gold Coast festival for the past five years. The event attracts thousands of people, some of whom come from as far as Brisbane and Coolangatta (near the New South Wales border).
Many who visited the Falun Dafa booth had heard of the meditation practice before. One such visitor, Greg, said he had stopped at a Falun Dafa booth at the recent Ormeau Fair. He then visited the group exercise site in his area to learn the movements and said he could feel a strong energy field there.
Australian Labor Party Queensland state parliament election candidate Meaghan Scanlon was pleased to meet with Falun Dafa practitioners and joined a group photo in front of the stall. Ms. Scanlon has shown support for Falun Dafa on many occasions.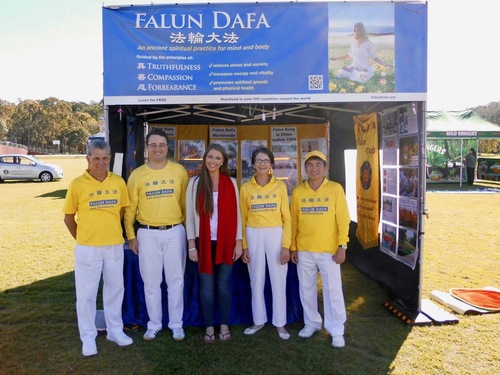 A visitor from another booth, Eric, said he has been moving toward a healthier lifestyle and had recently quit smoking and drinking. He said it was very timely that he learned about Falun Dafa.
The Falun Dafa group was invited to demonstrate the exercises on stage. The MCcommented that the demonstration and the music made him feel more relaxed already.
(Clearwisdom)