When 47-year-old Ms. Xu Chensheng went out in the morning on May 16, 2012, no one knew it would end up being the last day of her life.
On May 18, her ex-husband Yang was notified by the police that Ms. Xu had died two days earlier. Her son Yang Xujun, a college student at the time, traveled home when he heard the news.
At the funeral home, Xujun saw that his once healthy and beautiful mother was gone, replaced by a cold, frozen body. Amid the white vapor that came out of the freezer, he saw that her eyes were still open.
Grief-stricken, Xujun promised to expose her unjust death and began a journey to seek justice for his mother, who had suddenly lost her life after years of repeated arrests for her faith in Falun Gong.
Numerous Arrests for Her Faith
Like many other Falun Gong practitioners in China, Ms. Xu had suffered tremendously for refusing to renounce the spiritual practice that was unlawfully banned by the communist regime in 1999.
For appealing to government officials on behalf of Falun Gong in 2000, Ms. Xu was arrested by Chenzhou City police, followed by detention and a fine. A year later, she was sent to a brainwashing center at the Beihu District Party School.
In March 2005, the local 610 Office instructed her employer, Chenzhou Tobacco Factory, to send her for another round of brainwashing. To escape the persecution, Ms. Xu was forced to stay away from home and fled to another city. When she returned a month later, she found that her employer had fired her [not because of absence, but due to the persecution].
For passing out Falun Gong fliers, Ms. Xu was detained for another 15 days. Following her release, the 610 Office ordered the police to arrest her again. After failing to find her, the police put her on the "wanted" list.
In August 2008, police arrested Ms. Xu when she renewed her identification card at the Suxian District Police Department. Officials detained her for several months and was going to send her to a forced labor camp. Baimalong Labor Camp refused to accept her and she returned home.
When Ms. Xu was on a train from Guangzhou to Chenzhou in June 2011, the conductor discovered she did not have her identification card during an inspection. The conductor checked her bag and found a Falun Gong book and several Falun Gong fliers. Officials detained her and ransacked her place. To protest the abuse, Ms. Xu went on a hunger strike until she was released 45 days later. Officials attempted twice to get her into Baimalong Forced Labor Camp but were turned away both times due to her poor physical condition.
Eventually, her husband could no longer bear the constant pressure and divorced her.
Interrogation and Death
Ms. Xu was arrested at 10 a.m. as she walked past the Dongjiandijing Hotel in Chenzhou. From a security video recording, her son Xujun saw officers from Renminxilu Police Station arrive in a police van and drag her into the van.
At the police station, Ms. Xu was handcuffed behind her back to an iron chair for interrogation. It lasted 12 hours, during which she was not allowed to eat, drink, or use the restroom. Around 10 p.m., she was informed she would be detained for 10 days.
Records showed that three officers took her to a police van and left the police station at 10:39 p.m. By 11:15 pm, a doctor in Chenzhou First Hospital two miles away announced Ms. Xu's death.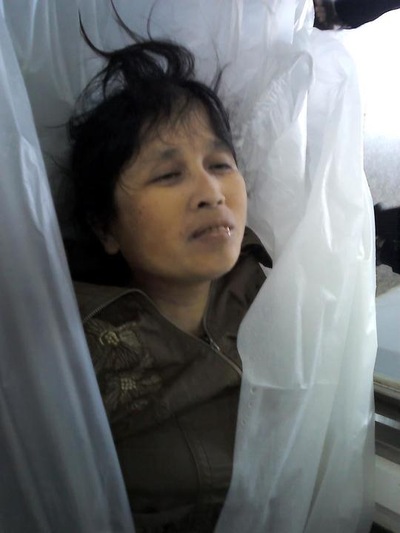 Autopsy Denied
According to Xujun and other family members, Ms. Xu's face was a ruin. They requested an autopsy, but it was denied.
Members of the Chenzhou Political and Legal Affairs Committee and 610 Office, plus police officers, and family members met together on May 21. In this meeting and the subsequent 10 meetings, the authorities shirked their responsibility and threatened the family.
When the family once again requested an autopsy, they faced more intense resistance and pressure from the authorities, including the Political and Legal Affairs Committee, procuratorate, court, and the police. Mr. Tang, an attorney hired by the family, was outraged: "It is unlawful for police, procuratorate, and court to conspire to interfere with an investigation!"
In addition to stopping the family from hiring an independent medical doctor for an autopsy, officials also prevented Ms. Xu's older brother from helping with the case, threatening to have him fired.
Still, Ms. Xu's family did not yield and refused to sign paperwork approving the cremation.
Response from Community
Ms. Xu's sudden death in police custody drew attention in the community. Many people were appalled and called for an investigation.
A neighbor contacted media in the region, urging them to report the story. "We cannot send reporters for this, because it is related to Falun Gong," said a manager at Hunan Metropolitan. "Even if we write an article, it won't get published."
Numerous posters appeared in Chenzhou soon after that, informing the public and calling for an independent autopsy. Pamphlets and text messages were also circulated in the region.
Many people stopped to read the posters. "This society is a mess," one person said. "Falun Gong practitioners are innocent and they should have freedom of belief. The communist party is vicious to have killed a person like this."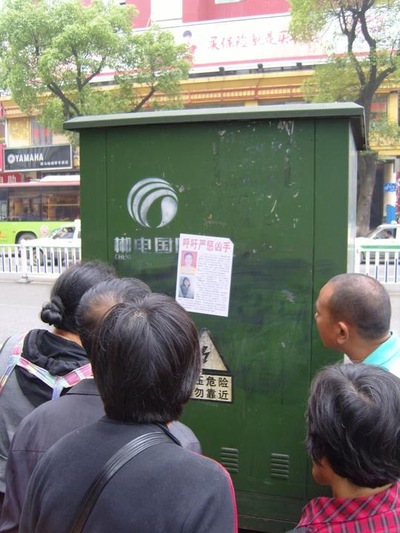 State Compensation Four Years After Death
Ms. Xu's body was kept in Chenzhou Funeral Home after her death.
Her son Xujun requested state compensation from Beihu Police Department on August 26, 2014. He received a notice on October 24 that the request was denied. Xujun then appealed to the Beihu Court. "My mother was healthy. The defendant is responsible for her sudden death after her arrest and interrogation," he wrote in the appeal.
A settlement was finally reached by the Beihu Court on December 19, 2016. A compensation of 325,000 yuan was granted to her son. Her body was to be cremated in five days.