Falun Dafa practitioners in Serbia held activities to introduce Falun Dafa in small cities around Serbia in recent weeks. Each activity was promoted locally through Facebook a few days in advance, and residents were invited to join and learn about the practice, and try out the exercises.
A Day in Valjevo
On the main city square in Valjevo, many passersby had the opportunity to learn about Falun Dafa and the unlawful persecution of the meditation practice in China. Some came specifically to learn the exercises.
A mother of three small children saw the Facebook post and watched the attached introductory video. She liked what she saw and decided to come learn.
Two judo masters stopped by when they heard the Falun Dafa music. They explained to the practitioners that they had once learned Falun Dafa but later gave it up, thinking that it conflicted with their teaching judo.
One practitioner shared his understanding that their running into a Falun Gong event on the street may not be a coincidence, and that teaching judo is not at odds with practicing Falun Gong.
Pleased to hear the news, the two invited the practitioners to give a Falun Gong presentation at their studio.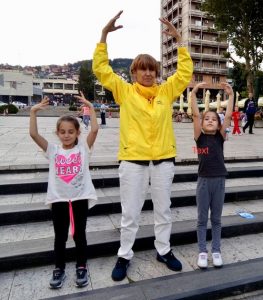 A Day in Smederevo
The next activity was held in the city of Smederevo, an ancient city with cultural remains from 6000 B.C.
The "Falun Dafa in Serbia" Facebook page announcing the event received over 100 likes, and 15 to 20 locals came to learn the practice.
An elderly gentleman came with his granddaughter. He said he had learned the exercises from a video but needed help improving his movements.
A young boy took a flyer and quietly watched the exercise demonstration. When invited to join, he said he did not know that children could practice. He happily joined in.
More and more people joined the three-hour event, and some even stayed for a second session of exercise instruction.
A man in his forties was one of them. He said he did not know about Falun Gong before he saw the online ad. He had not planned to attend this time, but he had a dream the previous night that made him realise that he should not miss this opportunity.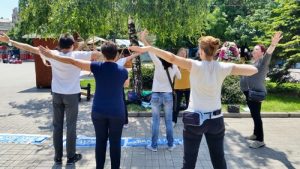 A Day in Užice
The City of Užice is located the mountains of western Serbia. When practitioners arrived late in the afternoon, some locals were already there, waiting. When the Dafa music started, the atmosphere on the square suddenly changed, and all eyes in local cafés were on the practitioners in yellow shirts.
A lady accepted a flyer and had a long conversation with a practitioner. She said she liked the practice and would definitely learn it. She was confident her husband would be interested, too, but she did not have time now to learn the exercises.
However, after some time, she appeared in a nearby cafe and watched. Then, she got up and joined the exercises. She performed the first four sets of exercises and even persisted in practicing the standing meditation for half an hour.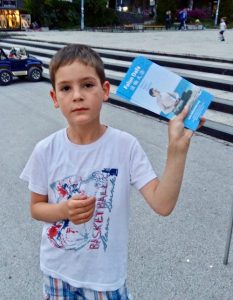 It was dark when the event was over. While practitioners were packing up, a boy approached and started counting the flyers. He took a pile of them. A practitioner asked how many he counted, and the boy said, "fifteen."
"Why do you need fifteen?"
"I want to give them to my friends," he said.
The practitioners plan to continue visiting small cities in Serbia throughout the summer.
(Clearwisdom)
6 total views