Mr. Wang Bin of Jiangmen, Guangdong Province was arrested and detained on May 22, 2017 for practicing Falun Gong, a spiritual practice being persecuted by the Chinese Communist regime.
His wife, Liang Jinyou, who also practices Falun Gong, together with other practitioners in Hong Kong, held a rally on May 30 in front of the China Liaison Office to protest her husband's unlawful detention and called for his immediate release so that he can be reunited with wife and daughter in Hong Kong.
Ms. Liang stated during the rally that dozens of police officers broke into Mr. Wang's home on May 22 and took away him and his 10-year-old daughter. They detained father and daughter in the Huayuan Police Substation while officers searched Mr. Wang's home and confiscated his cell phone, laptop and desktop computers, Falun Gong books, DVDs with Falun Gong information, and other personal belongings.
Mr. Wang's daughter was released at 10 p.m. that evening, but he remains at the Jiangmen Detention Centre.
Ms. Liang said that her daughter was alone at home in Jiangmen for a time. Police ordered a relative to take care of the child and threatened the relative that Mr. Wang would be sentenced to a seven-year prison term if he tried to raise awareness of the persecution of Falun Gong.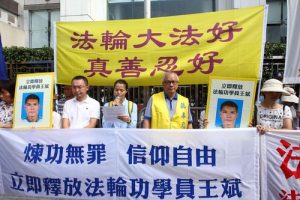 Previous Persecution
Mr. Wang took up the practice of Falun Gong in 1996 and has been persecuted under the Chinese Communist Party since 1999. He was tortured in forced labor camps and incarcerated in Sanshui Labor Camp in 2000 for three years.
Prior to the May 22 arrest, Mr. Wang was arrested on November 1, 2006 and detained in the Sanshui Brainwashing Center for six months.
His wife Liang Jinyou has obtained residency in Hong Kong after being repeatedly held in detention centers and brainwashing centers in China. She was incarcerated in the Sanshui Labor Camp for one and a half years in August 2002, where she was tortured in the authorities' efforts to force her to renounce her belief.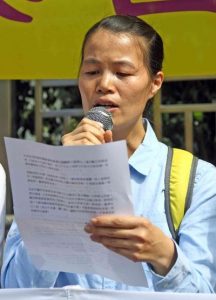 Seeking Help Abroad
Ms. Liang said she also applied for Hong Kong residency for her husband and daughter, but the application was blocked by the Jiangmen 610 Office.
Ms. Liang's sister Liang Yuzhen, also a Falun Gong practitioner, recounted her painful experience of persecution in China.
Kan Hung-cheung, spokesperson for the Hong Kong Falun Dafa Association, said that several Falun Gong practitioners from Hong Kong and their relatives were recently arrested and imprisoned in mainland China. Many of them have been released because of efforts from various legal organisations and government agencies. He called upon the Hong Kong government to assist Mr. Wang in his application for residency in Hong Kong.