Nadia Ghattas, 62, is a real estate consultant in Manhattan. As a Falun Gong practitioner who has enjoyed this ancient Chinese cultivation practice for 16 years, she did the exercises on Union Square with thousands of other practitioners from all over the world just before the World Falun Dafa Day parade began on May 12.
Nadia had two reasons for coming to the celebration: She wants more people to benefit from Falun Gong, which she says is "a gift from heaven," and she wants more people to know that it is being persecuted in China and to help to end it.
Looking for Life's Purpose
Before practicing Falun Gong, Nadia was a big fan of yoga.
"I wanted to find the truth. Yoga gave me better health, but it couldn't answer my questions," she said.
Nadia was born into a Christian family in Jerusalem. She studied the Bible, but she still had many questions about the purpose of life.
In 1970, she moved to New York. By 2001, she had become a successful businesswomen, working for a big financial institution in the World Trade Center.
While many others envied her life, Nadia felt something was missing.
"I always thought there must be something more. I wanted to know the truth, so I started on a spiritual journey. Yoga was one attempt."
A Flyer Turned Her Life Around
The intensive yoga training hurt her knee, and she had to have surgery in 2001. After the surgery, she was frustrated.
"I tried my best, and then this happened. What else can I do?" She felt helpless and cried in the hallway near her office.
Then she noticed a flyer on the floor and picked up. It was about Falun Gong.
"I read the introduction and thought to myself, 'This seems to be what I've been looking for.'"
She dialed the number on the flyer and found a copy of Zhuan Falun, the main book of Falun Gong.
"I couldn't put the book down. The guiding principles of Truthfulness-Compassion-Forbearance, the evolution of the universe, the relationships among all the substances—all of it resonated with me. The book answered all my questions," Nadia recalled and smiled.
"I read three or four chapters a day and did the exercises twice a day. When I did the exercises the first time, I saw a giant white energy ball go through my body and leave through my heels. That night, I felt a Falun (law wheel) rotating in my abdomen."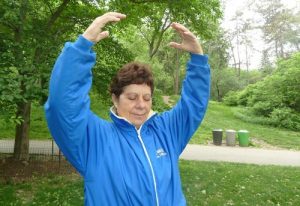 Staying Youthful and Compassionate
"I am 62 this year, but people around me often say I look younger," Nadia smiled.
"I used to get my teeth cleaned often, and the dentist tried to convince me to have some of my teeth pulled. Yoga didn't help. But after I'd practiced Falun Gong for three months, my gum disease disappeared. My dentist said if I didn't have my teeth pulled then, within 10 years, I would lose all my teeth." Nadia laughed, "It has been 16 years, and I have had no problems with my teeth."
This was relatively minor compared to the changes in her character, however.
Soon after she started practicing, several people noticed that she had changed a lot.
"I used to be very competitive. That is common in this business. But Falun Gong gave me a sense of peace. I no longer fought with people. I became more compassionate. I began trying to understand the situation from the other person's angle. I began to look and feel calmer. Not only that, I quit smoking and drinking," she said.
Nadia said that she used to be judgmental and couldn't put up with other people's faults. However, since following Truthfulness-Compassion-Forbearance, she has become more tolerant and has resolved some long-existing conflicts.
"I used to be angry with my father," she said. "Before he passed away, we reconciled. When I forgave him, I felt real harmony in my heart. It was a wonderful feeling."
Winning Customers with Honesty
In Nadia's field, many people will do just about anything for money. But Nadia only wants what she deserves.
"Since I don't fight for money, I can stay calm. In business meetings or when making deals, people often fight. But I am able to keep calm at those times. Many people have said that they want that ability, too, and have asked me how I do it. I then tell them about Falun Gong.
"My customers know that the guiding principles of my life are Truthfulness-Compassion-Forbearance, and they know I will not cheat them, so they like to do business with me. That's why I can make some big deals."
Nadia emphasized that, although cultivating Falun Gong does help her do business, the reason she practices Falun Gong is not to make money but to cultivate Truthfulness-Compassion-Forbearance and to tell others about it, so that they, too, can benefit from these principles.
Like many people, Nadia also thought a person had to fight to make money. But now she has changed her mind completely.
"If I can focus on my work and be honest and considerate, then, without fighting, I can win customers that others cannot."
50 total views