For almost two decades, young Falun Gong practitioners on college campuses around the world have devoted themselves to introducing this ancient Chinese cultivation practice to students and faculty while raising awareness of the fact that it is being persecuted in China. The following reports cover events on five American university campuses over the past weeks.
Columbia University, New York City
On April 4 and 5, members of the Falun Gong Club at Columbia University handed out flyers and told people about the state-sanctioned forced-organ harvesting of Falun Gong practitioners and other prisoners of conscience in China.
Many people on campus were already aware of the persecution and showed their support, including a number of Chinese people.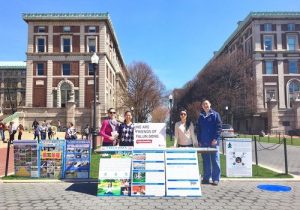 At the event, a Chinese man told the practitioners to leave, saying there was a U.S.-China submit meeting taking place in a building nearby and that the Chinese attendees could see the practitioners. He said that that embarrassed him. The practitioners talked to him patiently about the persecution. The man calmed down and told them that he actually agreed with Falun Gong's teaching of Truthfulness-Compassion-Forbearance.
Mr. Liu, a Chinese tourist, was glad to see Falun Gong on campus. He talked to the practitioners for a long time.
"It is really great that you young people tell people about Falun Gong. Bravo!" he said.
Mr. Liu knows how brutal the persecution is in his hometown. "I cannot believe the police still follow the persecution policies. They need to see the trend and think about their own future. They will be brought to justice.
"The communist party claimed that they would be able to eliminate Falun Gong in three months in 1999. What do they say now! Wherever they go overseas, they will encounter Falun Gong. You guys are great."
Before he left, Mr. Liu added, "The communist party is the real evil cult. Falun Gong is the hope of China. Keep me posted about your activities. I will try my best to make it. Falun Gong follows the heavenly principle, so you've got support. The communist party is against heaven, so they've lost support."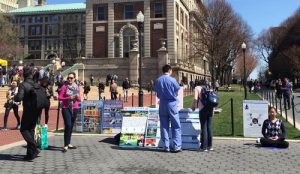 Purdue University, Indiana
At Spring Fest 2017 on the campus of Purdue University on April 8 and 9, Falun Gong practitioners held a free exercise workshop. Interested students, faculty, and campus visitors learned the gentle movements and the teachings of this cultivation practice.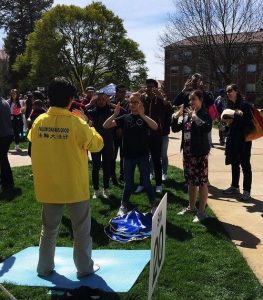 Spring Fest, the largest annual event on campus, attracts more than 30,000 visitors every year.
On the lawn in front of Memorial Hall, waves of people stopped by the practitioners' booth. Some of them visited again the next day, having taken Falun Gong flyers the day before. Many of them left email addresses and signed up for the free workshop at Happy Hollow Park on the weekends.
Many people had already heard about Falun Gong. A high school girl said that her teacher had talked about the persecution in their social studies class. This was the first time she had seen Falun Gong in person. She took a stack of Falun Gong materials for her classmates and teacher.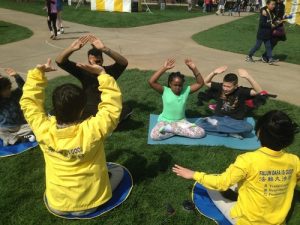 Purdue University has one of the largest Chinese student communities in the U.S., with a thousand Chinese freshmen every year. Many Chinese also stopped by practitioners' booth. Some of them were well-informed about the persecution. They were very encouraging, saying things like, "Well done. You should hold more events like this, so that more people will know what is going on in China."
Rochester College, Michigan
Since 2006, Falun Gong practitioners in Michigan have been invited to speak at the World Religion class taught at Rochester College every year. Although the course had a new instructor last year, the Falun Gong presentation is still in the course syllabus.
On April 7 and 20, the course instructor, Prof. Manry, invited practitioners to give two lectures.
Practitioners talked about what Falun Gong teaches—Truthfulness-Compassion-Forbearance, about the exercises, and about the persecution in China. They also talked about their own experiences in cultivation, such as looking inward for one's own faults during conflicts and treating others with compassion.
The students learned the five exercises and did 20 minutes of meditation.
Practitioners emphasised that Falun Gong cultivation is done "in the real world." Practitioners have families and jobs and social activities. Cultivation, they explained, refers to improving oneself in everyday social conflicts and correcting one's own thoughts, such as jealousy.
The students asked many questions, and the one-hour lecture was extended to two and a half hours.
In his thank-you note, Prof. Manry said that practitioners always leave a positive impression, and he hoped to see them again next year.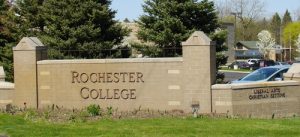 University of California, Davis
On April 22, Falun Gong's Tian Guo Marching Band performed in the 103rd Picnic Day Parade on the campus of UC Davis. It was the fifth time that spectators were able to experience Falun Gong in this annual event.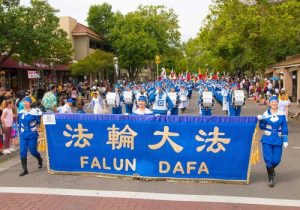 Local resident Ann said she watches for the Falun Gong band every year, and really enjoys it. She added "The persecution in China is really evil. It should end now."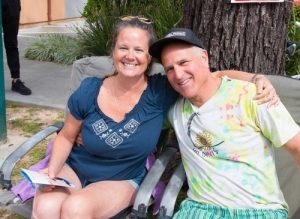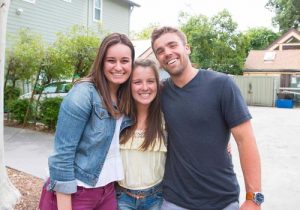 Arizona State University
The Falun Dafa Club at Arizona State University won the "Outstanding Student Organisation" award on April 25.
At the ceremony, many Chinese students applauded the practitioners for informing the public about the persecution in China. Some of them took photos and said they would share them with their friends and families in China.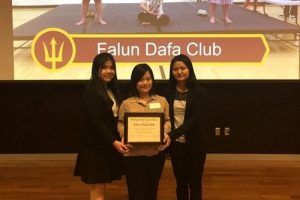 That same day, practitioners did the exercises together in front of the state capitol building and talked to visitors and government officials about the persecution.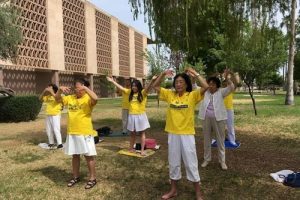 (Clearwisdom)