The US South Falun Dafa Association held a press conference in front of the Chinese Consulate in Houston, Texas on March 2, 2017 to call for the release of Falun Dafa practitioner Han Xuejiao. She has been detained since her arrest in the afternoon of February 17, 2017 for her belief.
Han works at a company in Shanghai. Her Grand Aunt, Lianrong Li, lives in Texas and worries about her plight. Ms. Li immigrated to the United States over ten years ago and lives in Dallas, Texas. She called the police department in Shanghai to inquire about Han and was told that she would be released if money is given.
Li went to the Chinese Consulate in Houston at around 11 a.m. on March 2 and met with a staff member there. She told them, "Han Xuejiao was weak since she was young. She become healthy and energetic after starting to practice Falun Gong. She did not commit any wrongdoing. It was illegal for the police to arrest her." She asked the consulate staff to contact Shanghai to request Han's release.
The consulate staff said he could do nothing for what happened in China and would not accept Li's petition letter. Ms. Li then mailed her letter to the consulate, along with a report on Han from Minghui.org.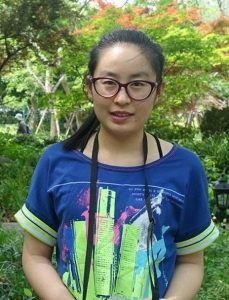 There were many people standing in line for visa applications or other business. At the press conference, Falun Gong practitioners explained the Chinese Communist Party's (CCP) persecution of Falun Gong in China and the regime's state-sanctioned killing of Falun Gong practitioners for their organs.
Ms. Li said at the press conference, "Han Xuejiao was taken away at around 5 p.m. on February 17. Her home was ransacked. She has been detained in Changning Detention Centre in Shanghai. Her family hired a lawyer, who went to the police substation and asked why Han had been arrested."
"The police did not give a specific reason but only a blurred photo. They framed her after arresting her. It was the police who violated the law. Han did not commit any wrongdoing. It was said that Han protested the persecution by holding hunger strike after she was detained."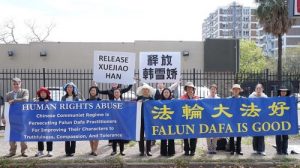 Background
Falun Gong was made public in 1992 and soon spread across China due to its beneficial effect on health improvement and morality. Near 100 million people practiced it by 1999. Out of jealousy, and paranoid of losing control of the people, Jiang Zemin, former head of the CCP, initiated the persecution of Falun Gong on July 20, 1999.
The persecution has led to the deaths of many Falun Gong practitioners in the past 17 years. More have been tortured for their belief and killed.
Under Jiang's personal direction, the CCP established an extralegal security organ, the "610 Office," on June 10, 1999. The organization overrides police forces and the judicial system in carrying out Jiang's directive regarding Falun Gong: to ruin their reputations, cut off their financial resources, and destroy them physically.
The CCP even conducts state-sanctioned live organ harvesting for lucrative profit. Due to CCP's information censorship, the exact number of practitioners died in the persecution is not known.