February 11 is the Lantern Festival, a well-celebrated occasion that marks the end of the Chinese New Year season. Falun Gong practitioners participated in the celebration at Sara Delano Roosevelt Park near Chinatown in New York City.
Led by dragon and lion dances, these performances immediately draw a big crowd of young and old alike. The music, singing, and waist drums brought wave after wave of applause.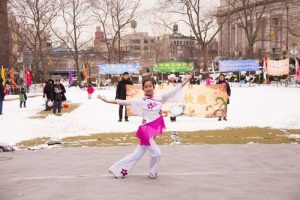 Well Received by Local Residents
Ms. Lin, a local resident who emigrated from Fujian Province in China, said she knew of the suppression of Falun Gong in China. "I know the Communist Party has persecuted lots of people, including Falun Gong practitioners. But in that harsh environment, it requires courage for one to stand up for his or her belief." She was glad to see that practitioners have brought joy and energy to the event.
Mr. Chen, who works in a local restaurant, said he impressed by the songs the practitioners performed. He was happy to see genuine Chinese culture spread to various regions and backgrounds in the form of practitioners who represent diverse ethnic groups.
Speaking of the suppression in China, he said the Chinese Communist Party "always tries to control people, but will always fail in the end."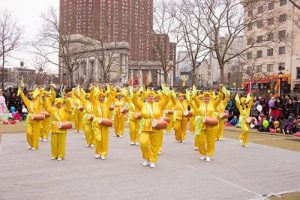 Embracing Traditional Values
Margaret Chin, a city council member, wrote: "I am pleased to greet all of you as you gather together to celebrate the Year of the Rooster with a traditional lantern festival…. Today's festivities are an important part of our efforts to uphold and share Chinese culture and customs with the Chinatown community, and beyond."
"I wish all practitioners of Falun Gong a happy, healthy and prosperous New Year!" she wrote in the letter.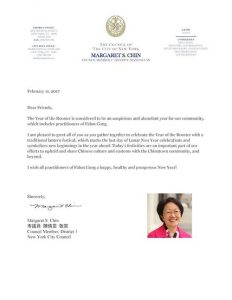 Michael, an organiser of the event, said Falun Gong practitioners are active members of the community. "New York City is like a cultural center in the U.S.–very dynamic and fast-paced. We hope our contribution will make the society more enjoyable and peaceful."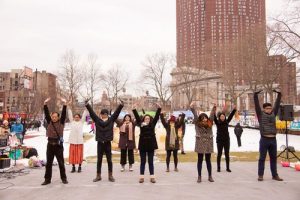 (Clearwisdom)
52 total views