More than a thousand Falun Gong practitioners were sentenced for speaking out against the persecution of their belief by the Chinese Communist Party in 2016.
Those sentenced represent 29 provinces and centrally-controlled municipalities in China. They come from all walks of life, including teachers, engineers, doctors, company managers, and business people, as well as retired military and police officers.
Of particular note, Dr. Zhu Jiaxian, an 81-year-old physician in Shandong Province, was sentenced to three years with five years' probation on July 29. He was prosecuted for filing a criminal complaint against Jiang Zemin, former leader of the Chinese Communist Party, for launching the persecution of Falun Gong.
Another senior, Mr. Liu Dianyuan, 79, was sentenced to 11 years in prison in Liaoning Province for suing Jiang Zemin.
The longest term—13 years in prison—was handed down to Mr. Wang Desheng, a practitioner from Ningxia Province. His wife, Ms. Shan Jining, was sentenced to three years. The court extorted a total of 60,000 yuan in fines from the couple. When the police arrested the couple, they confiscated from their home more than 100,000 yuan worth of cash, computers, printers and other materials that the couple used to produce flyers exposing the persecution of Falun Gong.
In addition to the prison sentences, the legal system also extorted an exorbitant amount money, in the form of fines, from 153 practitioners in their implementation of Jiang Zemin's directive against Falun Gong to "defame their reputations, bankrupt them financially, and destroy them physically." The fines added up to 1,463,400 yuan in 2016, averaging 9,565 yuan per practitioner.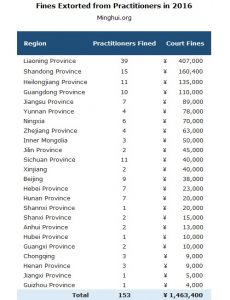 Sentenced for Speaking Out
Mr. Qin Wei, an artist in Beijing, was handing out copies of the Nine Commentaries on the Communist Party, a book that documents the Chinese regime's history of atrocities against its own citizens.  When he gave a copy to a plainclothes police officer, he was arrested and later sentenced to 2.5 years in prison on December 15, 2016.
Like Mr. Qin, many Falun Gong practitioners were sentenced for distributing materials to raise awareness of the persecution or speaking out for their beliefs.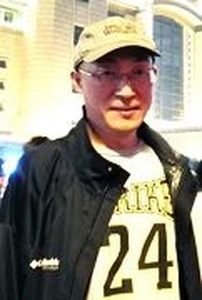 Ms. Huang Qian, a former employee of the Guangzhou Book Centre, was sentenced to a five-year prison term on December 30, 2016, for blogging about the repeated arrests, detention, and torture she suffered for her belief in Falun Gong.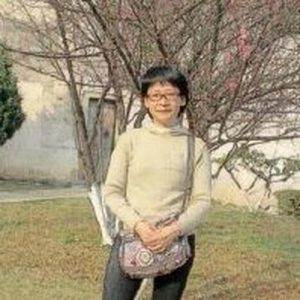 Another practitioner, Mr. Zheng Jingxian, was given three and a half years by the same court that sentenced Ms. Huang, also for blogging to expose the persecution.
167 Practitioners Sentenced for Suing Jiang Zemin
Since May 2015, more than 200,000 Falun Gong practitioners have filed criminal complaints with the Supreme People's Court and Supreme People's Procuratorate against Jiang Zemin, who ordered the violent suppression of Falun Gong in 1999.
In retaliation, police around the country intensified their harassment and arrests of practitioners. In 2016, 167 practitioners were sentenced for suing Jiang, including several practitioners in their 80s.
In the city of Chaoyang in Liaoning Province alone, it has been confirmed that 27 practitioners were sentenced for suing Jiang Zemin. The longest prison term was 12 years.
Mr. Bai He, a Jilin City veteran, was tried without legal representation in a Fengman Court on June 1, 2016, for suing Jiang Zemin. None of his family members or his lawyer were informed of the trial.
Mr. Bai was sentenced to 3.5 years in prison on August 5. It was not until his lawyer visited him in the detention center on August 12 that he found out about the secret trial and sentence.
According to the lawyer, the verdict claimed that Mr. Bai had been given an open trial, which was in fact held secretly, and that he was sentenced for "spreading propaganda promoting Falun Gong," which referred to his criminal complaint against Jiang Zemin. He was also accused of helping another practitioner by uploading her lawsuit against Jiang to the Minghui website.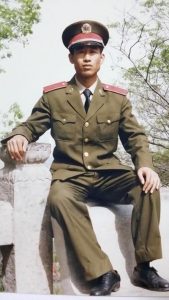 Repeatedly Sentenced
Among those who were sentenced in 2016, many have been sentenced multiple times in the past for refusing to renounce their belief in Falun Gong.
Mr. Zhou Xiangyang from Tianjin was sentenced to 9 years in prison in 2003. During his imprisonment, his fiancée, Ms. Li Shanshan, did everything she possibly could to rescue him, only to be arrested and sentenced herself. Soon after the couple was finally reunited after a decade of separation, both were arrested again in 2015.
After two hearings in the Dongli Court, the couple were sentenced in October 2016, charged with "using a cult to undermine law enforcement," a standard pretext used by the Chinese communist regime to imprison Falun Gong practitioners. Mr. Zhou was given 7 years and Ms. Li 6 years.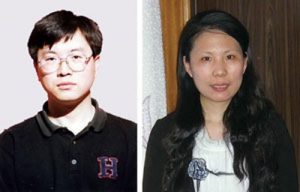 Violation of Legal Procedure
As more and more human rights lawyers stepped up to defend Falun Gong practitioners, the legal system increased its efforts to prevent the lawyers from defending their clients.
During the trial of six Falun Gong practitioners in the Feixiang District Court on October 11, 2016, one of the defence lawyers, Mr. Dong Qianyong, was beaten by bailiffs and barred from the courtroom. When Lawyer Dong challenged a bailiff for slapping his face, the bailiff said, "Beating is one of the ways to enhance law enforcement."
When the lawyer was about to file a complaint citing a violation of legal procedure, the bailiff confiscated his cellphone and barred him from the courtroom.
Although another lawyer, Mr. Zhang Zanning, was allowed to stay in the courtroom and defend the practitioners, he was constantly interrupted by the judge during his defence presentation. The six defendants were also deprived of their right to defend themselves during the proceedings.
A few days before Ms. Song Guixiang's trial on July 7, 2016, presiding judge Ma Shuhe from the Yuanbao District Court phoned her lawyer and tried to stop him from entering a not-guilty plea for his client or arguing that the persecution of Falun Gong has no legal basis.
The judge threatened the lawyer, saying that he would increase Ms. Song's sentence and terminate the lawyer's defence if the lawyer did not follow his orders.
Judge Ma also called Ms. Song's husband and told him that he was the only one allowed to attend the trial.
Despite the judge's obstructive behavior, the lawyer defended Ms. Song's innocence during the trial. Ms. Song's 87-year-old father also attended the trial with his son-in-law on July 7.
Ms. Song was sentenced to 3 years in prison on August 3, 2016.

Judge: "We Just Didn't Want You to Know about the Hearing!"
Four Falun Gong practitioners in Gaomi City, Shandong Province, were tried without their families' knowledge. Ms. Shan Jihua's and Ms. Zhang Xiuhua's families hired lawyers as soon as they found out about the secret trial. The court, however, refused to allow the lawyers to represent the practitioners, claiming that the hearing had already concluded.
When the families asked why the court failed to give advance notice of the trial, court president Zong Minghai said, "We just didn't want you to know about it!"
Ms. Shan was later sentenced to 3 years, Ms. Zhang and Ms. Xu Xiaolan were each given 1.5 years, and Ms. Li Shumei received 2 years.
Mr. Yu Wuping of Yichun City, Jiangxi Province, was sentenced to 3 years on August 10, 2016, without the knowledge of his family. The court claimed that since he was an adult there was no need to notify his family.
Related reports: