On the eve of Chinese President Xi Jinping's state visit to Switzerland, Falun Gong practitioners gathered on Waisenhausplatz in the capital city of Bern on January 14, 2017 to call for an end to the Chinese Communist Party's (CCP) persecution. The practitioners also called for an end to the CCP's state-sanctioned organ harvesting from living Falun Gong practitioners imprisoned for their belief in China. Their hope was that President Xi would take action to stop the persecution.
The practitioners held a candlelight vigil to raise further awareness of the 17-plus-year persecution of Falun Gong in China. They displayed portraits of practitioners who lost their lives in the persecution, and set up posters with information exposing the CCP's crimes. Many passers-by paused to look and ask for more information.
Among those who stopped to talk to the practitioners, physical therapist Ursula already knew about Falun Gong. She said, "Falun Gong practitioners are very peaceful. I support them. No government should persecute people for their belief."
After signing the petition against the CCP's live organ harvesting, she remarked, "Live organ harvesting is horrible and evil. It cannot be tolerated. People cannot imagine such a thing. But it occurs." She hoped that Falun Gong practitioners in China can soon freely practice their belief.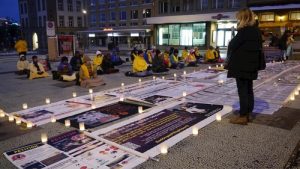 Machinist Joerg was interested in this traditional practice of both mind and body. He had read reports about Falun Gong and talked with the practitioners for quite a while to learn more about the practice and the CCP's suppression.
Joerg said, "There is no reason to persecute and kill those who just want to be good people. Live organ harvesting is a horrible crime. Its evil surpasses what Hitler did."
Joerg signed the petition against the persecution and stated, "I'm signing this for justice and humanity. I cannot tolerate such killings." He hopes that more people will become aware of the persecution and stand up against it.
Sara, who works in the retail business, learned about the CCP's brutality from the practitioners' event. She signed the petition, hoping to prevent more people from being persecuted or killed for their organs. She said that the CCP was too evil and that such horrible things should not happen. Sara also indicated that Western countries should do more to stop the CCP's live organ harvesting.
Another passer-by, Christian said, "Falun Gong is peaceful and has nothing to do with politics. No government should persecute people of belief." He had learned from media report that former CCP head Jiang Zemin overreacted to the peaceful protests during his visit to Switzerland 17 years ago. The Swiss government has restricted protests during President Xi's visit this time. Christian hopes that his signature will help stop the horrible crimes being perpetrated against Falun Gong practitioners in China.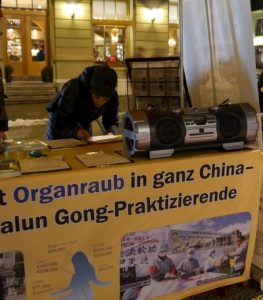 Background
The traditional spiritual practice of Falun Gong was made public in 1992 and soon spread across China due to its beneficial effect on health and morality. By 1999, nearly one hundred million people were practicing. Out of jealousy, and paranoid of losing control of the people, Jiang Zemin, former head of the Chinese Communist Party (CCP), initiated the persecution of Falun Gong on July 20, 1999.
The persecution has led to the deaths of thousands of Falun Gong practitioners over the past 17 years. More have been tortured for their belief and even killed for their organs. Jiang Zemin is directly responsible for the inception and continuation of the brutal persecution.
Under his personal direction, the Chinese Communist Party established an extralegal security organ, the 610 Office on June 10, 1999. The organization overrides police forces and the judicial system in carrying out Jiang's directive regarding Falun Gong: ruin their reputations, cut off their financial resources, and destroy them physically.
Due to CCP's information censorship, the exact number of practitioners who have died in the persecution is not known, but to date, there are over 4,000 documented deaths.
18 total views