The Art of Zhen Shan Ren (Truthfulness-Compassion-Tolerance) International Exhibition was on display at the King Arts Complex in Columbus, Ohio for two and half months starting in September 2016. The exhibition included 34 paintings depicting scenes related to Falun Gong and the Chinese Communist Party's (CCP) persecution of the spiritual discipline.
Director Lyn Logan Grime of the Arts Complex said she was especially touched by the expression of a young girl in a painting that the practitioners showed while introducing the exhibition. The Arts Complex informed the practitioners before long that it welcomed the Zhen Shan Ren exhibition, which would be the first to occupy the renovated Elijah Pierce Gallery.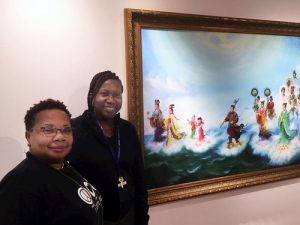 From the paintings that depict current events taking place in China, many patrons learned about the communist regime's persecution of Falun Gong for the first time and were shocked by the brutality. Some had tears in their eyes after viewing the artwork. Many signed a petition against the Communist Party's killing of Falun Gong practitioners and harvesting their organs.
Several teachers brought their students to the gallery and asked the volunteer staff to explain the events behind the paintings.
Many high schoolers and their parents came one weekend to attend an award ceremony for top students. Among them, Mrs. Clark and her son viewed the paintings and asked detailed questions about the persecution in China.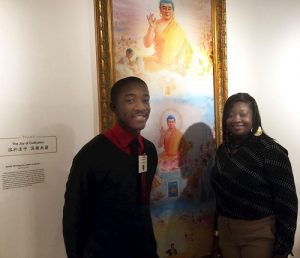 Mrs. Clark tearfully wrote in the guest book, "An outstanding exhibition raising awareness of the persecution in China. People across borders and races should stand up to pray for the people being persecuted and work hard to stop the persecution in China. As an African American, I fully understand the pain of unfair treatment. I could not imagine that in remote China, there are kind people being tortured. I pray for God to bless China and stop the persecution as soon as possible."
Practitioners have held free Falun Gong classes at the complex every week since the end of the exhibition.