Falun Gong practitioners in Poland gathered for a cultivation experience sharing conference in Warsaw on November 26. Fourteen speakers talked about how they handled tests in daily life, let go of attachments, and cooperated with fellow practitioners on projects to raise awareness about the practice and the persecution in China.
Lan, a Vietnamese woman, started practicing Falun Gong about a year ago. She said in her speech that before beginning the practice she had been living under a cloud of negativity and struggle, often complaining about life. One of her friends recommended that she read the book Zhuan Falun (the main book of Falun Gong), and she ended up finishing the entire book in two days.
"It opened my heart, and I felt life was full of brightness. Following the teachings, I learned how to calmly handle the difficulties of life. I don't complain anymore," she said. "I joined the exercise site right away, and I have been trying to get rid of my attachments in daily life."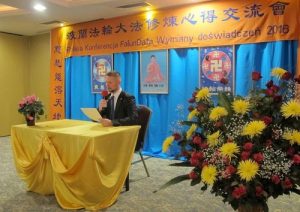 Jakub Sokolowski talked about encountering interference in cultivation. After being bothered by interference in his thoughts for a long period, he realized that looking inward was the key. He found many attachments deeply rooted in his mind, some of which were pointed out by fellow practitioners, but he had overlooked.
He started to send forth righteous thoughts, trying to eliminate these attachments, which had good results. He also said doing the three things sincerely is the most effective way to strengthen righteous thoughts and overcome interference.
"Through reading the Fa carefully, sending forth righteous thoughts, doing the exercises, and getting involved in all kinds of projects, I was able to eliminate the interference, and discern the false-self with karma from the pure, true-self."
Another conference speaker, Piotr, talked about how he helped promote the Shen Yun show. Within seven weeks, he had to be prepared as the host of the show, sell the tickets, and talk to all kinds of organisations and local politicians.
Facing these difficulties, he said that he focused on improving himself with solid belief in Master and the Fa, and that with Master's help, he got everything done successfully.

Basia started practicing Falun Gong seven years ago. Her speech focused on her process of letting go of selfishness in cultivation. She shared that during her involvement in a project to translate Falun Gong books, she felt she was being purified by the teachings.
"I felt that I was leaving a black filthy ball that was full of desires and attachments. When I was close to it, I felt depressed and uncomfortable, and if I was away from it, I felt relieved and peace," she said.
At that moment, Basia had a better understanding of Master's words: "We say that when you take a step back in a conflict, you will find the seas and the skies boundless, and it will certainly be another situation." (Zhuan Falun). To her, "take a step back" is no longer a philosophical concept, but a solid action she can take.
The speeches were simultaneously translated into Chinese, English, Vietnamese, and Polish.
The day after the conference, practitioners held a protest in front of the Chinese embassy in Warsaw.