Croatian practitioners introduced Falun Dafa at the Healthy Living Fair in Zagreb on Saturday, October 1, 2016. The Healthy Living Fair is the largest of its kind in Croatia, with thousands of people attending every year.
When the fair director heard that Falun Dafa was run by volunteers and that there was no charge to learn the practice, he was thrilled, saying what a good thing it was—like a breath of fresh air.
He asked the practitioners to hold a longer introduction to the practice and gave them use of the stage in the Chinese pavilion, which is usually reserved for high-paying exhibitors, free of charge.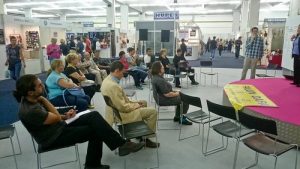 The Falun Dafa presentation generated a larger-than-usual audience, with other nearby exhibitors also observing and listening. The practitioners introduced the practice, demonstrated the five exercises, talked about how Falun Dafa is being persecuted in China, and invited people to come to learn it at the local practice site.
A large number of people, including a lot of passersby and many exhibitors, took flyers.
The audience applauded their presentation, with some personally thanking the practitioners and asking for more information, such as the location of the local practice site and about the persecution.
(Clearwisdom)
34 total views