Representatives of the UK Falun Dafa Association and Doctors Against Forced Organ Harvesting (DAFOH) submitted more than 11,000 signatures on August 22, 2016, on a petition to the office of Prime Minster Theresa May, calling for the British government to help stop the Chinese Communist Party's (CCP) large-scale forced organ harvesting from living Falun Dafa (also called Falun Gong) practitioners.
The signatures were gathered from London, Cambridge, Oxford, Leeds, Scotland, and other places in the United Kingdom, calling for the government to help stop the forced organ harvesting of Falun Dafa practitioners in China. An employee of the Prime Minister's office accepted the petition and said that it would immediately be given to the Prime Minister.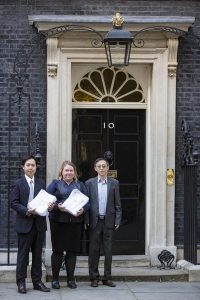 British Falun Dafa practitioners exposed the CCP's persecution and genocide crime of organ harvesting in the petition, and called for the government to take action to help stop the atrocity and safeguard universal values.