After encountering Falun Gong (also known as Falun Dafa) rallies in New York City earlier this week, Chinese Premier Li Keqiang once again saw peaceful protests by the group while visiting Ottawa, Canada for the latter part of the week.
On the way from his hotel to Parliament Hill, Falun Gong practitioners held banners that read "Stop the Persecution," "Bring Jiang Zemin to Justice," and "Falun Dafa Is Good."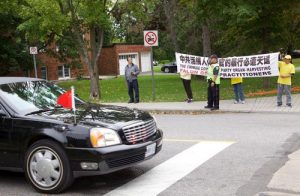 Canadian Members of Parliament Peter Kent and Jason Kenney spoke at the Falun Gong rally in front of Parliament Hill on Thursday. They called on Li Keqiang to help bring the former communist head Jiang Zemin to justice for his crimes in the persecution of Falun Gong.
Jason Kenney, who has served in the House of Commons for 19 years, shouted in Chinese "Falun Dafa is good!" at the rally on Thursday. He called upon the Chinese premier to respect the human rights of Chinese people.
MP Kenney thanked Falun Gong practitioners for passing on the important message that reminds Canadians not to take human rights and freedom for granted.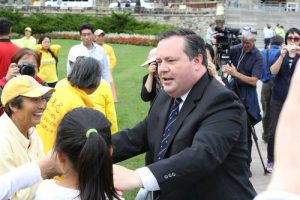 Peter Kent, the chair of Parliamentary Friends of Falun Gong, spoke about the lawsuits against Jiang Zemin, who, as the then head of the Chinese Communist Party, launched the persecution of Falun Gong in 1999 and personally directed it.
MP Kent said that Jiang's crimes have been recorded in detail and more than 200,000 Falun Gong practitioners have filed lawsuits against him since May 2015.
He urged the Chinese government to indict Jiang and stop the persecution of Falun Gong.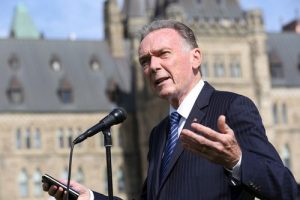 One month ago, Canada's Prime Minister Justin Trudeau received 120,000 signatures before his G20 Summit trip to China, which urged him to bring up the Falun Gong issue while meeting with Chinese leaders.
Many local residents and tourists from all over the world saw the Falun Gong demonstration in front of Parliament Hill on Thursday.
Brustolin Juliano from Brazil stopped at the rally to show his support. He said he has seen Falun Gong activities in his home country. He signed the petition at the rally to condemn the brutal persecution.
A visitor from Scotland, Joyce Symon, said she had never heard of the state-sanctioned organ harvesting from imprisoned Falun Gong practitioners in China. Outraged, she said it is very important for people to know what is going on, and she signed the petition, too.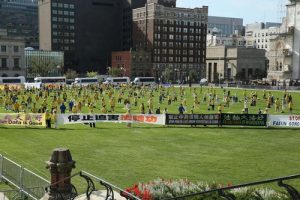 Canadian government official Anne Clark said she has seen peaceful protests by the Falun Gong group many times. She believes that the Canadian Prime Minister has the responsibility to bring up human rights issues to any country, including China, because protecting human rights is one of Canada's basic values.
25 total views