Falun Gong practitioners in Europe held a rally in front of the European Parliament in Brussels on July 14, 2016, as part of three days of activities to expose the persecution and organ harvesting atrocities perpetrated against the practice in China. Six Members of the European Parliament (MEP) attended the rally and spoke to the rally in support of Falun Gong and efforts to end the illicit organ harvesting.
More than half of the Members of the European Parliament have co-signed a Written Declaration (2016/WD48) as of July 13. The written declaration requires the European Parliament and the European Commission to take action to stop state-sanctioned organ harvesting in China, and urges all European Union countries to openly condemn the atrocities.
Practitioners demonstrated the exercises with soothing music playing softly in the background from 9am to 5pm. They collected signatures from the public calling for an end to forced organ harvesting in China. Some visited MEPs for their support.
MEP Gericke, one of the 12 sponsors of WD48, told the rally, "We have reacted too late regarding the Falun Gong movement. Many people have suffered. Many people have died…who stand for peace, who stand for their own way to live, so that they can live and do not have to be afraid to be punished by a government for no reason. I'm happy to see you come here and stay for such a long time. You have the courage!.."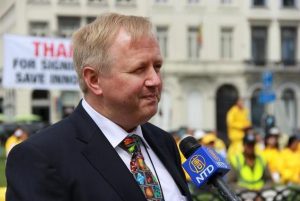 MEP Branislav Škripek from Slovakia expressed his appreciation of Falun Gong's peaceful resistance to the persecution for the benefit of everyone. He said, "We have to work to end this persecution. And we have to ask with international, diplomatic way, for the Chinese government to stop all the persecution, and to accept that people have their own beliefs. Falun Gong tried to build the state of China as a good working society."
Having lived under Communism, Mr. Škripek said the people in his country had also been persecuted and forbidden to practice their beliefs. "We can't allow such thing to happen in another country. We should do our best to stop the persecution, and safeguard freedom and human rights for people of all countries of the world."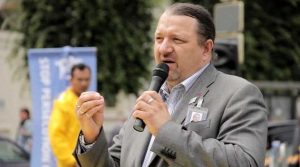 MEP Tomáš Zdechovsk from the Czech Republic said during his speech, "We are not against China, we support human rights in your country. I wish you will have the possibility to live in democracy as the Czech people. Please don't sleep, if you sleep in democracy you wake up in dictatorship. Be careful, all countries in democracy, because this time, it is a China problem, and the next time it can be another problem in another country."
Mr. Zdechovsk expressed his appreciation to Falun Gong practitioners, "I thank you for all your hard work! I wish you more strength in the future! Never give up your fight for human rights!"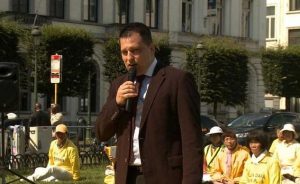 MEP Ruiz bowed deeply to Falun Gong practitioners at the rally. She said, "Thank you for your work, for your peace, for your honorable way of fight! Thank you very much!" She said she felt fortunate to be able to support Falun Gong's fight for human rights, freedom and peace.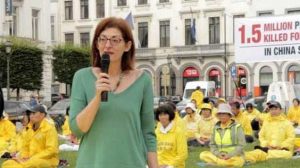 MEP Eck condemned the organ harvesting as one of the worst crimes. He said,"I engaged myself in this terrible case of what is going on in China. I would like to say, first of all, there must be an independent investigation in this case, to give a clear answer what is going on in China with organ harvesting. And if we find enough evidence, the European Union must take action immediately, because in my eyes, it's one of the biggest crimes we can imagine."
MEP Mark Demesmaeker is on Subcommittee on Human Rights of the European Parliament and one of the 12 sponsors of WD48. He said during his speech, "For a number of years we have been addressing it on a number of occasions during hearings and sessions of the Human Rights Committee. I think the European Union has an obligation and a task to stand for its values…Human rights is at the core of its values, also in relation with big partners, strategic partners like China."
(Clearharmony)
26 total views