The Falun Gong group participated in America's National Independence Day Parade in Washington DC on July 4, 2016 for the 14th consecutive year. Hundreds of thousands of spectators lined Constitution Avenue to watch the parade of over 100 groups from 50 states representing different geographical, ethnic, and cultural backgrounds.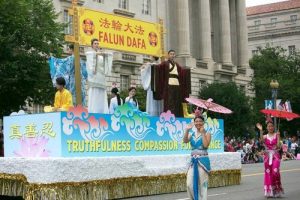 Director of the Falun Gong group's Divine Land Marching Band, Wenwen Zhou said, "We hope that our performance will bring the grace of Falun Gong to the audience, no matter which country they are from. We wish to bring peace and grace to everyone."
The band, consisting of 175 Falun Gong practitioners, played a combination of original pieces inspired by Falun Gong (also known as Falun Dafa) and American patriotic songs.
Besides the marching band and and Falun Gong float, the group was invited to carry a large birthday cake balloon in the parade.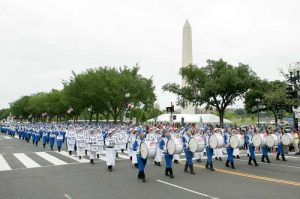 Supporting Freedom of Belief
Sue McInturf and Jerry from Arizona attended the parade while touring in Washington DC. They ended up joining the Falun Gong practitioners to help hold the ropes of the large birthday cake balloon before the parade began. Sue said, "We are not practitioners. We are Christians, but we support people to be allowed to practice their faith."
To Sue, having traditional American values means, "Being respectful of one another, allowing people to practice their faith, and being honest and trustworthy and a good neighbor, that is what helps one another."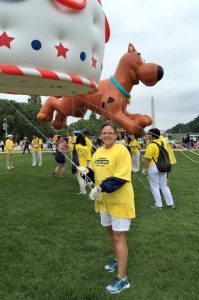 Benefiting People and Society
11-year-old Alice Wang performed the sitting meditation on the Falun Gong float. She said she practices Falun Gong not only because her parents practice, but because she believes the principles of the practice, Truthfulness-Compassion-Forbearance, provide her with the guidance she needs.
She said, "I try to follow the principles every day. It can be challenging in school, but I always strive to follow these principles to do the right thing."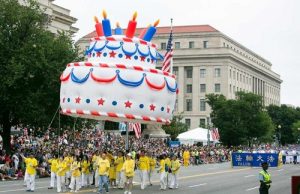 Mr. Zhang, a tourist from China who watched the band's performance, said the moral principles of Falun Gong are what stand out to him as well. "It is completely different from what the Chinese Communist Party (CCP) spreads in their propaganda. My wife and her parents practice Falun Gong. I have read Falun Gong books, and I think it is beneficial to people and society."
(Clearwisdom)