The annual Memorial Day parade in Little Neck-Douglaston, Queens, New York was held on May 30, 2016. This was the parade's 89th year and more than 100 groups participated. The parade was about one mile long and continued for nearly three hours. Falun Gong (also known as Falun Dafa) practitioners in New York participated in the parade for the fifth time and were welcomed by local residents.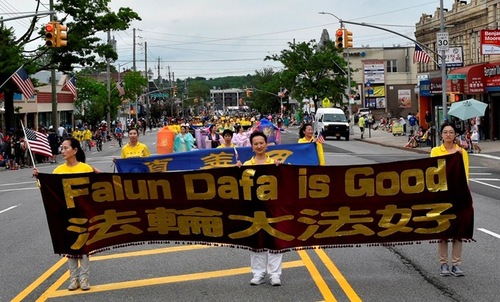 Practitioners demonstrated the exercises, traditional Chinese waist drumming and various costumes from the Tang Dynasty.
Leading the Falun Gong procession were banners reading "Falun Dafa is good" and "Truthfulness-Compassion-Forbearance". Ladies in Tang costumes followed behind, carrying lanterns with words "Falun Gong" and "Truthfulness-Compassion-Forbearance". A group demonstrating the exercises followed and the waist drummers brought up the rear.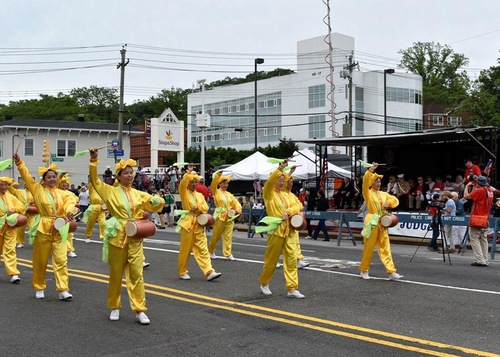 Falun Gong drew a lot of attention from spectators. One spectator said, "I know Falun Dafa. I see them in the parade every year. I know the persecution in China. I wish their plight there is getting better."
Ms. Liu from Northeast China saw the parade and remarked, "I have been here for one month. I have seen Falun Gong practitioners at various tourist spots. I did not believe what the practitioners said about the persecution and live organ harvesting at first because I believed the Communist Party's misleading propaganda. Now I believe them and have changed my view towards Falun Gong."
She continued, "There is freedom of expression and freedom of belief here. Falun Gong teaches people to be good. It would be great if there were no persecution in China. It would be good if people can practice it freely like here!"
(Clearwisdom)
10 total views