Falun Gong practitioners visited Enniskillen, the largest town in County Fermanagh, Northern Ireland, on June 18, 2016, to tell the public about the meditation practice. In addition to displaying posters and demonstrating the Falun Gong exercises on High Street, they shared with the community how practitioners are brutally persecuted in China for their beliefs.
'We All Need to Do Something About This'
John Feely, a member of the Fermanagh and Omagh District Council, talked with practitioners and signed a petition to support their efforts to end the ongoing persecution in China. Northamptonshire County Councilor Siobhan Currie said she had signed the petition before, and took some handouts to share with other members of the Sinn Féin Party.
Carroll O'Down from Belfast, the capital of Northern Ireland, said he had been to China twenty years earlier and was aware of the country's human rights violations. "Unfortunately, it seems the atrocity still continues today. That means we all need to do something about this, so it can stop," he said.
Ms. Gibson, a long-time resident of Enniskillen, said China's state-sanctioned killing of Falun Gong practitioners for their organs is beyond horrible. She signed a petition addressed to government officials, and expressed hope that the help from her and other people will make a difference.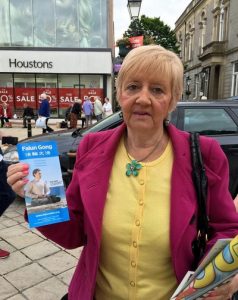 Gentle Meditation Reaches Across Oceans
Among the many people who heard about Falun Gong for the first time at the event, teenager Ruby Hughes was especially drawn by the gentle exercises. Along with her parents, she signed a petition to support practitioners, and began to learn the exercises on the spot.
After watching practitioners do the Falun Gong exercises for a long time, local resident Jim Farmer told one practitioner, "When you hold another 9-day lecture workshop in the future, please do let me know, and I will come."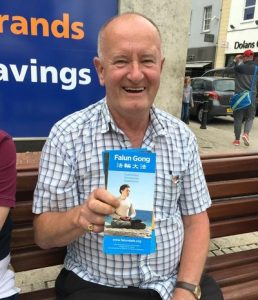 Alan Breadon, who began practicing Falun Gong the previous year, said, "I like these activities, because this is how I heard about Falun Gong last year." He hopes to work with practitioners harder so that more people can benefit from the meditation practice.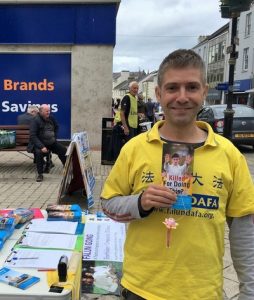 (Clearwisdom)