From Indifference to Being Truly Touched
June 05, 2016 |  Cecelia was a government employee in China who knew a little about Falun Dafa (also known as Falun Gong). She participated in the practitioners' grand parade in New York on May 13, 2016, and wrote about how she was touched by the experience.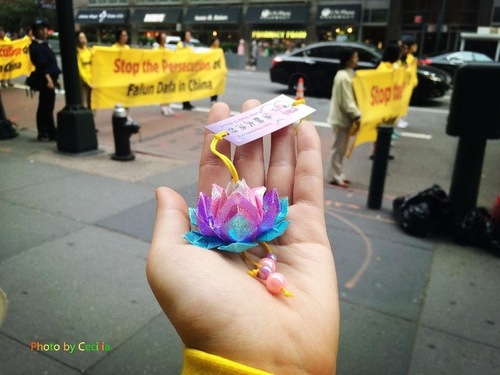 *******
Even though it has been over half a month since my New York trip, my heart cannot calm down when recalling my contact with Falun Gong practitioners during the trip. I was proud to think that I had never discriminated against Falun Gong practitioners in China, nor been an accomplice in the persecution. However, I felt sad and ashamed when I learned about the brutal persecution of the innocent and kind practitioners like those I met in the parade.
I came to know a Falun Gong practitioner by coincidence in China in May 2013. He gave me a DVD of the 2013 Shen Yun Performing Arts show as a gift. He told me again and again that I must watch it.
I am a young woman with some training in art performance. However, I was busy with my work and did not watch the DVD until late in 2013. One day, I stayed at home due to heavy smog. I borrowed a DVD player from my neighbor and watched the DVD after lunch. It was very interesting.
There were some programs in the show about the persecution of Falun Gong in China. I did not know much about it, as during the first few years of the brutal persecution I was in high school and busy studying, and seldom watched the news on TV. What I remember was the widespread slander of Falun Gong in the media. My parents and other people talked about Falun Gong negatively because of the propaganda.
I was calm when watching the DVD, and gained admiration of the performance later. I learned folk dancing when I was young. It was beyond my imagination how difficult it must be for the performers to prepare such a large-scale and high-level touring performance.
I looked at the words on the DVD cover and went online to search for Shen Yun Performing Arts. I was surprised to get an error message; the website was blocked in China. With the help of software to get around the censorship, I browsed the Shen Yun website.
I kept in touch with the practitioner who gave me the DVD, but I never asked him about Falun Gong. One day, I noticed a small pink bag on my door handle when I arrived at home after work. It contained a DVD of the 2014 Shen Yun Performing Arts show. I watched it, too.
Learning About Falun Gong in California for the First Time
I came to the United States in September 2015 by myself. There was a Falun Gong conference in Los Angeles shortly thereafter. The practitioner who gave me the DVD traveled there from the east coast (he had been in the U.S. for over a year), and I met with him after the Falun Gong events. I saw him eating something and happily talking with other practitioners. These people are warm, happy, and kind. I was amazed to see that Falun Gong practitioners are like this!
He asked whether I had had dinner. I said no. We walked to the LA Cafe nearby, sat down, and ordered some food and drink. It was my first time to see him wearing a T-shirt with the words "Falun Dafa is Good."
He talked to me about Falun Dafa. He wasn't trying to convince me how to look at Falun Gong positively, but told me what Falun Gong was about, and why the Communist Party is persecuting Falun Gong. I had many questions, and he answered each of them. For example, what is Falun Dafa? What was the Tiananmen self-immolation hoax? Why is Dafa defamed in China? What tortures have practitioners suffered? It was my first time listening to a friend describe these things. He also calmly talked about his own experience of being tortured in prison.
As a government employee, I knew well how the state machinery feverishly executes the Party's policies. I could imagine how the prison guards torture criminals, but I could not imagine a kind friend like him suffering torture like the "tiger bench" and being shocked with electric batons. I could not understand why prisons, for holding criminals, were used to persecute Falun Gong practitioners. My practitioner friend is a kind person and always ready to help. Why was he subjected to such torture in prison?
On my way home, I was sad and speechless. What I saw and learned about Falun Gong during the day was completely different from what had been said in the media in China.
Joining the Parade in New York
My practitioner friend sent me a message in April saying that there would be Falun Dafa event in New York in May. He invited me to experience it myself if I had time. I agreed and booked my flights and hotel.
I went to the square in front of the UN Headquarters at 8:30 a.m. on May 13, 2016. It was busy with crowds of people. A large group of practitioners were doing the Falun Gong exercises. Many people were preparing for the grand parade. Some others were chatting nearby. There were many non-Chinese practitioners. I walked around and felt that everything was new to me.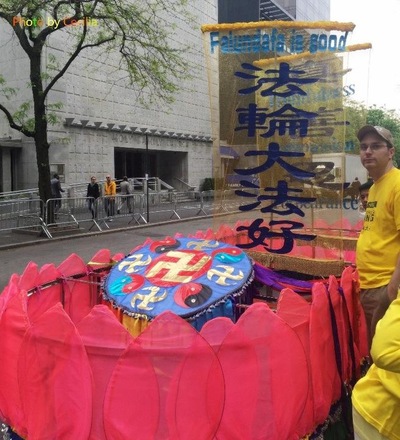 My practitioner friend arrived before long. After greeting him, I followed him to join the parade, which took a long route. I saw that the practitioners were steadfast, proud, happy, and smiling at the spectators. These living people with freedom touched and encouraged me. Their expressions made me believe that there are principles worth following in life.
One thing worth mentioning is that during the parade, a practitioner named Wenyu was interviewed by a local reporter. I stood beside him and listened as he described calmly his three years in prison in China for practicing Falun Gong. I was shocked, as I could not imagine that such a bright person suffered these forms of torture. I was moved by his fortitude and his perseverance in pursuing truth.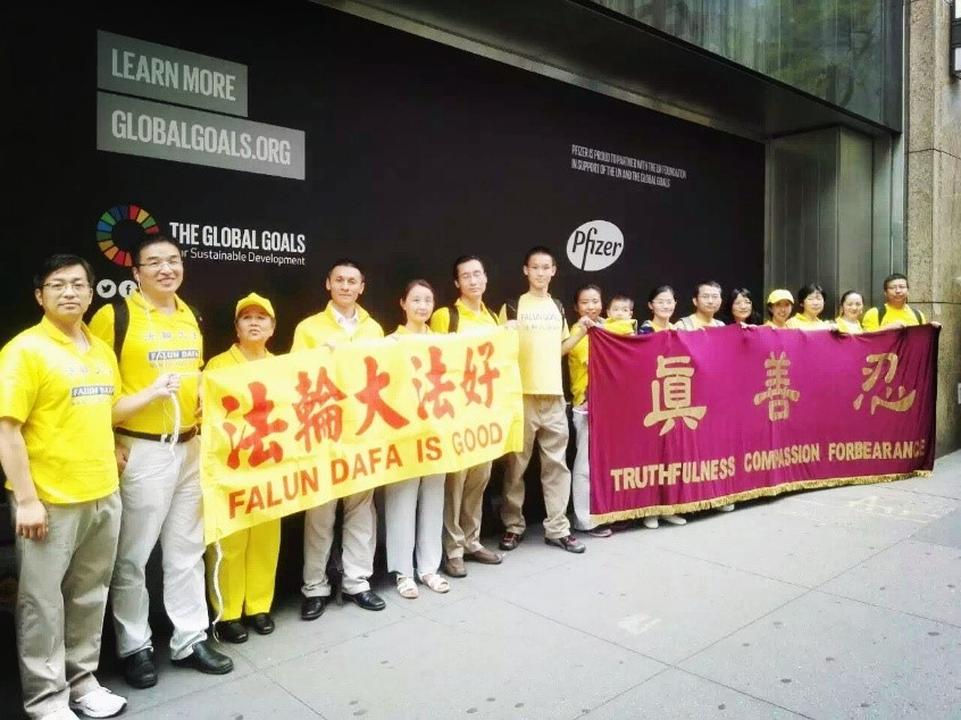 I grew up in an orthodox family and was educated to be an upright, kind, and courageous person with belief in justice and truth. I had grief for other people's sad love stories, donated money to people in need, and was indignant toward illegal trafficking of dogs and cats to restaurants. But I had never done anything for such a group of kind Falun Gong practitioners, or even had any doubts about the Chinese Communist Party's lies against Falun Gong. I used to think it was fine to be neutral, but I had never realized that indifference is indirectly assisting the perpetrators in the persecution. If one keeps silent, it is just like standing with the perpetrators.
I am fortunate not to have been tortured. The practitioners I met in New York are fortunate, as they are alive and can continue to protest the persecution. But those who have died in the persecution and those who continue to be abused in China are not. Who will fight for their rights? When can they live normal lives without being slandered, mocked, or persecuted?
Many Falun Gong practitioners living in other countries have family or relatives in China. They hope for an end to the persecution, and to reunite with their families. The reality and brutality of the persecution encourage us to move forward to seek a brighter future. I hope one day we can all return to China and be kind people, openly following the truth.
Chinese version available of My View of Falun Gong: From Indifference to Being Truly Touched
(Clearwisdom)