May 30, 2016 | Activities introducing the peaceful spiritual practice of Falun Gong were held in Sydney's Hyde Park on May 26, 2016. Park-goers also had the opportunity to learn about the persecution that Falun Gong has endured at the hands of the Chinese Communist Party (CCP) over the past nearly 17 years.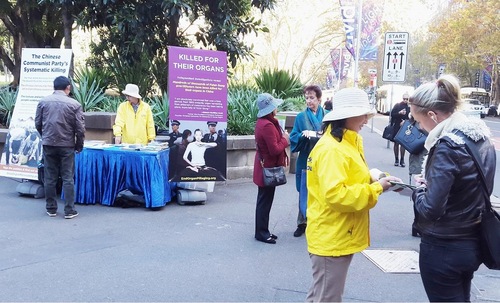 Touched by Falun Gong's peaceful resistance to the persecution, many stopped to sign a petition in support of efforts to bring the persecution to an end.
Brazilian Tourist: "A Great Example of Human Rights Advocacy
Mr. Samir Abud and his wife are tourists from Brazil. They were moved by what they learned about Falun Gong. They spent a long time to find out more about the persecution in China, and joined many others to sign a petition.
Samir took many pictures of the meditation and activities from different angles. He said, "I was fascinated by the meditation, because I like meditation myself. What amazed me even more is that they use this peaceful and beautiful meditation as a way of calling for an end to 17 years of persecution! It's so touching! It made me want to find out more."
He reflected for a moment, then continued, "Falun Gong practitioners tell people about the brutal persecution using such peaceful means! They are a great example of human rights advocacy, like Martin Luther King, Nelson Mandela and Ghandi. I think it's just a matter of time. And time is controlled by God. The persecution will be over in time."
Samir became happy, "Today, I learned a lot from Falun Gong's peaceful appeal! People will gradually realize its value as an example of advocacy for human rights. I originally planned to take pictures of the beautiful scenery here, but seeing Falun Gong's activities against the persecution made me feel calm and relaxed."
He continued, "I feel fortunate to see such a good deed! They made my day! I'm no longer interested in photographing the scenery. My only wish is to take pictures of everything Falun Gong is doing here. I will write about my experience here today and share it all with my friends online. I hope more people will understand, and help stop the persecution."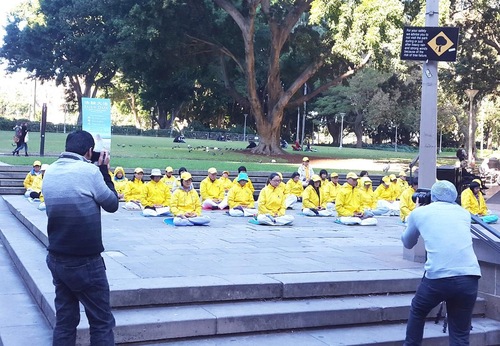 Beauty of Falun Gong Touches People's Hearts
Ms. Jan Kaye said she had been studying Falun Gong for years. She wanted to learn the Falun Gong exercises. She exchanged contact information with practitioners and planned to join their group exercise. Jan said it was such a calming and soothing exercise with great energy, and it brought health and harmony, so why not practice it? She thought it was extremely inhumane for the CCP persecute practitioners.
Mr. and Mrs. Smith came to Sydney for a vacation. They spent a long time watching the Falun Gong exercise. They were amazed by how long and well the practitioners could concentrate. They felt that they should say "no" to the CCP's violation of human rights.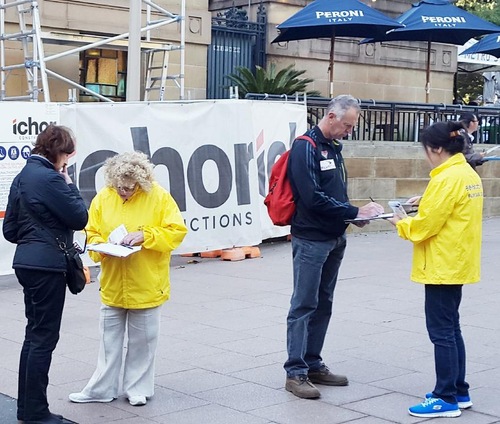 Sabine from Germany were saddened by the persecution. She wished to help stop it. She took introduction materials with her and planned to contact practitioners in Germany, so that she could help out there.
Many Chinese took introduction materials in the Chinese language. Some even approached practitioners to ask about the persecution.
(Clearwisdom)