May 24, 2016 | Falun Gong practitioners in Orlando, Florida, held an exercise demonstration in front of City Hall on May 18, 2016. It was the second exercise demo held in the past two weeks of celebrating World Falun Dafa Day. Mr. Buddy Dyer, Mayor of Orlando, has designated May 13, 2016, as Falun Dafa Day.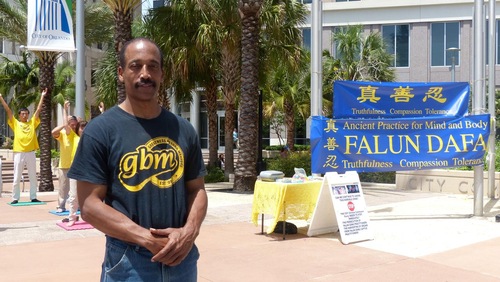 The exercise demonstration attracted many passersby, who obtained introduction materials from Falun Gong practitioners. Mr. Charles Morse, an independent producer, said the exercise energy was very strong. He was headed to another place, but ended up coming here because he could feel the energy field. He appreciated learning about Falun Gong's health and spiritual benefits.
Upon hearing about the persecution of Falun Gong in China, Mr. Morse said, "You are doing your best. You face a huge challenge, but you are still helping others. It will in turn help yourself."
According to Dr. Minh Van Nguyen, a Falun Gong practitioner in Orlando, they plan to bring a free touring art exhibition, the Art of Zhen Shan Ren, to the City Hall gallery on February 27 to June 2, 2017. The exhibition features dozens of superb works of art created by Falun Gong artists.
40 total views