May 20, 2016 | Falun Dafa practitioners from all over the world came to New York City for the World Falun Day celebration last week. Many joined the group exercises and peaceful protests in front of the Chinese Consulate on May 11-15, 2016.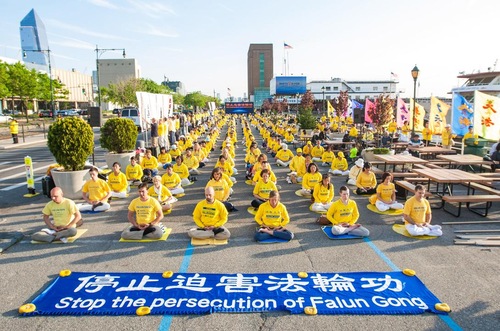 "Please Keep it Up!"
Many passersby, upon seeing the group of meditators and nearby banners, stopped for more information. Andy Angel, who works at a bank in Manhattan, heard about the persecution in China for the first time. He encouraged practitioners to persist in their belief and said, "I'll also tell my friends about this. Please don't give up! The situation in New York is changing, and I believe similar changes will happen in other cities too. That's for sure."
Medical student Daniel was riding along the Hudson River when he saw the practitioners. After stopping his bike and taking some pictures, he talked with a practitioner and was shocked to learn of the brutality perpetrated against Falun Dafa practitioners by the communist regime in China.
"Please keep it up!" he encouraged the practitioner. "What you're doing is very important, because that's how people get to know this." He said he hopes that more people will learn what is going on and support Falun Dafa.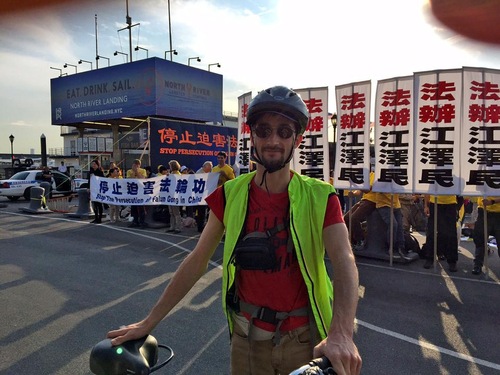 "I Will Share This Information with More People"
Impressed by the peace and harmony displayed by the group of meditators, many pedestrians joined the group to try the exercises. Among them were three medical professionals from France: Mechri Ouufa, Mraid Ncjet, and Akear Celine.
"I just spent 15 minutes learning the exercises, and I already like it very much," said Mechri. She could feel energy moving in her body, which made her comfortable and happy. She said she would like to continue upon returning to France.
She had previously heard about the poor human rights conditions in China. "But this is the first time I got to know Falun Dafa. The suppression in China, especially organ harvesting from living practitioners, is really horrible," she said.
Mraid said she was interested in Falun Dafa's principles of Truthfulness-Compassion-Forbearance. She was disturbed by the ongoing atrocities in China and said "I will share this information with more people" by posting pictures on Facebook and other social media.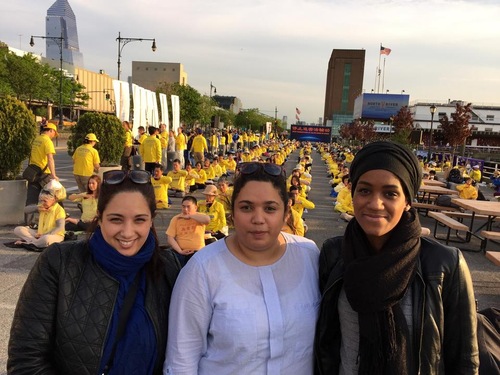 Henk and his daughter from the Netherlands were drawn by the serene atmosphere of the meditators. "It's hard to believe such a peaceful exercise would be banned in China," his daughter said. "You have done the right thing, and you have my support."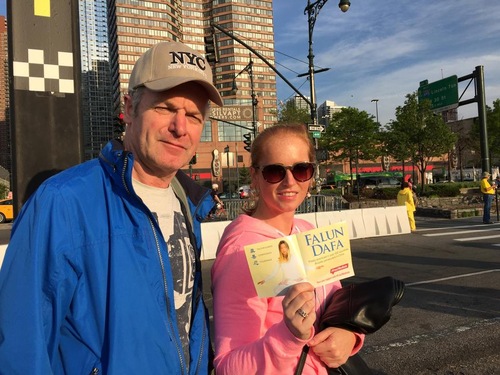 Margaret Welsh from Spain came to New York for an international conference. She was surprised that people were being persecuted for their faith in China. She said, "Everyone should have the rights to practice their belief…I hope the persecution will end as soon as possible."
(Clearwisdom)
40 total views