May 12, 2016 | European practitioners joined in celebrating World Falun Dafa Day over the weekend. This report summarizes events held in five countries.
May 13 marks the 17th World Falun Dafa Day, a tradition that started in 2000 to commemorate the introduction of Falun Dafa to the public in May 1992. This date also coincides with the birthday of Mr. Li Hongzhi, the founder of Falun Dafa.
Ireland
The celebration in central Dublin began on May 7 with a march, followed by signature collection calling to end the persecution in China.
Gerard O'Connor, a software development executive, said that he first learned about Falun Dafa in 2000. "At that time, I was a student, and I was really stressed about final exams," he recalled.
The practice of Falun Dafa improved his health, relieved his stress, and gave him more energy. After practicing for 16 years, O'Connor said that his gratitude towards Falun Dafa and Mr. Li Hongzhi is "beyond words".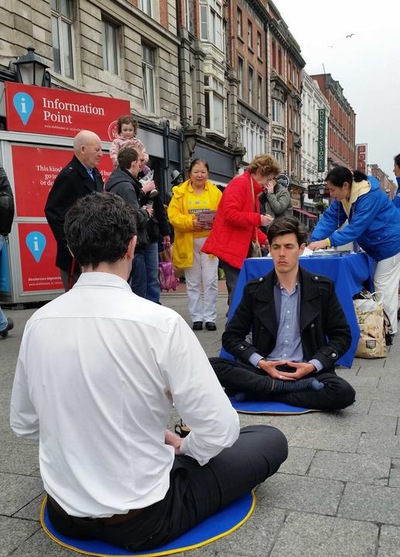 United Kingdom
British practitioners met at Trafalgar Square in London on May 8 for group exercises and sharing with the public benefits they have received from the practice.
Paul, owner of a photo studio, says that he often comes across Falun Dafa practitioners' events in London. "What impressed me most is the peace and harmony," he explained, "We are in a crowded, busy place. But upon seeing the practitioners doing meditation, you are surprised by the inner peace and perseverance in their hearts. These two combined together showed their energy." He said that he admired the practitioners' perseverance and supported their efforts to oppose the persecution in China.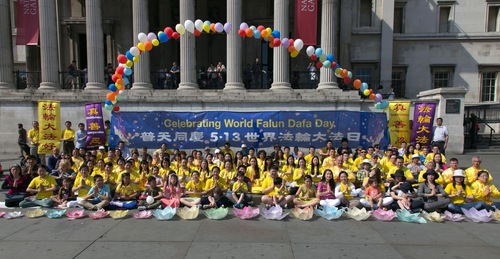 France
The event in Paris took place at Human Rights Square in Trocadero on May 8. Several practitioners shared how Falun Dafa has changed their life for better.
Sarita, an elementary school teacher, is thankful because Falun Dafa has brought her great physical and spiritual improvement. "I used to be confused and bothered by all kinds of thoughts and feelings. They made me very upset, but I did not know what to do." The practice of Falun Dafa enlightened her and made her aware of these human notions. "Little by little, and layer by layer, I am able to let go of these human attachments and progress towards a peaceful, pure mind."
She said that life looks much simple to her now. "I have a feeling of safety and everything in my life seems to be under control." She said that she was fortunate to learn Falun Dafa after searching for such a long time in her life.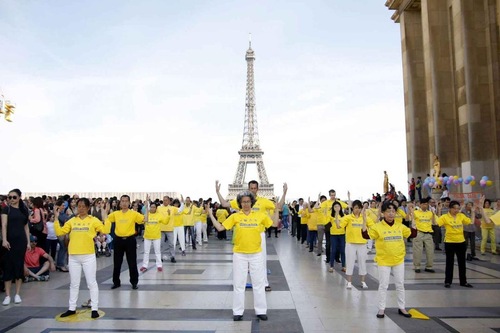 Germany
German practitioners in the Black Forest area held an informational day at Freiburg on May 7, with a theme of "The world needs Truthfulness-Compassion-Forbearance".
Among the Chinese tourists was a man who claimed to work in the justice system in China. Seeing several western practitioners doing the exercises, he was curious and asked many questions. Then he looked at posters showing Falun Dafa flourishing in more than 100 countries, while the suppression has continued in China.
In the end, the man asked a practitioner to help him quit the Chinese Communist Party (CCP) organizations. He also took with him several booklets debunking slanderous propaganda from the Chinese regime.
Russia
Located in south eastern Moscow, Kuzminsky Park is a popular tourist site, and many tourists were happy to see various activities conducted by Falun Dafa practitioners on May 7.
Besides group exercises, Falun Dafa practitioners also performed waist drums and other traditional Chinese cultural activities. Many people stopped to learn the exercises, and some signed petitions calling for an end of the persecution in China.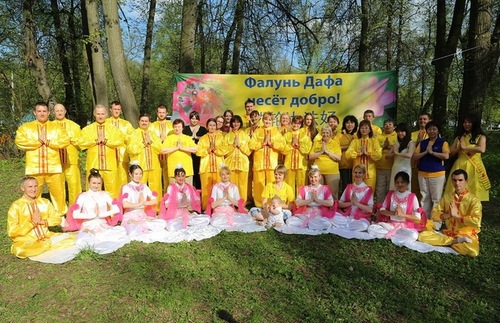 (Clearwisdom)