With Chinese descendants representing nearly a quarter of its population, Malaysia is closely connected with China, both culturally and economically. Between the recent Chinese New Year on February 8 and the Lantern Festival (15th of January on the lunar calendar), Falun Dafa practitioners held three parades in Malaysia. Many learned about the peaceful meditation practice and the severe suppression of Falun Dafa in China.
Two of the parades took place in Selangor, the most developed and populated state in Malaysia: one was in Mahkota Cheras on February 14, and the other took place in Semenyih on February 21. A third parade was held on February 20 in Setia Indah, a suburban town of the nation's second largest city, Johor Bahru.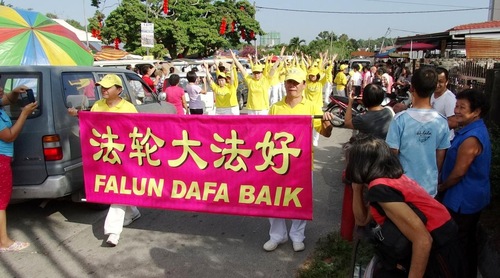 Impressed by the dragon dance team, heavenly maidens, and waist drummers, systems engineer Chandra said he was very fortunate to see the march. "I was taking my son to a soccer game and did not expect to come across such a great parade here," he said, adding that the performers' traditional costumes and positive energy were very pure.
Questions Answered
Mr. Gong, in his 60s, watched the festivities with his friends. He asked a practitioner, "We've heard about Falun Dafa and know something is going on in China, but can you tell me exactly what's happening there?"
The practitioner explained how this peaceful meditation system has attracted practitioners in over 100 countries. "But in its birthplace of China, the Communist Party has been persecuting Falun Dafa and its practitioners since 1999. The atrocities include arrest, detention, imprisonment, and severe torture."
Upon hearing that thousands of practitioners had lost their lives as a result of torture in police custody, Mr. Gong said he was sorry to hear about the suppression. "The parade by your group is very well done, indeed," he added.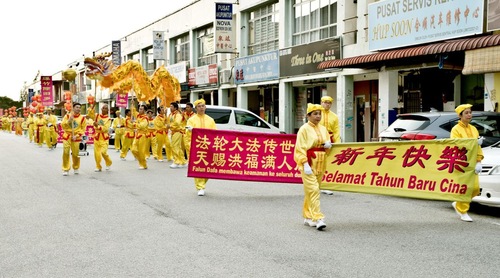 Misunderstanding Clarified
When Jessica handed a flyer to a gray-bearded man in a cafe, he demanded to know, "Why are you against China?!"
Surprised but calm, Jessica explained that Falun Dafa practitioners are also proud of Chinese history and culture, and wish that people can have a happy life. "With violence and lies, the Chinese Communist Party (CCP) has harmed Chinese people in the last several decades. Millions of people have died during its various political campaigns."
The man's attitude was still cold, but when Jessica told him about the regime's harvesting of organs from living Falun Dafa practitioners detained or imprisoned for their faith, he went silent. Later, he took some materials and a copy of the book Nine Commentaries on the Communist Party.
The Power of Truth
Ms. Chen, another practitioner who attended the event, said she found that many residents had been misled by the CCP's propaganda. "I know I have to tell them what Falun Dafa is, how good it is, why the CCP persecutes practitioners, and the consequences of the suppression," she said.
More than 200,000 people have filed criminal complaints in China against former president Jiang Zemin for ordering the violent persecution of Falun Dafa. Some residents also signed petitions during the parades to support this initiative.
One man, who was about 50, said he knew the Communist Party very well. "I know Falun Dafa practitioners are mistreated in China for their belief—this suppression will not last long. Thank you for coming here. What you do is very important for Malaysians."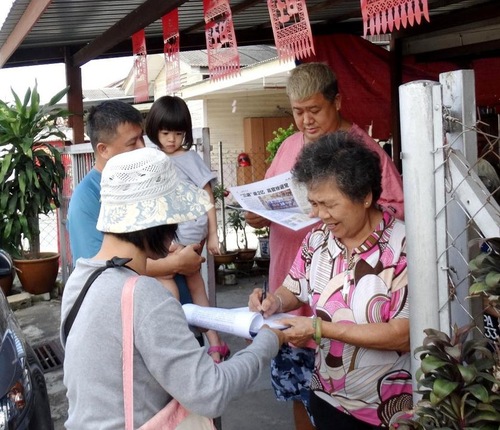 (Clearwisdom)