A petition signed by 20,000 Toronto residents was sent to the Chinese Supreme Procuratorate on February 22, calling for an investigation into the crimes committed by former head of the Chinese Communist Party Jiang Zemin in the persecution of Falun Gong.
That same day, local Falun Gong practitioners held a demonstration at the intersection of St. George and Bloor Streets, close to the Chinese consulate, in support of the lawsuits being filed against Jiang. It was an opportunity to tell the public what role Jiang has played in the persecution.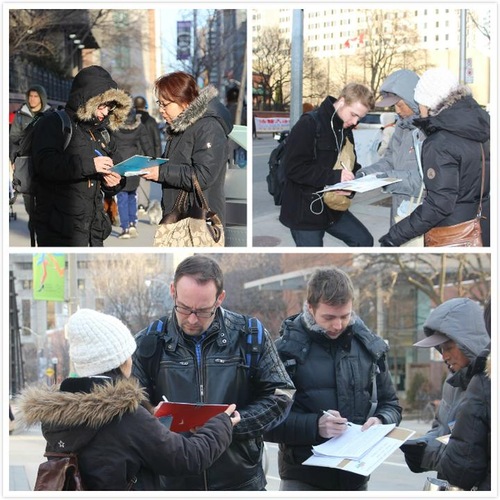 Practitioners in Toronto have regularly held similar events since last October, and successfully collected 20,000 signatures of support.
From May 2015 to today, 205,000 Falun Gong practitioners have filed 173,000 lawsuits against Jiang Zemin for launching and directing the persecution of Falun Gong in China. More and more people all over the world have joined the campaign to support their efforts. In Asia alone, more than a million people have signed the petition calling for Jiang to be brought to justice.
Margaret Dinsdale, a local writer in Toronto, talked to practitioners for a long time at the event on February 22. She had heard about the state-sanctioned organ harvesting from Falun Gong practitioners, which shocked her a few years ago, and made her look for more information about Falun Gong and the persecution.
Ms. Dinsdale was glad to see the banners denouncing forced organ harvesting at the event.
"I am writing a book on this topic," she said. "I want to draw the public's attention to this. When more people know about it, they will take action to stop such a brutal crime.
"You know, when I first told my friends about forced organ harvesting, very few believed it. I've been collecting evidence so that the whole world will know it's true."
She wished practitioners the best of luck filing lawsuits against Jiang Zemin.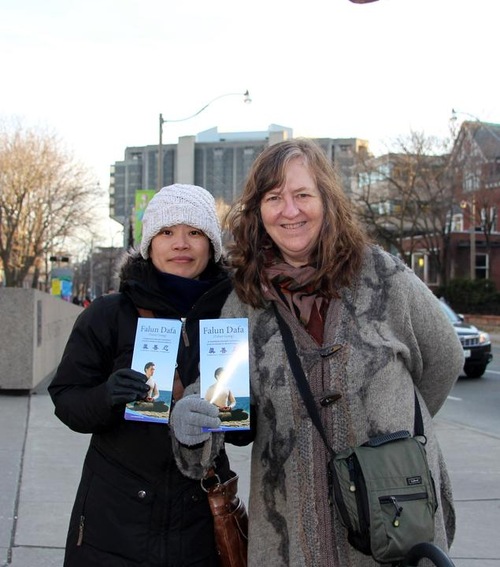 Seventy-year-old Pedro, a local artist, read all the banners at the event and said he knew about the persecution.
"The new Canadian government should not ignore this. We must, the whole world must, do something to end the persecution and help to bring Jiang Zemin to justice," he said.
"The Chinese government wants Falun Gong practitioners' organs, because they are healthy due to this practice."
Pedro himself is learning the Falun Gong exercises.
"The government should promote such a good practice, instead of suppressing it," he believes.
Pedro encouraged practitioners to hold more events like this, so that more people will be informed about the persecution.
(Clearwisdom)