(Minghui.org) One of the largest cities in Latvia – Ventspils – held city celebrations from August 4-6, 2023. The celebrations were attended by people from all throughout Latvia, as well as guests from foreign countries. Falun Dafa practitioners were invited to participate.
On the morning of August 5, Falun Dafa practitioners, the city's companies, institutions, work collectives, and groups of like-minded people participated in a parade. They were applauded by the audience along the entire parade route.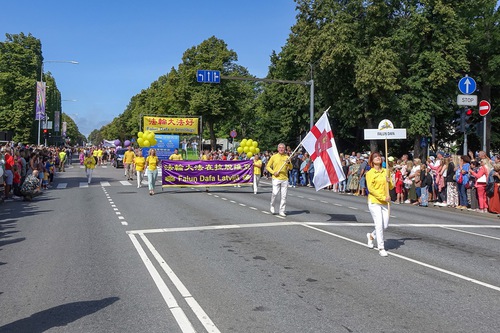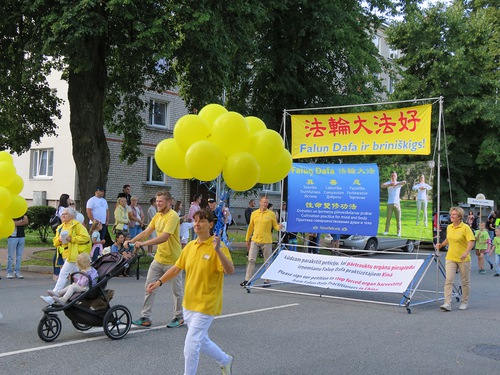 After the parade, practitioners demonstrated the Falun Dafa exercises on Jaunpilseta Square, and told people about Falun Dafa – an ancient practice of cultivating the mind and body, where followers follow the principles of "Truthfulness-Compassion-Forbearance."
People were told that it is a self-improvement practice suitable for the modern lifestyle. It allows for the opportunity to gain inner peace and come into harmony with the surrounding world. Anyone can practice Falun Dafa, regardless of age, nationality, culture, and social status. Currently, millions of people in more than 100 countries are practicing Dafa.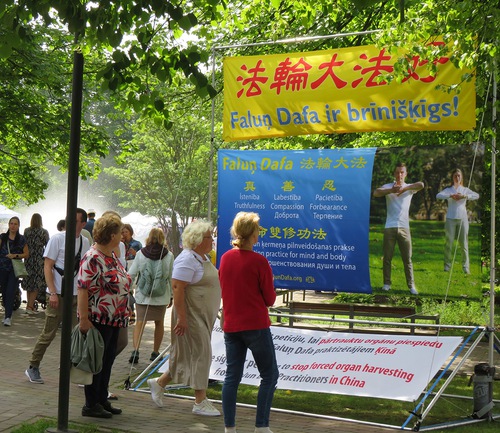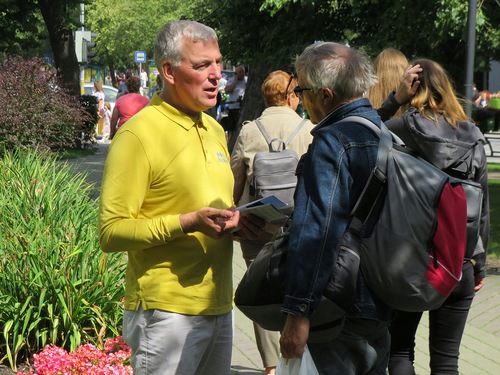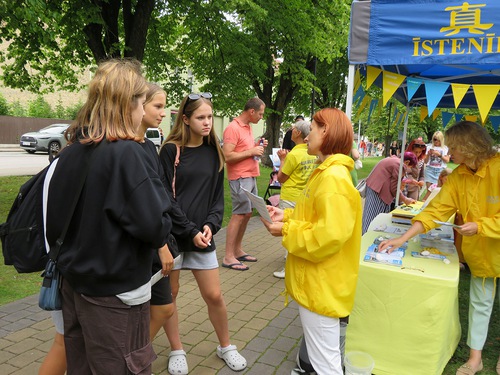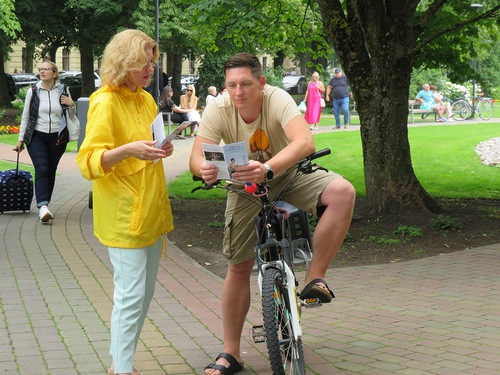 At the venue of the event, there was an opportunity to learn the Dafa exercises. People were also introduced to the books of this practice. They also could participate in a workshop making origami lotus flowers, something especially interesting for children.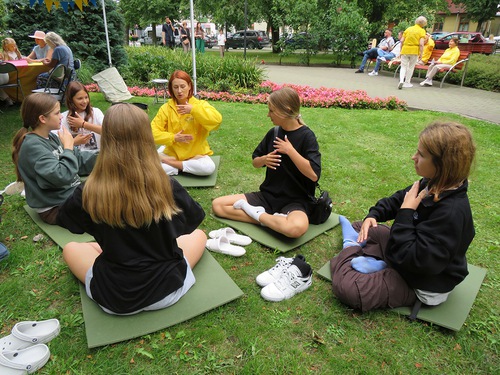 A practitioner told two women about the practice and discussed the exercises that were demonstrated by the practitioners. One of the women, who was from Germany, said that she had been trying to follow the principles of virtue in her life for about 12 years. After a long conversation with the practitioner, the woman bought Master Li Hongzhi's (Falun Dafa's founder) Book Zhuan Falun, saying that she wanted to cultivate. The women thanked the practitioners from the bottom of their hearts and said that they were happy to learn about such a wonderful self-cultivation method.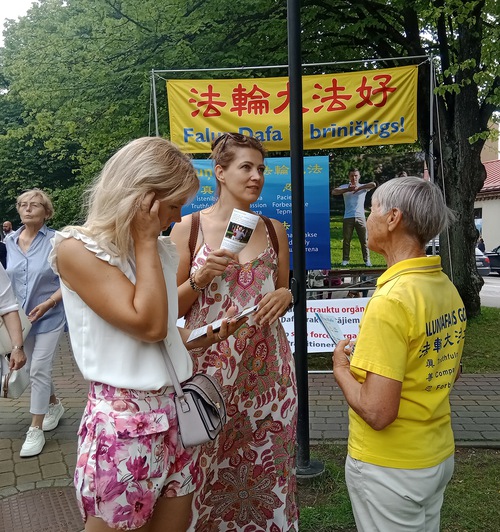 A man listened with interest to the practitioner's story about the practice and the Chinese Communist Party's (CCP) cruel persecution of the practitioners in China. The man said he was a doctor and wanted to learn more about how practicing Falun Dafa helps improve health. He already knew something about the repression in China, and to learn more and tell others about it, he picked up informational brochures in different languages.
Many people were interested in the teachings of this practice and asked for the location of the Falun Dafa practice site in Venstpils. The practitioners told them that the group practice was held every Sunday at 9:30 a.m. at the Parventa Children's Park Fantazija.
Chinese version available
(Clearwisdom)
Latvia: Easter Weekend Event Informs People about the Persecution of Falun Dafa in China