(Minghui.org) Falun Dafa practitioners held a rally in front of the Chinese Embassy in Oslo on July 20, 2023, to tell people about the Chinese Communist Party's (CCP) 24-year-long persecution of their practice. They also held an event in front of the Parliament building (Stortinget) and called on the public to help stop the persecution. Many people supported their protest, and some were interested in practicing Falun Dafa.
During the protest in front of the Chinese Embassy, a practitioner talked with the two police officers on duty and the patrolling police captain about the CCP's 24-year persecution. The practitioner mentioned that in October 2000, prison guards at Masanjia Labor Camp in Shenyang City stripped 18 female practitioners and put them into the male inmates' cells. After that heinous event, Falun Gong practitioners around the world went to Chinese embassies and consulates to protest, and Norwegian practitioners also held a 24-hour continuous protest.
The police captain said that he was impressed with practitioners' peaceful protest in front of the Chinese embassy for so many years. The two young police officers also said that since they joined the profession, they have been on duty during Falun Gong activities, and they knew well about the evilness of the CCP's persecution.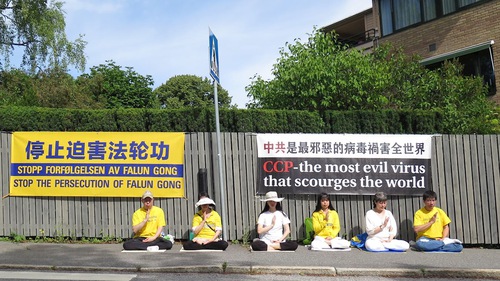 Public Expresses Support 
That afternoon, practitioners held an activity in front of the Parliament building. The weather in Oslo in July is pleasant, and Karl Johan Street in front of Parliament was dotted with flowers. The streets were filled with people enjoying the mild summer sunshine, which is unique to Norway. Many people stopped to learn and read the information about Falun Dafa and the CCP's persecution. People also signed the petition calling for the persecution to end.
Sam and Mathias from Sweden were touring Oslo. They stopped in front of practitioners' display boards and carefully read the information. They thanked practitioners for letting them know such important information.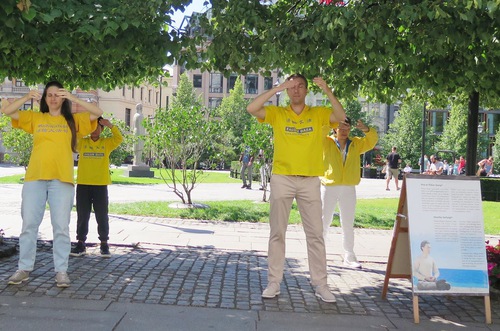 People Wish to Learn Falun Dafa
Jan and Jarand recently graduated from high school along with their friends, and were celebrating in Olso when they noticed the practitioners' group practice. Jan asked about Falun Dafa and said he was very interested in the spiritual practice. He was happy to accept a leaflet about Falun Dafa, and said he would go to the local practice site to learn the exercises. Jan and Jarand signed the petition and thanked practitioners for being there.
Anne Line is a therapist. She stood for a long time in front of the display boards and said she was interested in Falun Dafa. She took a leaflet after being told that there is a free online class where she can learn the exercises.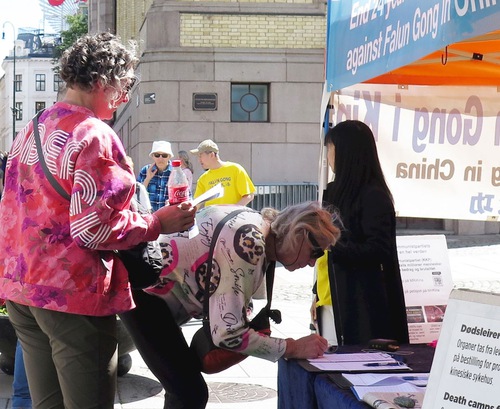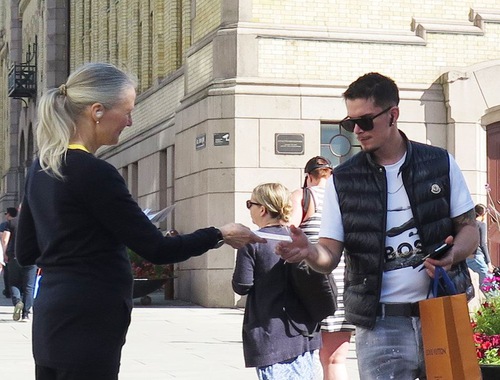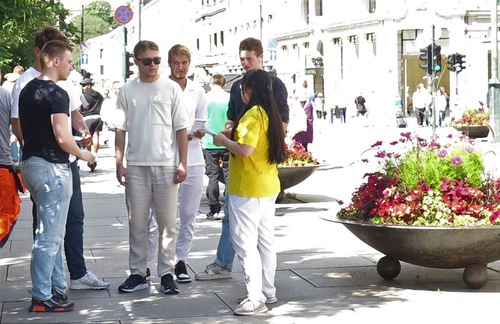 Chinese version available
(Clearwisdom)