(Minghui.org) Falun Dafa practitioners in Jakarta gathered in front of the Chinese Embassy on July 22, 2023, to hold a peaceful rally and a candlelight vigil calling for an immediate stop to the Chinese Communist Party (CCP)'s persecution of their faith. The event marks July 20, 1999, the date the CCP began to imprison and torture Falun Dafa practitioners for their faith.
Practitioners talked to people about Falun Dafa and the persecution in China and asked them to sign a petition calling for an end to the CCP's persecution. Many passersby read the materials, talked with practitioners, and signed the petition to show their support.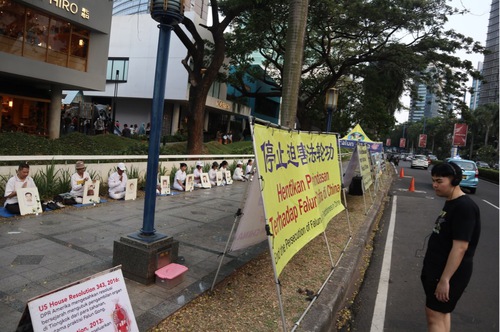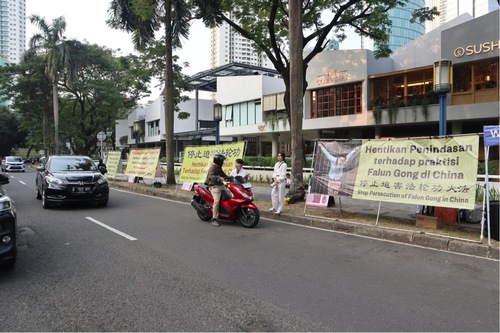 Representative of Global Human Rights Effort: We Want to Help End This Terrifying Genocide
Non-governmental organisation Global Human Rights Effort (GHURE) representative Fadjar expressed his deep concern about the persecution that Falun Dafa practitioners have been suffering from for the past 24 years.
"The CCP's global financial influence has exerted great stress on many countries," he said. "Information about the persecution that is being suffered by Falun Dafa is being critically reviewed. This makes it even harder for people outside of China to learn the truth, and different countries' political leaders are still maintaining silence on this urgent problem."
Fadjar said that the government and the public need to speak out because the stance that they take and their actions are very important. "We should make a clear stand to help end this terrifying genocide," he said.
He continued, "Over the past ten-plus years, our organisation has always supported the Falun Dafa group in their efforts to end the CCP's persecution. Looking into the future, we will continue to support the Falun Dafa practitioners and let more people know about the human rights persecution that Falun Dafa practitioners are suffering in China."
Fadjar believes that this kind of situation will not continue for too long. "One day, the CCP will ultimately collapse. This is inevitable. And all that is the result of the countless evils that it has committed," he said.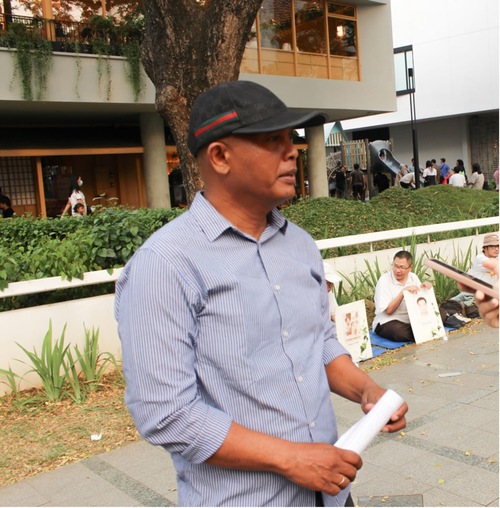 Pedestrian: The CCP's Crimes "Cannot Be Pardoned"
Andi was passing by the Chinese embassy and was moved by the Falun Dafa practitioners' peaceful atmosphere. "This is the first time that I have seen such a peaceful protest. I really admire your perseverance and dedication," he said.
After learning about the persecution, Andi said, "The crimes that the CCP has committed cannot be pardoned. This is obviously infringing on the most basic human rights," he said.
He condemned the CCP's crimes against humanity and expressed his support for the efforts by practitioners to end the persecution.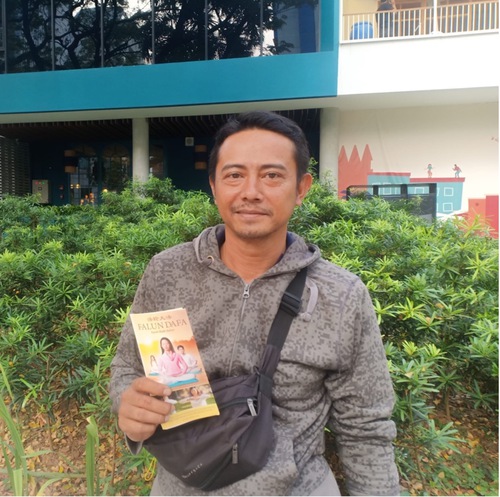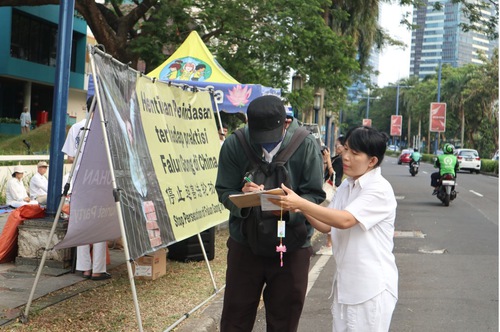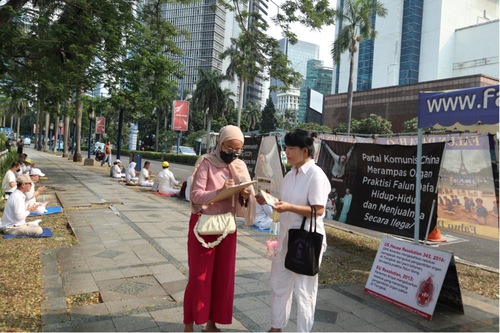 Chinese version available
(Clearwisdom)
Indonesia: Falun Dafa Practitioners Meet to Exchange Experiences