(Minghui.org) Falun Dafa practitioners in Jakarta met to do the exercises together and discuss their cultivation experiences in Cisarua, Jawa Barat.
Practitioners from other regions including Bandung, Cirebon, and more remote areas such as Yogyakarta, Lampung, and Batam joined in the activities as well. The organisers hope that, through the gathering, practitioners can encourage one another and be more diligent in cultivation.
During the three days of activities, they read Falun Dafa's main book Zhuan Falun and did the five exercises. On the third morning as they did the exercises together, they helped one another by correcting their movements.
Practitioners shared cultivation experiences and spoke of how, by following Falun Dafa's principles of Truthfulness, Compassion, and Forbearance, they resolved the problems they encountered in their daily lives and while participating in projects to tell people about the persecution. A few spoke of how Falun Dafa changed their perceptions. When they have conflicts now, they don't point fingers. They face criticism positively and look for ways to improve their character.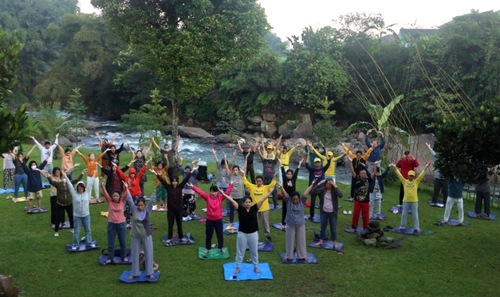 Falun Dafa Is What I Had Been Searching for All My Life
Sari is a lawyer from Bandung, Jawa Barat. She said Falun Dafa is what she had been searching for all her life.
"I was bad-tempered, selfish, and extravagant. I loved to show off and I was a jealous person before I practiced Falun Dafa," Sari said. She knew she had to get rid of all these shortcomings but did not know how. After she became a practitioner, she understood that Truthfulness, Compassion, and Forbearance are the principles a cultivator should follow. She gradually got rid of her faults and was able to handle pressure at work better. At the same time, the atmosphere at home improved as did her relationships with her family members.
She caught COVID in June 2021 at the peak of the pandemic in Indonesia. Her symptoms were severe. She had difficulty breathing, a high fever, and a headache. Feeling anxious, she thought of reading Zhuan Falun. She tried her best to read as much as she could until she fell asleep. A miracle happened. The next day when she woke up, all her symptoms had disappeared and she felt a great sense of relief.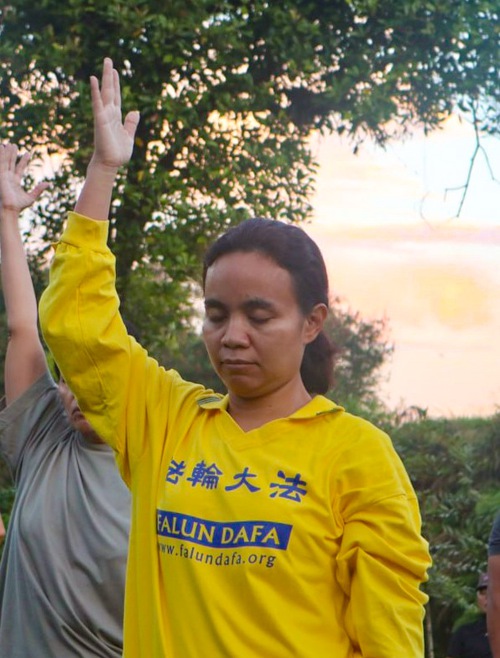 I Quit Smoking
Arief is an engineer in Jakarta. He too took part in the activities.
He said that, before he began practicing Falun Dafa, he was a heavy smoker—two packets of cigarettes a day. He said, "I continued to smoke even though I coughed badly because my addiction was so strong."
After reading Zhuan Falun, he realised that smoking was bad for his body and not in line with the teachings. One day in 2004, he decided to quit smoking because he wanted to practice Falun Dafa in-depth. The next day, he decided not to smoke again and was truly able to quit. Since that day, he has not smoked any cigarettes.
On the last day, practitioners commented that group activities like this really benefited their cultivation. A few who had stopped practicing because they were too busy or swayed by everyday society decided to return to cultivation after attending the three-day gathering.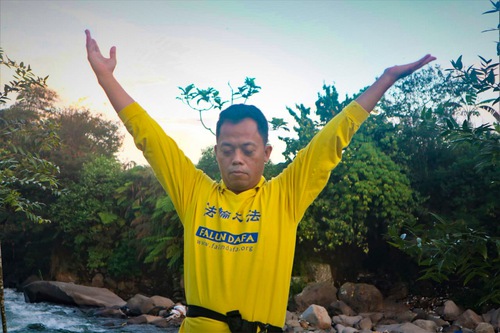 Background: What Is Falun Dafa?
Falun Dafa (also known as Falun Gong) was first introduced to the public by Mr. Li Hongzhi in Changchun, China, in 1992. The spiritual discipline is now practiced in over 100 countries and regions worldwide. Millions of people who have embraced the teachings, which are based on the principles of Truthfulness, Compassion, and Forbearance, and have learned the five exercises have experienced improved health and well-being.
Chinese version available
(Clearwisdom)
Indonesia: Residents Learn about Falun Dafa and the Persecution in China