(Minghui.org) Falun Dafa practitioners participated in the annual grand parade for the National Holiday of Quebec, celebrated on June 24, 2023 in Quebec, Canada. The practitioners were well-received, and their efforts were praised by locals.
Salaberry-de-Valleyfield is located 60 kilometers (~37 miles) west of Montreal. It is a scenic waterfront city, and is commonly known as "Quebec's Venice."
A total of 70 groups participated in the parade. They walked approximately 4 kilometers (2.5 miles). The practitioners' part of the parade consisted of Tian Guo Marching Band members, and a group exercise demonstration team, which was the largest group in the parade. Cheering and applause was heard along both sides of the streets as the procession passed. Locals were happy to receive Falun Dafa informational fliers and many were seen reading the fliers.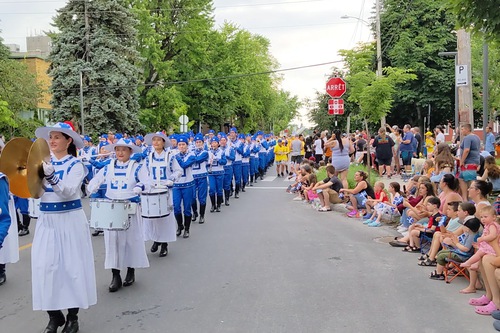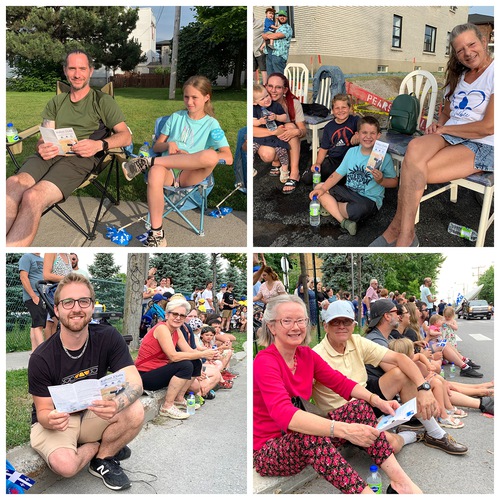 The annual Quebec National Day parade has been held in Salaberry-de-Valleyfield since 1896. It is one of Quebec's most important holidays, and tens of thousands of spectators come to watch the parade. Falun Dafa practitioners have been invited by the organizers since 2011.
Michel Bougie, chair of the event organising committee, said, "Spectators enjoyed watching Falun Dafa's procession. They would always ask us to invite them back and participate in the parade. Whether it be their colorful and beautiful costumes, peaceful music, or their elegant exercise movements, we are very grateful to have practitioners participating in the parade.
Robert Cadieux, from the Quebec Abitibi region, was a former municipal director. He said after reading the Falun Dafa informational flier, "I understand that Falun Dafa is a traditional meditation practice that can benefit one's body and soul. I am interested in this."
He believed in the goodness of the principles, Truthfulness-Compassion-Forbearance, and said, "These principles are very good, and I will abide by them as well. There is too much violence in this world. We must begin with ourselves and bring spiritual balance. These are good values worth teaching and bringing people together."
He was happy to learn that there were online exercise classes. He was interested in learning the practice and said he will research more about it after returning home.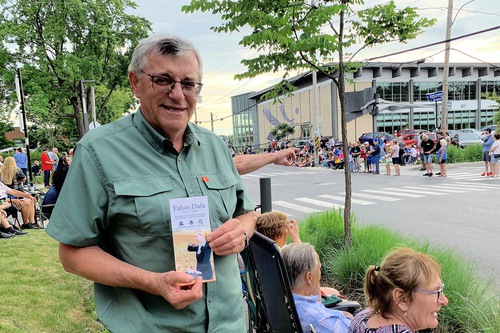 Linda, a local resident, enjoyed watching Falun Dafa's procession. She said that it was "very beautiful and outstanding." She was glad to hear about the goodness of the Dafa principles of Truthfulness-Compassion-Forbearance, and said, "This is the right mentality and way to protect traditional values. This world lacks tolerance and many other things. Sometimes we feel like we are living in a chaotic world. The world should focus more on these values – Truthfulness-Compassion-Forbearance – instead of adding more chaos."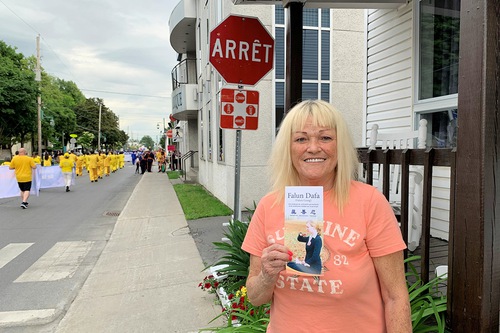 Stéphane, a sales associate, said he liked Falun Dafa practitioners' costumes a lot and said that they were "very beautiful." He continued, "The practice makes me feel relaxed. Everything that practitioners do are of interest to me. The principles of Truthfulness-Compassion-Forbearance are very important values to me. I just read the flier and learned that there is an online teaching class." He stated that he would definitely attend."
Chinese version available
(Clearwisdom)
Quebec: Practitioners Introduce Falun Dafa and Expose the CCP's Criminal Acts of Live Organ Harvesting