(Minghui.org) Practitioners in San Diego were invited to participate in the 27th Independence Parade in Oceanside on June 24, 2023, to celebrate the 247th U.S. Independence Day. The Falun Dafa group was one of 130 participants in the parade. Many spectators said they enjoyed the practitioners' float, celestial maiden costumes, banners, waist drums, exercise demonstration, and, most of all, their message of Truthfulness-Compassion-Forbearance.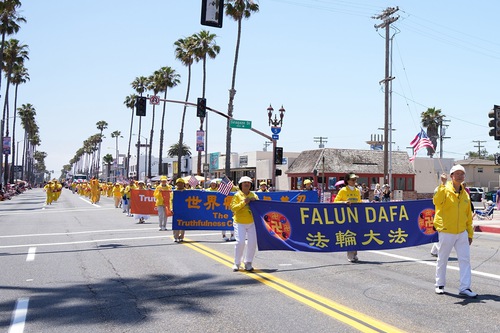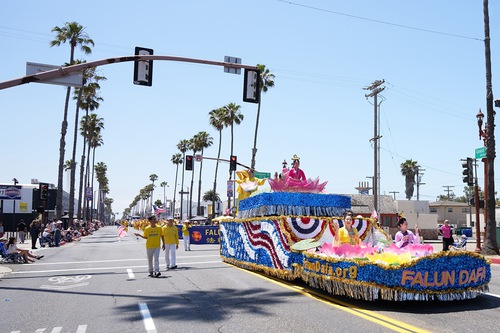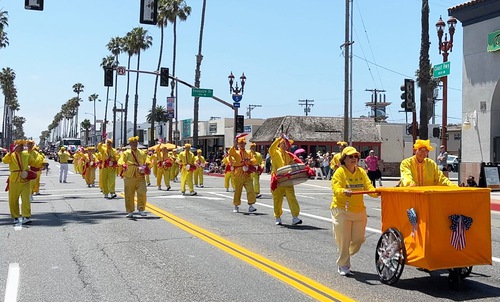 Spectators Dave and his wife were enthusiastic about the Falun Dafa entry and said, "They look beautiful! Their costumes and performance are great. The float is gorgeous, too! We like their message. So happy to see they are here and bringing such great things to our community!"
Dave added, "Our society is so divided. People hardly think of calming down and taking care of the important things in life. They [Falun Dafa practitioners] impart their sense of calm."
Jazz Koehler, a volunteer at the event, said she was excited to see the Falun Dafa procession and took a video of it. "I like them. I like the group spirit they show and their drum dance," she said. "So energetic! Every one of them smiles so sincerely and promotes their exercises from the bottom of their hearts!" Jazz said she could sense peace, love, and generosity from the practitioners in the parade. She was interested in learning the exercises.
Jamie Alexander, another spectator, said, "I like their dance, their float, everything. And their message: Truthfulness-Compassion-Forbearance, hope, saying 'no' to the Chinese Communist Party, etc. That's great! I'll find out more about Falun Dafa."
Chinese version available
(Clearwisdom)
California: Art Exhibition Held at University of California San Diego