(Minghui.org) During the week of May 13, 2023, practitioners from across Russia hosted events in six cities to celebrate World Falun Dafa Day. This date marks the anniversary of the day the practice's founder, Master Li Hongzhi, introduced Falun Dafa to the public in 1992. It also coincides with Master Li's birthday.
Practitioners held events in St. Petersburg, Pyatigorsk, Moscow, Yalta, Irkutsk, and Ulan-Ude. They demonstrated the Falun Dafa exercises, discussed their cultivation experiences, and told the public about the benefits of the practice—as well as the persecution in China, where the Chinese Communist Party (CCP) has been suppressing practitioners since 1999.
Many people stopped to watch and talked with practitioners. Many praised Falun Dafa and its principles of Truthfulness, Compassion, and Forbearance.
Celebratory Events in Yalta
Practitioners in Crimea hosted their event at their usual location—the garden of a hospital in Yalta—on May 13, 2023. They dressed in gold outfits and did the Falun Dafa exercises. Multicolored lotuses were set up as decorations, which, along with the gentle exercise music, created a peaceful atmosphere.
The Falun Dafa Day celebration also coincided with the Wisteria Festival in Yalta, and the purple flowers in full bloom added a delicate fragrance.
Practitioners also paraded around the gardens while performing the song, "Falun Dafa is good" on waist drums, which drew the attention of many passersby.
Practitioners also prepared gifts for onlookers: Small booklets, calendars, and lotus flower charms that are a reminder of Falun Dafa's values. Many people asked about Falun Dafa: What benefits do the exercises bring, how can they be performed, and where the classes are held.
Tourists who were visiting the garden from different parts of Russia also asked practitioners whether they could find places to learn Falun Dafa in their regions.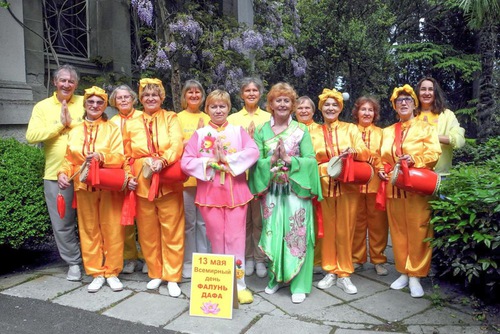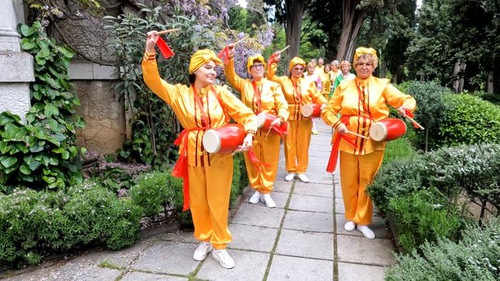 Celebrating Falun Dafa Day in Irkutsk
In Irkutsk on May 13, practitioners held their event on Youth Island, located in the middle of the Angara River which bisects the city. This is a popular spot for both locals and tourists.
Practitioners demonstrated the exercises, performed the waist drums and spoke to passersby about the practice. They also collected signatures on a petition initiated by the Falun Dafa Information Centre in Russia, which calls on the President and government of Russia to condemn the CCP's forced organ harvesting from Falun Dafa practitioners in China.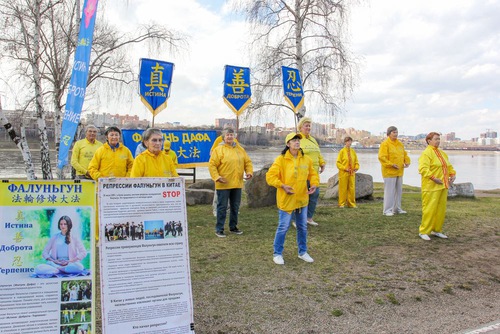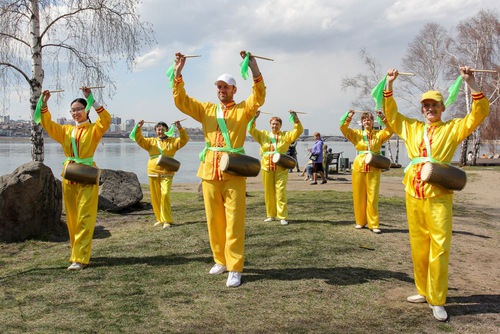 Many passersby stopped to chat with practitioners and get more information. A couple said that they already knew about the CCP's persecution of minorities in China for their spiritual beliefs. They signed the petition to protest the persecution of Falun Dafa and to support the practitioners in their peaceful protest.
An elderly husband and wife told practitioners that they already signed a petition against the persecution, but they hope that practitioners will continue their efforts to uphold their right to follow their belief.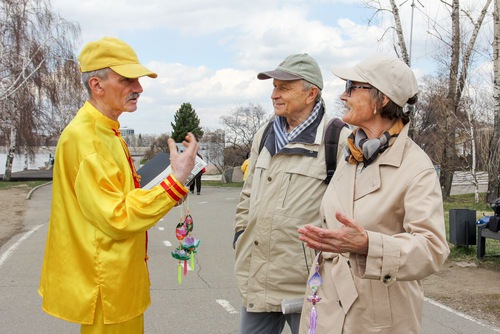 After the event, practitioners read Master Li's latest articles and books. During the meeting, they shared stories and insights from their cultivation.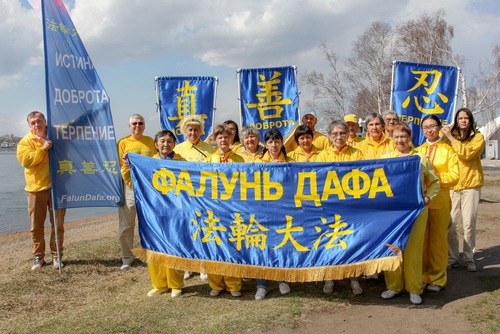 A Celebration in Ulan-Ude
Practitioners in Ulan-Ude hosted their event at a park in the city on May 20. They put up informational banners, demonstrated the exercises, and told onlookers about the practice.
Since it was the first warm day after a spell of cold weather, many people were at the park. Some people were drawn to the practitioners' exercises and wanted to learn the practice, and one woman imitated their exercise movements. Many people thanked practitioners for telling them about Falun Dafa.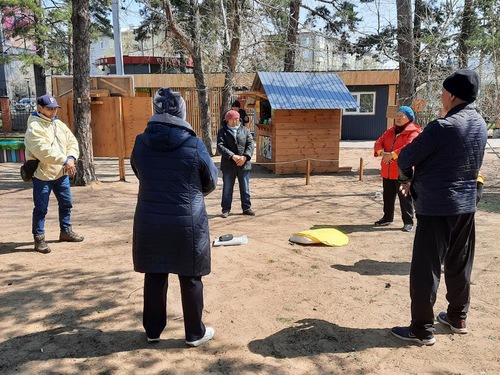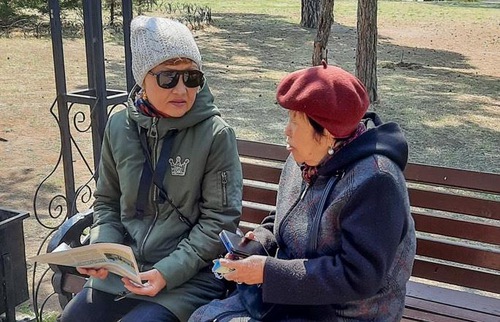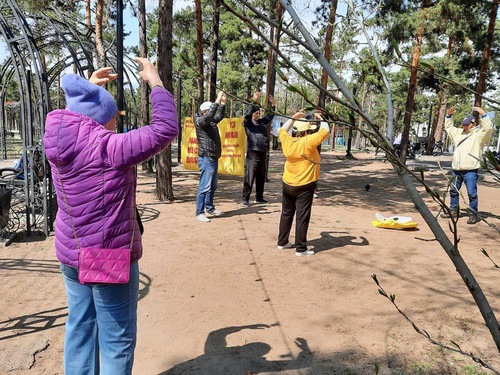 A Day of Gratitude
In addition to the outreach events to introduce Falun Dafa to Russians, this was also a day for the Russian practitioners—along with all practitioners around the world—to show their appreciation for Falun Dafa and their gratitude to Master Li.
Practitioners from Moscow, St. Petersburg, and Pyatigorsk held similar events in other cities. They also talked about how they personally benefited from the practice.
Surova: May 13 Has Become the Most Precious Day for Me
Zoya Surova, from Moscow, has been practicing Falun Dafa for 20 years. She says that it's given her life purpose and meaning and that she has become a better person as a result.
"Since the age of 8, I have been looking for an answer to the question of why I was born into this world. When I was 62 and heard about Falun Dafa, it was a great joy for me. I felt as if I was born again," she said. "Since then, May 13 has become the most precious day for me."
Averina: Grateful to Master for Such a Precious Gift for the Whole Society
Sofia Averina and her husband are both practitioners. She began practicing Falun Dafa in 1999 with her mother. She said that through practice, she has improved her moral character in the face of interpersonal challenges.
"I am guided in my life by the Falun Dafa's principles of Truthfulness, Compassion, and Forbearance, which always help me to cope with difficulties at work, at home, and to do the right thing in society on the path of life," said Averina.
On this day, she wishes to express her thanks to Master Li for sharing such a beneficial practice with the rest of the world. "I and all my family members wholeheartedly congratulate Teacher and express our deep gratitude to him for such a precious gift for the whole society," she said.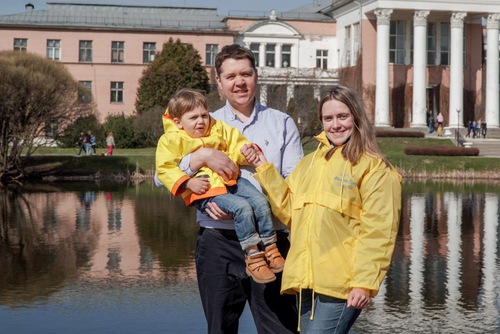 Kilmova: Falun Dafa Is Extraordinary! Our Entire Family Benefited
A practitioner for 21 years and counting, Nina Kilmova hails from St. Petersburg. The principles of Falun Dafa helped her resolve her family problems and guides her to inner peace.
"When I began to follow these principles, every day I began to change for the better," she said. "Before I practiced, I had many problems: Illnesses, my children were ill, and my husband drank. When I started practicing, everything in the family became more harmonious," said Kilmova. "My husband stopped drinking, and my daughter recovered—what happiness! Falun Dafa is extraordinary! Our entire family benefited.
"Falun Dafa gives me a deep understanding of everything that happens in life. I understood why humanity exists. I am so thankful to Master!" she said.
Kalchenko: "I recommend this practice to everyone who works in schools and other children's educational institutions."
Ekaterina Kalchenko, also from St. Petersburg, has been practicing for 10 years. She is a teacher and found that Falun Dafa helped her to do better as a teacher and she is more caring towards her students.
"I observed colleagues who devoted themselves to the profession with all their hearts, but quickly got [burned out,]" said Kalchenko, "At some point, this happened to me as well."
But after taking up Falun Dafa, Kalchenko found that her energy level and her stress tolerance increased greatly.
"After a hard day's work, you meditate and feel how your thoughts come into order, and the nervous system is restored," she said. "I recommend this practice to everyone who works in schools and other children's educational institutions. After all, a kind and wise teacher can give a lot to his students, based on righteous principles."
Podyacheva: From a Closed, Fearful Person to Being Open and Friendly
Through her 12 years of practice, Larisa Podyacheva from Pyatigorsk has grown from a closed, fearful person to being open and friendly.
"I was a closed and insecure person and always tried to protect myself in all situations. Thanks to Master's teachings, I realised that everyone has a good side, and one should try to awaken it by telling them about the wonderful principles of Falun Dafa and the beauty and benefits of cultivation," she said.
The practitioners from the three cities also took videos and group photos at the end of the event to wish Master Li a happy birthday.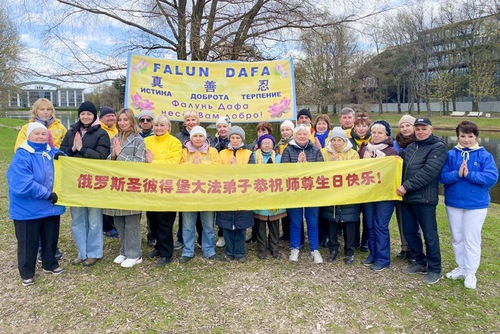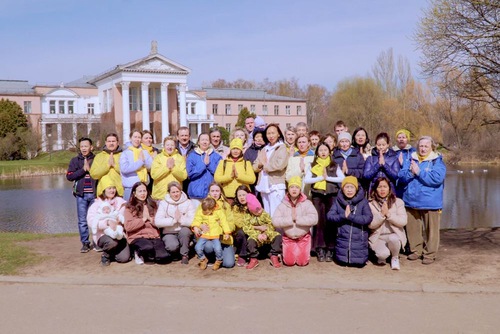 Chinese version available
(Clearwisdom)
Russia: Over Ten Thousand Admire Artworks from The Art of Truthfulness-Compassion-Forbearance International Art Exhibition