(Minghui.org) "Stop the CCP's Live Organ Harvesting" poster exhibition was held in Chikaho, the underground walkway in Sapporo Station, from May 18 to 21, 2023, by the Transplant Tourism Research Association (TTRA) in Japan.
Chikaho is an underground walkway connecting two main stations in Sapporo—more than 60,000 people pass through it each day. People can apply to use the sides of the plaza for activities like merchandise promotion, sales, or exhibitions.
Twenty posters depicting the Chinese Communist Party's (CCP) crime of organ harvesting from Falun Dafa practitioners were displayed. Most of the passersby on weekdays were employees of major commercial companies and students. On the weekends, many families and travelers studied the posters carefully and signed a petition to end the live organ harvesting. Many young people took photos of the exhibition and shared them on social media.
Several college students came on the last day of the exhibition. They listened, asked questions, and provided feedback. They said it made them seriously think about the issues of live organ harvesting and transplant tourism.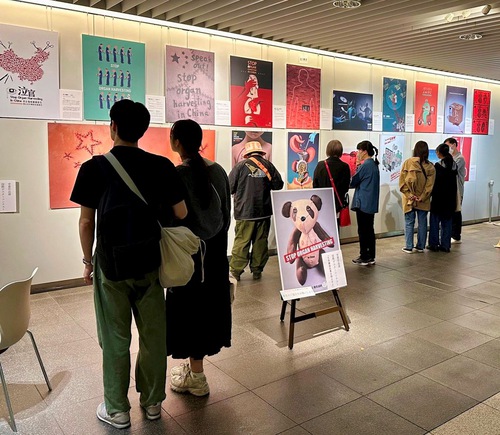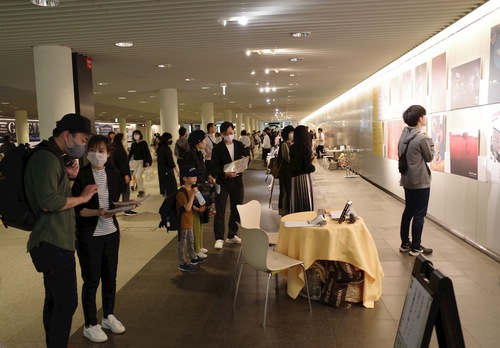 "Hope to raise awareness of live organ harvesting through my artwork"
Miss Ohashiwa, who designed the silver award poster, "Reserved," is an art student at a university in Sapporo. She said that, when she was creating her poster, she researched information about live organ harvesting and was heartbroken to find out that even children do not escape this evil. So she decided to use the theme of a child who represents the future of the country to expose the cruelty of live organ harvesting. She herself researched and verified the prices of the organs marked on the poster. The check marks in red and the specific dates show that the organs have been reserved, sending home the message that live organ harvesting is very real and very cruel.
"Japanese people don't know much about live organ harvesting, so I want to let them know what is going on through the artwork," she said. "I hope that people can understand live organ harvesting at a glance. I hope that people in Japan and the world will pay more attention to this matter."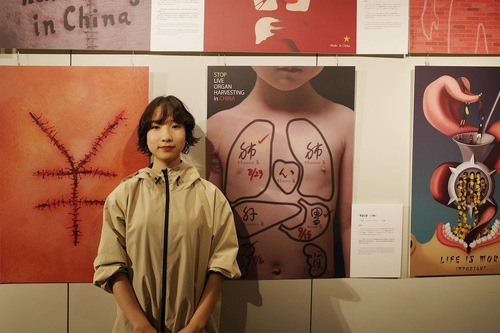 Ms. Hasegawa said that, without the CCP, there would be no such evil [organ harvesting], and the same for the COVID virus.
Ms. Sasakawa, a nurse, went straight to the table and signed the petition. She said that she'd heard similar things for a long time. "If you just sit back and watch, one day it will be your turn," she said.
Mr. Cui, a university professor in Sapporo on business from Asahikawa City, listened carefully to the explanation and said, "This is a crime against all mankind." After signing the petition, he took some photos and said that he would share them with his students.
Mr. Aoki, who has investments and business in China, heard about the live organ harvesting for the first time. After signing the petition, he took a picture and shared it on Twitter. He later came back and said that some of his business friends, including Chinese, responded to his post, saying that they knew about it. He said he hoped that he would have the opportunity to know the real information about China.
Chinese version available
(Clearwisdom)
New York: The Art of Zhen-Shan-Ren Exhibition Held in Albany