(Minghui.org) The 2023 G7 Summit was held in Hiroshima, Japan, from May 19 to 21, 2023. From May 3 to 16, Falun Dafa practitioners held a series of activities near the event, to tell people about Falun Dafa and how it's persecuted in China.
Practitioners solicited signatures from people who visited the Peace Park, calling to end the persecution in China. Many Japanese people and tourists signed the petition.
This year's G7 Summit was attended by US President Joe Biden, Canadian Prime Minister Justin Trudeau, French President Emmanuel Macron, German Chancellor Olaf Scholz, Italian Prime Minister Giorgia Meloni, and British Prime Minister Rishi Sunak. European Commission President Ursula von der Leyen and European Council President Charles Michel also attended.
Japanese Prime Minister Fumio Kishida also invited Australian Prime Minister Anthony Albanese, Indian Prime Minister Narendra Modi, Brazilian President Luiz Inácio Lula da Silva, South Korean President Yoon Seok-yue, as well as the leaders of Vietnam and Indonesia, The leaders of the Comoros (on behalf of the African Union) and the Cook Islands (on behalf of the Pacific Forum of States) joined as observers.
On August 6, 1945, nuclear bombs killed 140,000 Hiroshima residents. G7 leaders will visit the relics of the Hiroshima bomb during the summit to remind people of the disastrous consequences of war. Some said, "Hiroshima is a symbol of peace."
During the activities, many people learned about the persecution in China and expressed their support for practitioners. When they learned how the CCP harvests organs from practitioners while they are alive, people were shocked and condemned the crime. Some went to the Ganjing.com website through the QR code on the leaflet to browse the videos about the persecution. More than a thousand people signed the petition calling for an end to the CCP's persecution.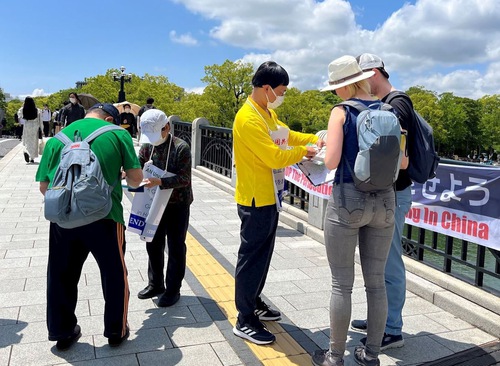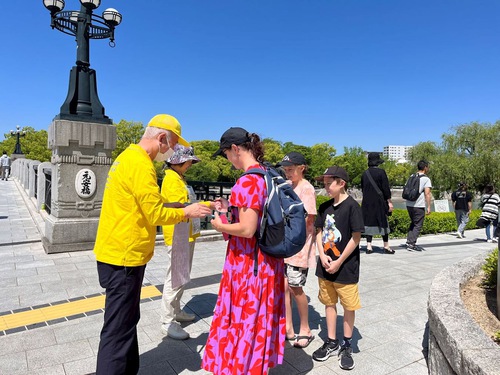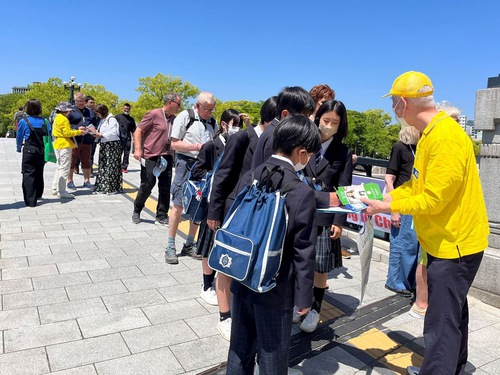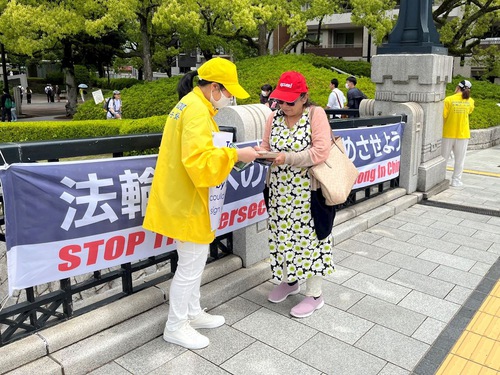 Japanese People Encourage Practitioners
During the event, practitioners met many supportive locals. Some people tried to give practitioners donations. Many people signed the petition, and some brought practitioners food and drinks.
A little boy gave a paper crane to practitioners when his parents received a flyer from them. He said, "I have been thinking about giving this paper crane to someone wearing a yellow T-shirt (referring to practitioners)." A young man took two blank petitions and said that he would send them back to practitioners after they were signed. A local Japanese youth signed the petition and said, "We cannot allow this persecution to occur. We must stop it."
There were also middle school students on field trips. They interviewed practitioners, and their teacher asked practitioners for permission to put the content and photos of the interview on social media.
People from Around the World Support Falun Dafa
A woman from Colombia who studied abroad at Xiamen University in China for four years, told practitioners in Chinese, "When I was in China, I never heard of Falun Dafa or the persecution. The topic is forbidden because the CCP doesn't like it. I think it's too difficult for the Chinese. Too much truth has been censored.
"Thank you for telling me this. I will go to the website and look up Falun Dafa. I have a lot to say, but because my Chinese is limited, I cannot express myself well. I want you to keep up the good work and take care."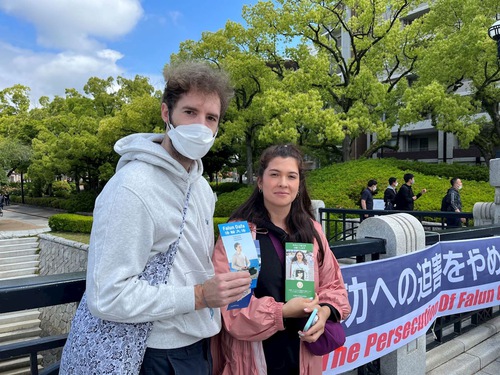 A Japanese girl said that she believed in Marxism and was a communist. Practitioners told her, "In the Communist Manifesto Marx said that communism is a specter haunting Europe. It came here to destroy humanity. You should not believe in it, as it's a bad thing."
Then practitioners talked about the disasters brought by the communist regime to the Chinese people and the harm it's done to the world. After a long conversation, the girl understood the truth and said, "I got it." She signed the petition.
A man from Mexico was attracted by the photos of practitioners meditating on the flyer, but said that there was something he couldn't understand. He asked, "Why are (Falun Dafa practitioners) killed because of qigong?" After talking to practitioners, he signed the petition and said that he wanted to practice Falun Dafa.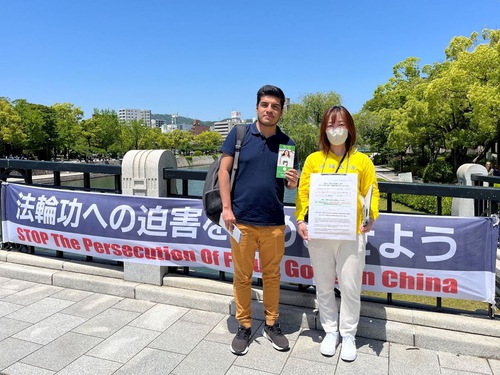 Chinese Sign the Petition
A Chinese student from Fukuoka City learned the truth about the Tiananmen "self-immolation" from practitioners during the event. He said, "I understand now. Let me sign my name to show my support for you." He also said that he would withdraw from the CCP's Youth League and Young Pioneers organisations he joined in China.
Two other young Chinese who grew up in the United States, are currently studying in Japan. They said that they often returned to China with their families when they were young, but they never heard of Falun Dafa. When they heard that such harsh persecution was taking place in China, they were shocked and immediately signed the petition.
They said that they originally wanted to go to Miyajima (an island nearby Hiroshima), but they missed the cruise ship. "Although we didn't get on that boat, it was worth it," one of them said.
A Chinese who lives in Saitama Prefecture said that he watched Shen Yun's performance in Saitama this year, and he felt great! He's been reading the Epoch Times. After talking with practitioners, he happily signed the petition. The Japanese accompanying him also signed their names.
Chinese version available
(Clearwisdom)