(Minghui.org) The 123rd Annual Victoria Day Parade was held in downtown Victoria, the capital of British Columbia, Canada, on May 22, 2023. Military bands and different ethnic groups and organisations' colorful performances rounded out the procession. Falun Dafa practitioners were especially well-received by the crowds.
The Victoria Day celebration began in 1901 to commemorate the birthday of Britain's Queen Victoria. At 9 a.m., two heralds dressed in Victorian costumes rang bells to announce the start of the parade. The 85 groups participating in the parade walked about three kilometers down Douglas Street in Victoria, starting from the Mayfair Shopping Centre and going south where Douglas Street and Humboldt Street interact.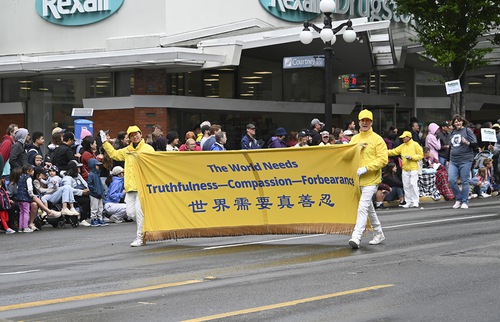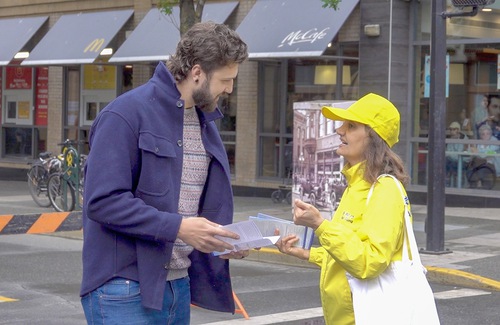 "Falun Dafa Is Very Peaceful"
Jerrit, who is from Victoria, watched the Falun Dafa parade procession from a distance. He said, "It leaves a deep impression. I think that everything of this [Falun Dafa practice] is very peaceful. They are also very harmonious."
"I Like the Tian Guo Marching Band's Music"
Retirees Jean and Paun missed seeing the band that they had rushed over to show their support for. They were not disappointed. Jean said, "We are looking for the Pied band but we missed them. However, the other bands made up for that. They were very good.
"Especially this band [the Tian Guo Marching Band] is excellent," she said as she pointed to the Falun Dafa parade procession. "I like their music the most."
She enjoyed seeing the performance by the Falun Dafa waist drum team and how they interacted with the audience, Jean said, "I see everyone coming out to enjoy themselves. This is very good. This is really very good."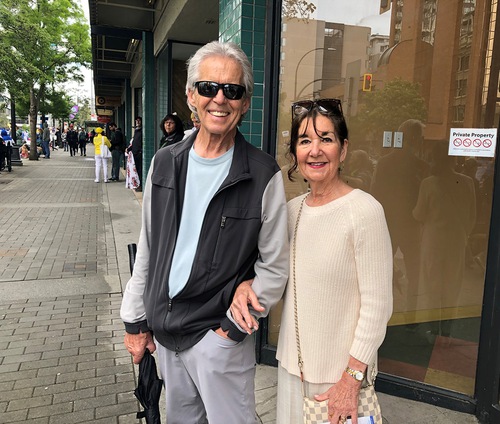 Indian Family: Falun Dafa Group Is Very Good
Raj and her husband Bob immigrated from India to Canada 15 years ago. They brought their two preschool kids to watch the parade. "Very good, very good," They both said.
"I think that the group wearing the yellow shirts is very good," Bob said. "They are Falun Dafa practitioners.
He also said, "I think that the [Tian Guo Marching Band] music is very good."
"Falun Dafa's Performance Is Very Graceful"
A new immigrant family from Southeast Asia really enjoyed this Victoria Day parade. The mother, Charmaine, said her children all had a very happy time.
Angel, the family member who came to Canada to study more than 10 years ago, said, "We are very happy. Seeing many different cultures is very interesting."
She said that what left the deepest impression on her were the different costumes and cultures. When talking about the Falun Dafa participants, everyone was very happy. "That group that meditates," Angel said, "they are very graceful when they are performing. They are always smiling."
Chinese version available
(Clearwisdom)
Montreal, Canada: Rally Held Supporting Movement to Withdraw from Chinese Communist Party Organizations