(Minghui.org) Practitioners gathered at the Texas state capitol in Austin on March 29, 2023, to attend a public hearing for TX SB1040 (Texas Senate Bill 1040).
The bill, sponsored by Senator Lois W. Kolkhorst, Chair of the Health and Human Services Committee, aims to stop organ transplant tourism and prevent Texans from becoming unknowingly complicit in forced organ harvesting, by prohibiting postoperative health insurance benefits for people traveling to countries involved in forced organ harvesting.
At the hearing, five Falun Gong practitioners and people from the medical field testified to expose the Chinese Communist Party's (CCP) genocidal persecution of Falun Gong practitioners, including the CCP's crime of organ harvesting from unlawfully imprisoned practitioners on a mass scale.
When Sen. Kolhorst introduced TX SB1040 at the hearing, she said that H.R.1154 (Stop Forced Organ Harvesting Act of 2023) was recently passed by the U.S. House of Representatives, so she included China (the CCP) in the Texas bill. She also said that various information showed that the sources of these illegal human organs are Falun Gong (also known as Falun Dafa) practitioners, as well as members of ethnic minorities such as Tibetan Buddhists, house church Christians, and members of the Uyghur Muslim ethnic minority group.
Falun Gong practitioners and Uyghurs were invited to testify at the hearing. Ms. Crystal Chen talked about her experience of being tortured to near death in a Chinese labor camp for refusing to renounce her faith in Falun Gong.
More than 50 Falun Gong practitioners attended the hearing. Senator Kolhorst expressed her gratitude for their support and said she would definitely continue to work with them to stop the organ harvesting atrocities.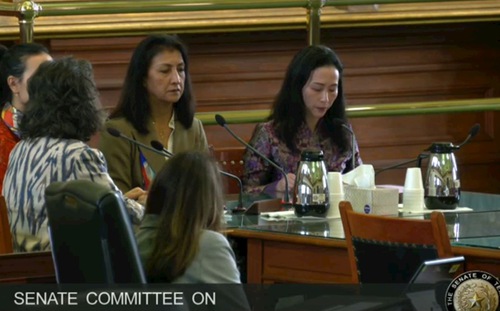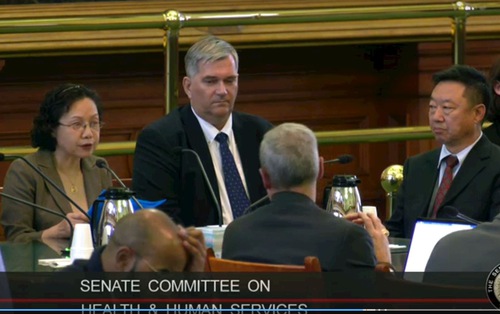 Texas Media Outlets Cover the CCP's Organ Crimes
At ten o'clock that day, Senator Kolhorst held a press conference on TX SB1040. Legislators, Falun Dafa practitioners, and Uyghur representatives spoke, and several local media outlets interviewed them and reported on the event.
The TEXAN reported Falun Gong practitioner Crystal Chen's experience, "Witness Crystal Chen, a member of the Falun Gong religious movement, said that she and her fellow practitioners were viewed by the Chinese government as a "commodity" for organ harvesting, which she claimed was due to their healthy lifestyles. She added that she was sentenced to several years in prison, and during that time was tortured and her blood drawn as part of the testing process to identify potential forced organ donors."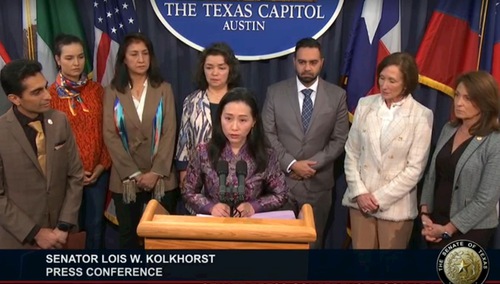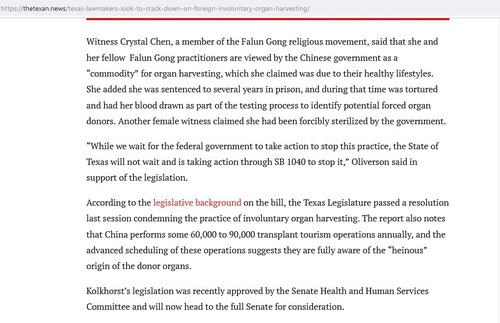 CNHI NEWS stated in its report that Crystal Chen said that she was sentenced to four and a half years of forced labor for not renouncing her belief in Falun Gong.
"Chen said she was tortured regularly as well as subjected to frequent EKG and blood tests."
She said she later learned that only her fellow practitioners were tested as a prelude to forced organ transplants. The tests have enabled China to build a large biological database to quickly match donors and recipients.
"Had my blood type and tissue type been a match for an organ recipient, I would not be able to be here today," Chen said.
She added, "A large number of Falun Gong practitioners could be killed on demand, which enables China to promise short waiting times for organs, attracting a lot of organ tourism."
So far, more than twelve media outlets in Texas have reported on this issue, focusing on the CCP's crime of organ harvesting from living Falun Gong practitioners.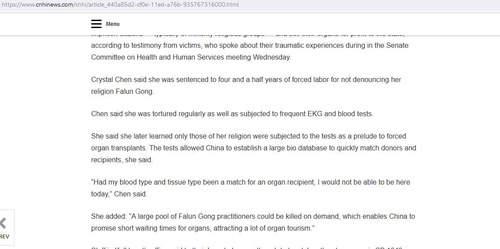 Telling Texas Legislators about the CCP's Persecution 
Falun Dafa practitioners who participated in this event were from Houston, Dallas, Austin, and San Antonio. They took this opportunity to visit their state legislators.
A legislator's assistant said that he learned about the CCP's organ harvesting during the live broadcast of the hearing in the morning. The assistant recognised the practitioner who spoke and expressed his support. Another legislator welcomed the practitioners into his office and called three assistants to join the meeting with the practitioners, saying it was important that they also learn about this important issue.
Background: What Is Falun Dafa and Why Is the CCP Persecuting It?
Falun Dafa (also known as Falun Gong) was first introduced to the public by Mr. Li Hongzhi in Changchun, China, in 1992. The spiritual discipline is now practiced in over 100 countries and regions worldwide.
Millions of people who have embraced the teachings, which are based on the principles of Truthfulness, Compassion, and Forbearance, and have learned the five exercises have experienced improved health and well-being.
Jiang Zemin, former head of the Chinese Communist Party (CCP), perceived the spiritual discipline's growing popularity as a threat to the CCP's atheistic ideology, and, on July 20, 1999, he issued an order to eradicate the practice.
Under Jiang's personal direction, the CCP established the 610 Office, an extralegal security organisation with the power to override the police and judicial systems and whose sole function is to carry out the persecution of Falun Dafa.
Minghui.org has confirmed the deaths of thousands of practitioners as a result of the persecution over the past 24 years. The actual number is believed to be much higher. Countless practitioners have been imprisoned and tortured for their faith.
There is concrete evidence that the CCP sanctions the harvesting of organs from detained practitioners, who are murdered to supply China's organ transplant industry.
Chinese version available
(Clearwisdom)