(Minghui.org) Hu Aimin and Zhou Yonglin, two agents in Hong Kong affiliated with the Chinese Communist Party (CCP), were recently charged with two counts of criminal damage for destroying Falun Gong information booths in 2021. The Kowloon City Magistrates Court announced the conviction on April 21, sentencing Hu to immediate imprisonment of 15 weeks. Zhou, who had pleaded guilty earlier, was sentenced to immediate imprisonment of 9 weeks.
When announcing the conviction, Magistrate Frances Leung Nga-yan said the defendants repeatedly damaged those objects in public in front of passersby. Such behaviors violated laws and must receive immediate imprisonment. This sends a public message that Hong Kong is a society of law and order and such behaviors are not tolerated. The magistrate said that, even if the defendants had resentment toward other groups or law enforcement authorities, they could not harm others at will.
When being interviewed by police on video, Hu said he happened to pass by the place and took some videos. He also claimed not to know those who damaged objects. The magistrate said although Hu only took videos with a cellphone instead of committing damage himself, he showed up at the Falun Gong booths at both Wong Tai Sin temple and Mong Kok shopping district within one hour. In addition to having a meal with the two who committed the crime, Hu also sent a WeChat message the night before the vandalisation, claiming to "target all Falun Gong [practitioners] in Hong Kong tomorrow." All this showed Hu was an accomplice who played a different role.
Surveillance videos played in court showed two men – one in a black shirt and one in a white shirt – tearing apart Falun Gong practitioners' belongings with utility knives first at Wong Tai Sin and then at Mong Kok. They also sprayed paint on the belongings. One man dressed in a floral shirt videotaped the process. Surveillance videos also showed these three people later left the scene on Nathan Road and then went together to Ocean Super Seafood Restaurant to eat.
According to the magistrate, evidence presented by the prosecutor indicated the man in black (Zhou) and the man in white had unique characteristics, and they were the same people who damaged objects at both crime scenes. Hu's shirt, on the other hand, had clearly a recognisable fish-shaped pattern. These showed the three were from one team.
When inspecting Hu's cell phone, police found he had videotaped the crime scene. A screen shot of his WeChat account showed he had sent out a message the evening before the event. "We will target all Falun Gong [practitioners] in Hong Kong tomorrow," he wrote. "Do you want to support it?" When being interviewed by police on video, he also complained, asking why the police did not remove the Falun Gong booths.
According to the magistrate, each count of criminal damage received 9 weeks of imprisonment. Since the two incidents happened within a short time frame, three weeks of the two sentences would overlap. That was why Hu received a term of 15 weeks. Zhou had pleaded guilty earlier and received a one third term deduction, making it 6 weeks for each count. With three weeks overlapping, the total term would be 9 weeks. Furthermore, the magistrate ordered Hu and Zhou each to pay 2,300 Hong Kong dollars to the victims within four months.
As for evidence related to the case, the court ordered the damaged display boards to be returned to the owners. Zhou's utility knife would be confiscated as a criminal weapon. The clothes and cell phones were returned to the two defendants.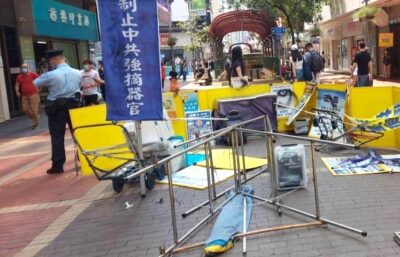 Hu: Coming from Mainland China with Nine Crimes on Record
The lawyer who represented Hu said his client came from mainland China. After his wife died in 2015, Hu now lives with his 15-year-old daughter at Ngau Tau Kok public housing, relying on income of Hong Kong $6,000 from the Comprehensive Social Security Assistance (CSSA). Although having 9 counts of criminal acts on record, Hu had not committed criminal damage before this case. The magistrate pointed out that, Hu committed an assault in 2008, which was also a violent crime.
Zhou had pleaded guilty earlier, saying he did not think clearly of what he was doing. As a renovation worker, he had to complete a project by the year end. He hoped the court would go easy on him. After being sentenced, he requested bail for three weeks, but was denied.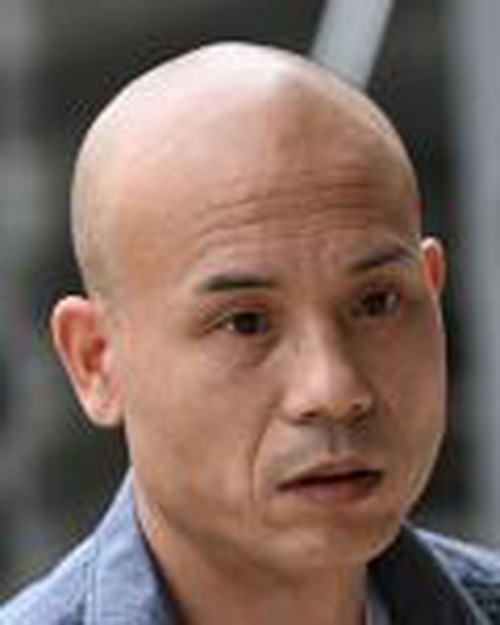 Repeated Harassment Against Practitioners
The incident reviewed by the court occurred on April 3, 2021. Within one week around that time, at least 6 Falun Gong booths were attacked over 10 times. Four of the eight people arrested by the police pleaded guilty for criminal damage and were detained for 8 months. One person was not charged. The remaining three were defendants in this case. Other than Hu and Zhou, police believed Zhuo Jinshen was the perpetrator dressed in white. But the court dismissed the case against him, citing insufficient evidence.
Prior to the conviction, Hu has damaged Falun Gong booths five times in December 2020. He was sentenced to two weeks of imprisonment on December 1, 2022, with a probation of 30 months. During court trial of this case, some pro-CCP agents were also making noise outside the court room including Tang Ka-piu (member of the Legislative Council for Hong Kong Federation of Trade Unions), Lan Hong Tsung (former Secretary for Home Affairs), and Yang Guanhua (pro-CCP internet celebrity).
Background Information
Falun Gong is a meditation system based on the principles of Truthfulness-Compassion-Forbearance. It was introduced by Mr. Li Hongzhi to the public in May 1992. The practice attracts people from over 100 countries for great health benefits and moral improvement.
After the CCP began to persecute Falun Gong in July 1999, practitioners have been telling people about the practice and clearing up the hate propaganda from the CCP. For this, they have been constantly harassed by agents instigated by the CCP. After Falun Gong practitioner Ms. Liao discussed with police in September 2019 about an upcoming march on October 1, she was beaten by thugs, which caused a severely bleeding injury on her head. Ke Yanzhan, 22, who was on the lookout during the assault, was sentenced in January 2022 to a term of two years and nine months.
Chinese version available
(Clearwisdom)
Hong Kong: Accomplice Sentenced for Involvement in Attacking Falun Gong Practitioner