________________________________
(Minghui.org) The West Kowloon Court in Hong Kong announced a verdict on January 26 for a crime committed in 2019, when a Falun Gong practitioner was brutally beaten by two men in a coordinated attack. Ke Yanzhan was sentenced to a term of two years and nine months for acting as a lookout. The two assailants remain at large.
Ms. Liao Qiulan and two other Falun Gong practitioners visited the Cheung Sha Wan police on September 24, 2019, to discuss an upcoming October 1 parade. When they left the police station and Ms. Liao was making a phone call, two masked men in black attacked her. One hit her head and the other struck her body.
Ms. Liao suffered severe bruising and a gash to her head that bled profusely. After she was taken to a hospital, she needed five stitches to close the four to five-centimeter (two-inch) gash on her head.
The Falun Dafa Association of Hong Kong welcomed the judgment since it helped uphold the law and maintain order. Nonetheless, the two thugs who attacked Ms. Liao still have not been identified and Falun Gong practitioners in Hong Kong continue to face persecution by the Chinese Communist Party. As a result, the Association hopes that more people can help locate the assailants so that they will be held accountable as well.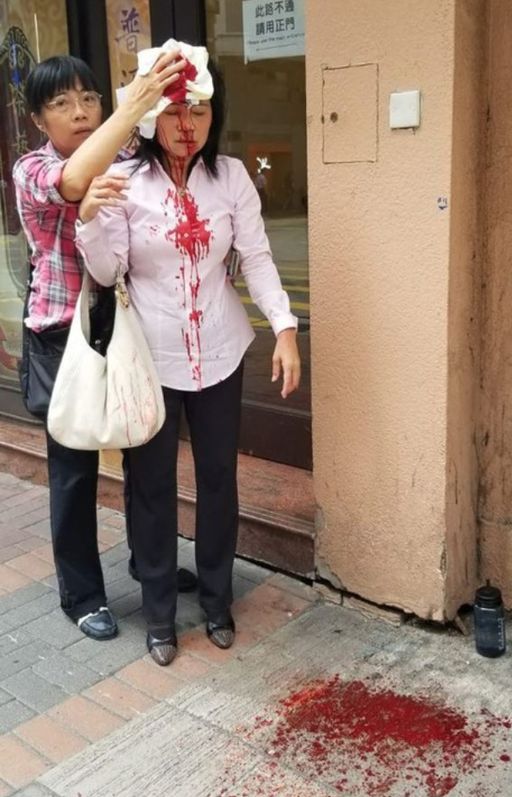 Judge: An Organised and Planned Attack
The trial of Ke Yanzhan started on October 4, 2021, and lasted nearly four months. Xu Zhaoqiang, Deputy Judge of the West Kowloon Court, convicted Ke for "wounding with intent." A sentence of two years and nine months was announced on January 26, 2022.
According to the judge, wounding with intent is a serious offense and the attack was an organised, premeditated, and planned crime. More specifically, someone was in charge of ordering the attack, of monitoring the victim at the police station, of the attack itself, and of driving the attackers' get-away car. Although Ke was only the lookout for the crime, he also committed "wounding with intent" like the other participants. Therefore, the judge determined that he should be punished to deter other would-be criminals.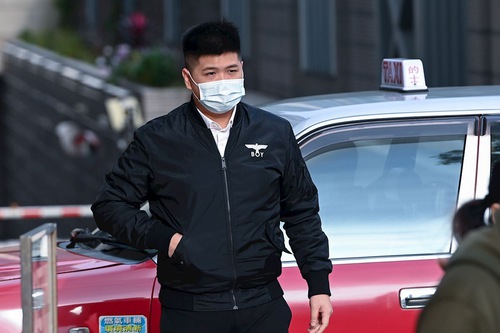 Lookout Person Arrested by Chance
Ke, 22, is a Hong Kong triad (organised crime) member who works at the same bar as two other defendants, Chen Jiaming and Wang Shujie. Right before the attack, he was seen loitering near the Cheung Sha Wan Police Station.
Since a police officer had been attacked at Kwai Chung earlier that day, an officer was worried about the safety of his coworkers and stopped Ke for his suspicious behavior.
Ms. Liao was attacked less than an hour after Ke was taken to the police station. From Ke's cell phone, the arresting officer found two pictures of the victim. Both WhatsApp and Zello, a Walkie Talkie app, had suspicious group messages such as "Cheung Shun Street subway station" and "target is out." The judge pointed out that the information coincided with the time and location of the attack.
Chen and Wang were also wandering outside the police station at the time and were checked by other police officers before the attack. Their phone numbers were also in the same WhatsApp group as Ke. But the prosecutor did not provide their cell phone information as evidence.
Citing precedent cases, the judge said that Chen and Wang could not be convicted based on evidence in Ke's cell phone alone. But he stated that Chen's behavior was also suspicious and could not be ruled out for involvement in monitoring Ms. Liao. In addition, Wang left Hong Kong for Mainland China the day after the attack.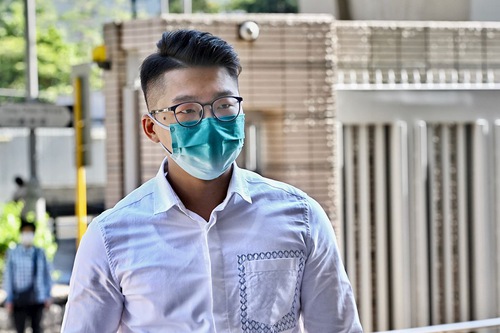 Repeated Harassment by CCP Agents
After Ms. Liao was attacked, Chinese State Security Bureau officials repeatedly threatened her family in mainland China, saying that they were "going to come and arrest her [Ms. Liao] in Hong Kong."
Although the wound on her head was just beginning to heal after a month, she still had pain a year later. Thanks to her Falun Gong practice, Ms. Liao has now fully recovered. If not, the outcome could have been considerably worse.
After the CCP began to persecute Falun Gong in July 1999, Ms. Liao applied for march and rally permits from the police numerous times on behalf of Hong Kong practitioners. She said that CCP spies had been following her and threatening her over the years.
Whenever she went out for activities or to travel, she would notice someone following her. The harassment and threatening phone calls have been non-stop, and her family members were also harassed. In order to protect her family, Ms. Liao has not returned home to China for years.
During an event in July 2016 to commemorate the ongoing efforts to counter the persecution, CCP agents poured red paint on her head. They then followed up with harassing phone calls. "Better stop these [Falun Gong] activities; you won't be so lucky next time," said one caller. "If you go on like this, you will be sorry and we will hit you hard," was the message in another phone call.
After the attack in 2019, Ms. Liao was still being followed and the threatening phone calls did not stop, either. For her own safety, she had to leave Hong Kong.
Despite the harassment and threats, Ms. Liao said that she has done the right thing. "Falun Gong has benefitted its practitioners greatly. How can we not speak the facts?" she explained.
That is why she stayed in Hong Kong for all those years to apply for rally and march permits to oppose the persecution. She emphasised that all Falun Gong activities were lawful and that they were approved by and protected by the police.
Seeking Justice
Stephen Char Shik Ngor, former Senior Assignment Officer for the Independent Commission Against Corruption (ICAC), said that with the vehicle plate number and the WhatsApp record, it should be possible to track down the two attackers and other participants in the crime. He suspects there may be other reasons that have complicated the case. For example, one of the attackers had left Hong Kong. Nonetheless, he hoped that the Hong Kong police could put more resources toward investigating this incident, since attacking peaceful Falun Gong practitioners has a long-term impact on Hong Kong's stability.
Ms. Liao also added that, when she was attacked, other practitioners had written down the vehicle plate number and given it to the police, who had also obtained surveillance video at the location where she was attacked. She urged the Hong Kong authorities to thoroughly investigate the incident and hold the criminals accountable.
Other Falun Gong practitioners have also been attacked. Ms. Liang Zhen, president of the Falun Dafa Association of Hong Kong, was beaten by masked mobsters right before a World Falun Dafa Day celebration in May 2021. Ms. Liang provided the suspect's vehicle plate number and there was surveillance video available. Although the police arrested two suspects, officials said there wasn't sufficient evidence to charge them.
In other cases of assault, elderly Falun Gong practitioners who have told passersby about Falun Gong have been pushed down by CCP agents. Quite a few practitioners have also been followed or monitored.
Ngor commented that Falun Gong is a lawful organisation in Hong Kong, and it is wrong for anyone to threaten or attack them. He added that all Hong Kong residents' legal rights should be protected, including those of Falun Gong practitioners.
Views expressed in this article represent the author's own opinions or understandings. All content published on this website are copyrighted by Minghui.org. Minghui will produce compilations of its online content regularly and on special occasions.