(Minghui.org) Resonant drums accompanying the music of "Falun Dafa Is Good" filled the air in Götaplatsen in Gothenburg on the morning of November 5, 2022. Practitioners spread their uplifting message of Truthfulness-Compassion-Forbearance through their performances. Anna, a Falun Dafa practitioner, talked about her experience.
Anna attended Master Li Hongzhi's (Falun Dafa's founder) seven-day lecture series in Gothenburg. A native Swede and pre-school teacher, Anna said she had always been curious about traditional Chinese culture.
Recounting her experience of attending Master Li's lectures, Anna said with a smile, "I had always been searching for spirituality. When I first heard about Falun Dafa, I felt it was what I had been looking for. I'm fortunate to know Falun Dafa. It has taught me the meaning of life and how to look within. I feel protected by Master all the time."
After following Falun Dafa's principles of Truthfulness-Compassion-Forbearance in her everyday work and life, Anna saw improvement to her health, mind and environment. "I learned how to search for my own shortcomings in the face of conflicts. I was happy to identify my problems and make corrections."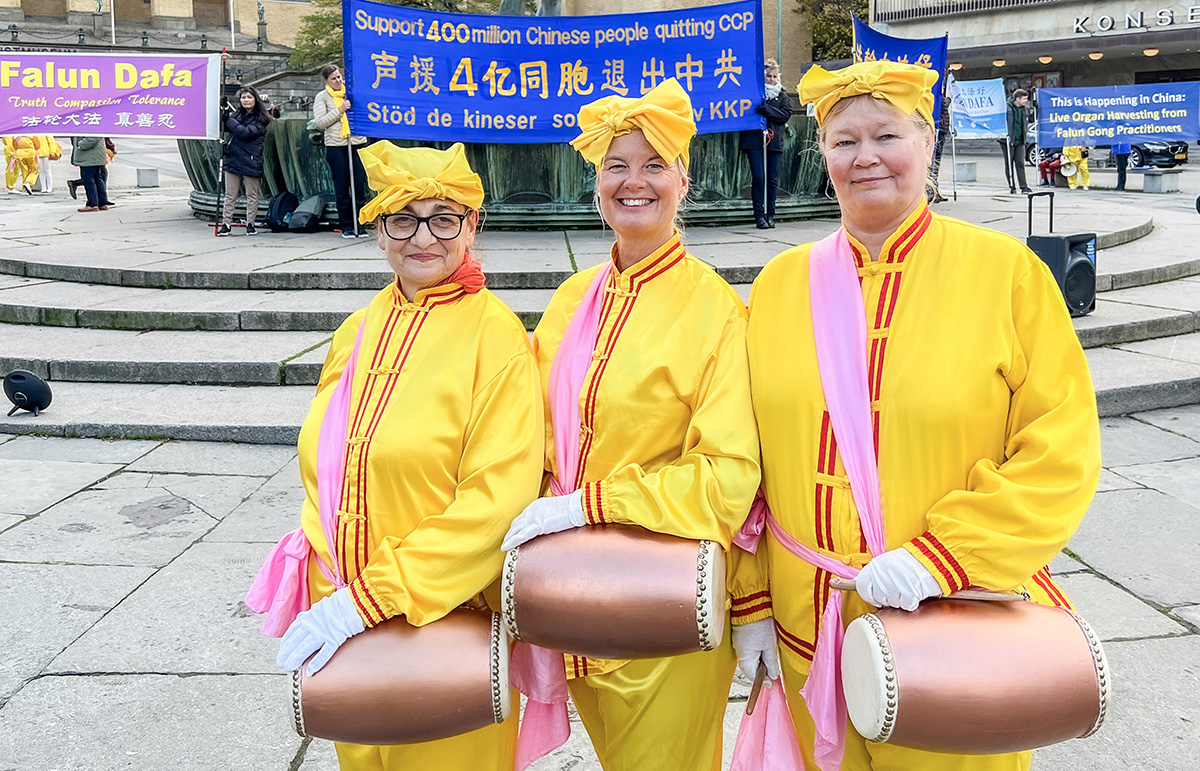 Anna personally witnessed the power and beauty of Falun Dafa, and was saddened by the brutality of the Chinese Communist Party's (CCP) persecution. "The persecution is absolutely unacceptable! I would like to tell everyone in the world that Falun Dafa is great!"
Anna's eyes brightened on seeing waist drum performances at Falun Dafa activities. The powerful energy drew people to come and find out the truth of Falun Dafa. "I like this way of sharing our message," Anna said.
Learning to play the waist drum is not easy for a beginner. Anna started from the very basic movements and treated every beat as an opportunity to convey the message of Truthfulness-Compassion-Forbearance. She eventually mastered the skill. She said she was amazed with its power to disperse the bad elements and purify her body.
"I participated in the recent parade in Poland. I felt exhausted from the trip and had a bad headache, but I didn't want to miss this great opportunity to clarify the truth to people. I walked the entire parade while playing the drum. We won waves of applause and cheers. Many people learned about Falun Dafa and signed the petition. By the time the parade was over, all my discomfort was gone.
"Our drum beats were filled with the positive energy of Truthfulness-Compassion-Forbearance. It was a wonderful way to show traditional Chinese culture and practitioners' spirit. Crowds of people were attracted. I hope they learn the truth and never get deceived by the Chinese Communist Party."
Anna also taught other Swedish practitioners how to play the waist drum. Through their performances she hopes to reach people and spread the benefits of Falun Dafa.
Chinese version available
(Clearwisdom)