(Minghui.org) The inaugural Nurses Summit to Combat and Prevent Forced Organ Harvesting was held online on November 1, 2022. Hosted by the Academy of Forensic Nursing (AFN) and Doctors Against Forced Organ Harvesting (DAFOH), the summit focused on the crime of forced organ harvesting in China and the promotion of ethical medical and nursing practices.
Twelve speakers, including medical professionals, human rights experts, and witnesses, discussed the ongoing malpractice of organ harvesting from living Falun Gong practitioners and other prisoners of conscience in China. Among them, two witnesses described their experiences in Chinese labor camps.
The summit, which lasted over four hours, was divided into three sections: first was the depth and scope of forced organ harvesting, second was ethical and legal considerations, and third was nursing response and action. The documentary Medical Genocide: Hidden Mass Murder in China's Organ Transplant Industry was shown during the summit.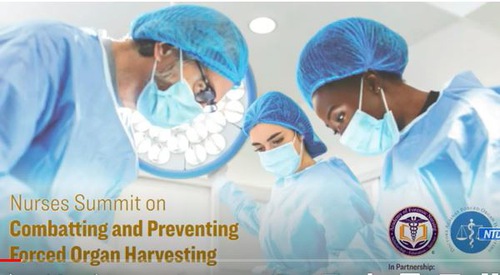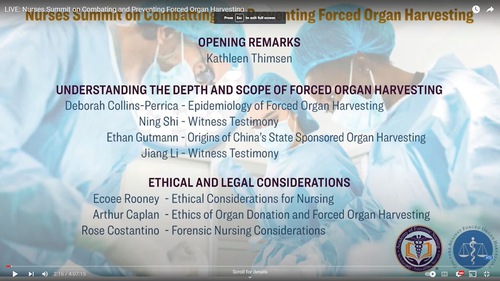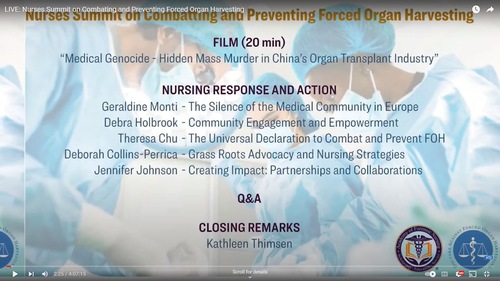 DAFOH: Undeniable Evidence
Deborah Collins-Perrica is the Director of Nursing Affairs for DAFOH. She said it is a hideous crime to forcibly extract organs from innocent people without consent, but such a practice was approved and supported by the Chinese Communist Party (CCP). With assistance from the police and the military, a lucrative organ transplant supply chain has been developed in China.
One major group of victims of the forced organ harvesting is practitioners of Falun Gong, a meditation system popular in China due to its mind and body benefits. There were about 100 million practitioners in China before the CCP began to persecute the group in July 1999. Since then, a large number of Falun Gong practitioners have been detained, tortured, and have even become victims of forced organ harvesting.
"The victims followed such a secretive path. The victims who are exploited, abused, and prepared for organ harvesting undergo medical testing while in political detention. This created an organ on demand system that can deliver fast-track transplant organs within days of notice," Ms. Collins-Perrica explained. "Victims who are force labored, neglected and tortured are medically examined, undergo chest X-rays, ultrasound, and blood tests in prison hospitals and detention centres. This discrepancy in treatment is unprecedented."
According to a report from China Daily in 2016, China put a price tag of US $46,000 for a kidney transplant, $90,000 for a liver transplant, and $150,000 for a heart transplant. Collins-Perrica said that organ transplants are among the most profitable industries, with an annual revenue of about one billion USD.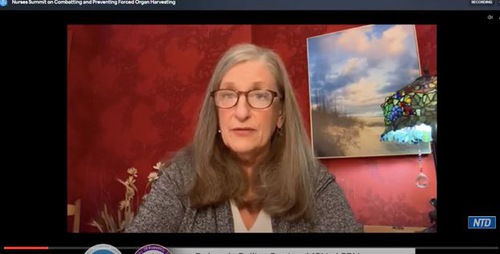 Investigative Journalist: Timeline of Organ Harvesting in China
Investigative journalist Ethan Gutmann talked about the history and current state of organ harvesting in China. In the late 1980s, extraction of organs from executed prisoners became routine. After the CCP began to suppress Falun Gong in 1999, the persecution became the largest campaign in China since the Cultural Revolution.
"In 2001, with approximately two million Falun Gong [practitioners] in the Chinese [labor camp] system, Falun Gong prisoners are singled out for retail organs only examinations… kidneys, liver, heart, and to some extent the lungs, …" explained Gutmann in his presentation. "By 2002, the wait time for foreign organ tourists are reported to be two weeks or less."
By 2003, detained Tibetans and Christians were also examined for their organs. In 2014, police officers in China went to Falun Gong practitioners' homes to take blood and DNA samples compatible with tissue typing. After 2016, the CCP also ordered blood sampling from Uyghurs for DNA and tissue matching. That is, the CCP has expanded organ harvesting from executed prisoners to detained Falun Gong practitioners, to Tibetans, Christians, and Uyghurs.
Earlier this year, the International Society for Heart and Lung Transplantation announced a policy of refusing research articles from mainland China due to the transplant abuse. Gutmann referred to it as a courageous move. Furthermore, he proposed that research articles from Chinese doctors or nurses involving organ harvesting not appear in Western medical journals. In addition, they should be banned from medical conferences and scientific collaborations. Related medical device sales should also be stopped, he added.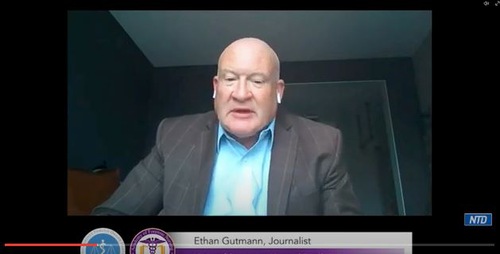 Organ Harvesting Continues
Arthur Caplan is the Drs. William F. and Virginia Connolly Mitty Professor of Bioethics at New York University Grossman School of Medicine and the founding director of the Division of Medical Ethics. He is also co-director of the Joint Council of the European/United Nations Study on Trafficking in Organs and Body Parts.
Many international organisations and medical agencies found a large number of organ transplants happening in China every year. However, there is also a huge discrepancy between these numbers and the organ donations reported in China.
In China, matching organs are promised within two or three weeks. This is highly suspicious unless the organs are obtained immorally, "Given the body of evidence that the government of the People's Republic of China still stands alone in continuing to systematically support the procurement of organs and tissues from executed prisoners without transparency," he said.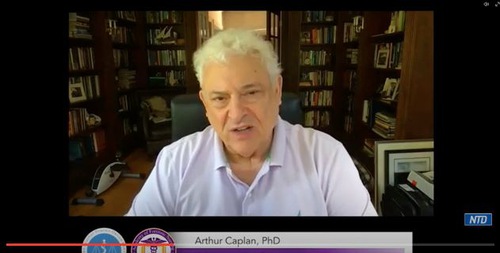 Testimony from Victim's Daughter
Jiang Li's family members were persecuted for practicing Falun Gong. Her mother served eight years in prison and three years in a labor camp.
Her father, Mr. Jiang Xiqing, was pronounced dead by Xishanping Labor Camp on January 28, 2009. Their family found that he was still warm more than six hours later that day. Believing that he was still alive, they tried to resuscitate him, but were dragged out of the funeral home by dozens of police officers. They later obtained audio recordings of Mr. Jiang's organs being extracted while he was still alive.
Jiang Li later shared the recordings with forensic medical experts and they agreed that her father died an unnatural death.
The large-scale forced organ harvesting is not only a major crime, but has also caused immeasurable pain to Falun Gong practitioners' families. Jiang Li hopes that more people will step forward to end the atrocity and hold the perpetrators accountable.