(Minghui.org) The 2022 6th NTD International Piano Competition concluded after a Future Stars Concert and award ceremony at the Merkin Concert Hall – Kaufman Music Centre in New York on November 2, 2022.
Pianists from more than 20 countries across four continents participated in the competition. Thirteen made it to the semi-finals, and six advanced as finalists. The preliminaries took place on October 29 and 30. The semifinals took place on October 31. The finals took place on November 1.
On November 2, a Future Stars Concert was held before the award ceremony. Pianists appearing at the concert included this year's six finalists, as well as the 2014 Competition Gold Award winner Timur Mustakimov, along with professor Mikhail Voskresensky and Russian concert pianist Vassily Primakov.
The International Piano Competition is one in a series of international cultural and arts events hosted by NTD Television Network. The mission of this competition is to promote traditional arts of pure authenticity, pure goodness, and pure beauty, and to bring back the glory of piano masterpieces from the Baroque, Classical, and Romantic periods.
The competition's commitment to artistic excellence is a means to allow the 250-year legacy of piano literature to continue to flourish and to pass it on to future generations.
Winners were announced at the award ceremony: Antonii Baryshevskyi from Ukraine won the Gold Award; Jiusi Zhang from China won the Silver Award; and Evangeliya Delizonas-Khukhua from Russia won the Bronze Award. Jiusi Zhang also won the Best Rendition Award of the Commissioned Composition.
The organisers of the competition said that the competition was "very successful." The judges thought that the contestants this year had "the highest skills among all the competitions," and the gold-award winner exhibited "master-level maturity." The special guests and renowned pianists at the Future Stars Concert stated that NTD's competition is "high-minded," "high-level," and is an important international contest that "preserves classical music."
Since 2016, the competition has commissioned a piano arrangement of a piece by D.F., the artistic director of Shen Yun Performing Arts, a world-renowned music and dance company that has led the way in the revival of traditional Chinese culture through the arts.
This year, the commissioned piece, "The Sacred Journey," was arranged by Qin Yuan, a composer and piano accompanist with Shen Yun. Qin Yuan is a prolific composer with notable expertise in delivering the melodies and rhythms of ancient Chinese music through the language of classical music as it was established in the West.
Pianists who made it to the semifinals were required to perform this specially commissioned composition. A "Best Rendition Award of the Commissioned Composition" was rewarded for the competition.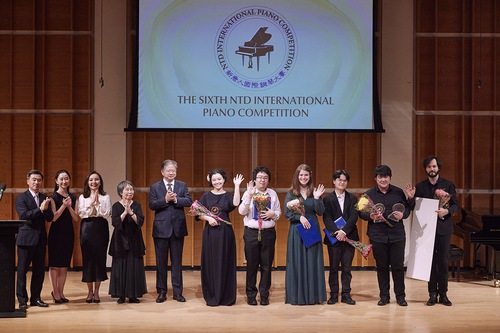 Gold-award Winner: Antonii Baryshevskyi from Ukraine
Antonii Baryshevskyi is a prominent Ukrainian pianist and prize-winner of numerous international piano contests, some of which include the Arthur Rubinstein International Piano Master Competition, "Premio Jaen," and F. Busoni International Piano Competition. He studied and graduated from the National Music Academy of Ukraine and École Normale de Musique de Paris.
Mr. Baryshevskyi said he participated in this competition because it required contestants to only select masterpieces from the Baroque, Classical, and Romantic periods.
He played the commissioned piece, "The Sacred Journey," during the semi-finals. He thought the piece was full of "energy" and philosophy," and that it was in fact delivering a kind of "truth" and raising "hope" in people.
"We live in a world full of wars, full of (lies), full of cruelty. And I think it's very important to have this hope, to believe in something that at least we can fight for the goodness," he said.
Mr. Baryshevskyi also played Schumann's Symphonic Etudes at the competition.
"I tried to show all my ideas I have about this music… I feel like I am standing behind a big mountain, trying to tell everybody how beautiful it is, trying to describe the parts of it, trying to take everyone on this journey with me, a journey through this big mountain," he said.
Chair of the jury panel, Professor Becky Yao, lauded Mr. Baryshevskyi's performance, "He performed very smoothly from preliminaries, semi-finals, and finals, and did not make any errors. He possesses master-level maturity."
"His inner things are very appealing. He actually played the commissioned piece very well too. The musicality was very good, and he connected a few parts very perfectly," Prof. Yao said.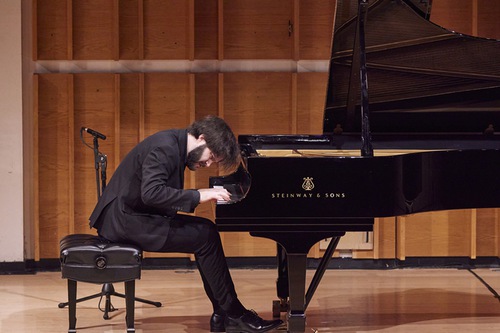 Winner of Silver Award and Best Rendition Award of the Commissioned Composition
Jiusi Zhang won the Silver Award and Best Rendition Award of the Commissioned Composition. Mr. Zhang participated in the competition at the recommendation of his maestro professor.
According to Mr. Zhang, one of the most fascinating things he's learned from this competition experience was learning the commissioned work, "The Sacred Journey," which pianists had to perform for the first time in the semi-final round.
"I've never learned a commissioned work like this, and in such a short period of time… I think it's a huge challenge, no matter if you're an experienced or inexperienced pianist. Through this piece, I learned there are many more possibilities on the piano, about the sounds that a piano can produce," he said.
"The Sacred Journey" displays distinctly ancient Chinese melodies and sounds written specifically for the piano. It was arranged by pianist Qin Yuan from Shen Yun, which has been at the forefront of blending East and West in classical music.
"In the second half, there's a passage that's very lyrical, and actually very nostalgic to me. Because now I'm studying in the U.S., and before, I never left my home for such a long time. When I learned this piece, it said something special to me," said Mr. Zhang, who is from China.
Prof. Yao commented that Mr. Zhang's performance of the commissioned piece was so touching because it demonstrated "deep cultural meaning," "high-level," and "matched the ideas of the original composition more."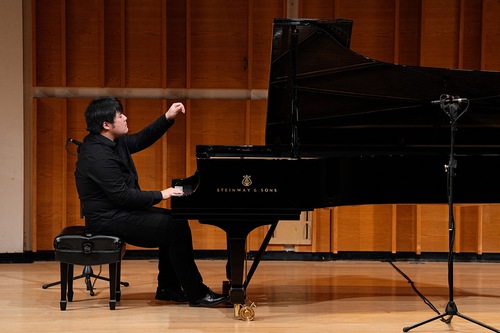 Renowned Pianist Mikhail Voskresensky: Competition "Useful for Development of Classical Music"
Mikhail Voskresensky from Russia is a distinguished professor at the Moscow Tchaikovsky Conservatory. His students have won more than 120 international prizes. He has adjudicated in many international competitions including the Tchaikovsky competitions and chaired the Scriabin International Competition in Moscow. Prof. Voskresensky has captivated audiences with his electrifying, impassioned interpretations of great piano literature of all styles.
Prof. Voskresensky appeared last at the Future Stars Concert and performed Mozart's Fantasia in D minor, K. 397; Scriabin's Deux Poemes, Op. 32; and Chopin's Waltz in E minor, Op. Posth.
"The New Tang Dynasty competition is very good, because it connects the thoughts about past times. Such competitions are very useful for development of classical music, because classical music needs intelligent people. Yes, only intelligent people can have such great pleasure to understand the feelings and the thoughts which are in classical music… It helps us to live," Prof. Voskresensky said.
"Your winner Antonii Baryshevskyi, (is a) very good pianist from Ukraine. I wish the young generation (could be) always inside of music, because in modern life, young pianists prefer to play fast and loud and to show brilliance of music. It is very good, but I wish them to have thoughts inside of music, to understand what is inside of music," he said.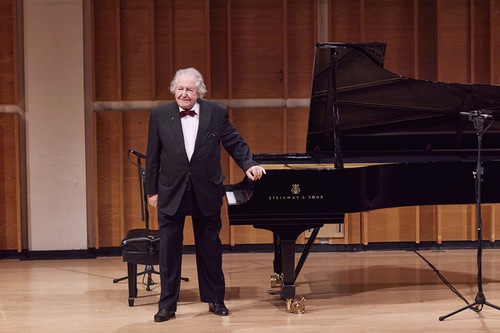 Commissioned Composition: "The Sacred Journey"
According to the competition's website, "Inheriting the characteristics of the Music of Shen Yun, the commissioned composition features the perfect harmony of Eastern and Western classical music. The Western piano serves as a foundation, accentuating the distinct sound of Chinese classical music. The bedrock of soul-stirring melodies from the ancient Middle Kingdom is fully brought to life by a Western instrument, the piano. The perfect harmony of Eastern and Western classical music, this is what makes the commissioned composition unique."
Ms. Qin Yuan, a composer and the pianist who arranged this piece, shared what the piece depicted.
"This piece mainly has three parts. The first part portrays life's origin at a very high, very beautiful realm. The second part is that people went through a lot of pain, hardships, and birth-aging-sickness-death during the process of reincarnation, and have probably forgotten why they came here. And as they are influenced and corrupted by modern notions and behaviors, people have probably all gone with the flow. But some people would choose to elevate and no longer degrade. The third part is that during this kind of suffering, there will be higher-level beings coming to save people, so people would not wait in vain," she said.
Ms. Qin Yuan felt during the composition that both Eastern and Western cultures believe that humans were created by the divine. She thought that during the present troubled times, if people can hold onto their inner justice and kindness and restore their respect for the divine, it can cure people's hearts and bring them hope.
"What we compose uses the flavor of traditional Chinese music as the base melody, and combine it with those in classical Western music: traditional harmonies, musical forms, including many techniques in arranging concepts, and including techniques of polyphony (composing techniques of counterpoint and sound method). In fact, these should be comprehensible to both Eastern and Western contestants.
"Shen Yun's music has a composing concept of combining the East and West. This has been very clearly demonstrated through Shen Yun Performing Arts' program each year. Whether it's in mainland China or other countries, many composers have tried (to blend Eastern and Western music). No one has actually achieved an international level or been this successful. But Shen Yun has now achieved this," she said.
Ms. Qin Yuan hopes that this piece would guide the contestants to think about more the divine meaning of life.
Contestant Carolina Danise from Italy said, "I feel that this is a sacred song. (While performing), I felt like I was not only a pianist, but a musician. A deeply-inspired musician to perform this holy song."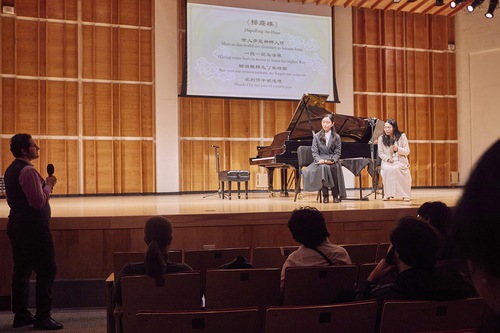 List of Winners
Gold Award: Antonii Baryshevskyi from Ukraine
Silver Award: Jiusi Zhang from China
Bronze Award: Evangeliya Delizonas-Khukhua from Russia
Best Rendition Award of the Commissioned Composition: Jiusi Zhang from China
Outstanding Performance Award:
Aruth Masrangsan from Thailand
Yung-Yi Chen from Taiwan
Trinity Goff from the United States
Honorable Mention Award:
Aron Alakmeh from Switzerland
Boris Krivoshein from Russia
Carolina Danise from Italy
Ilya Ramlav from Russia
Maria Narodytska from Ukraine
Tiago Rosario from Portugal
Xizhu Liang from China
A full video of the 6th NTD International Piano Competition–Future Stars Concert & Award Ceremony can be found at the below Gan Jing World link:
Chinese version available
(Clearwisdom)
43 total views