(Minghui.org) The Vietnamese community held their Mid-Autumn Festival celebration in Cabramatta, Sydney, on August 28, 2022. As one of the largest annual traditional festivals of the Vietnamese community, the event drew around 90,000 people. Falun Gong practitioners were invited to set up a booth to introduce the practice.
Many people tried out Falun Gong's first exercise with the help of practitioners at the booth. Many said they felt positive energy, peaceful, and relaxed and hoped to learn and understand more about Falun Gong's teachings. They also planned to visit their local exercise sites.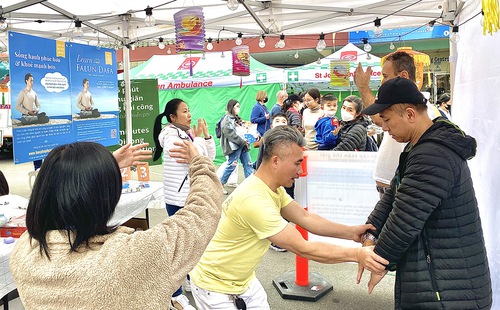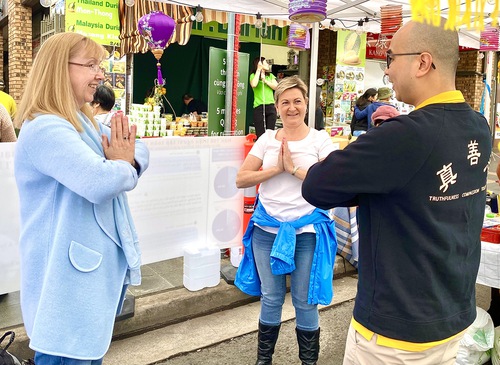 "Falun Gong Practitioners Are Truly Courageous!" 
Manh Do Pham heard about Falun Gong over 20 years ago and had heard of the Chinese Communist Party's (CCP) persecution of the peaceful group. He said he understands that Falun Gong is a superior cultivation method rooted in Buddhism. The experience of participating in the practice of Falun Gong during the Mid-Autumn Festival is his first personal contact with the practice.
He said, "I feel that the meridians in my body were stretched during the practice. I will definitely study and learn more about Falun Gong at home, and I will also attend your group practice."
Manh said he supports the Falun Gong group's efforts to end the persecution. Whenever he saw Falun Gong practitioners collecting signatures calling for an end to the persecution, he always signed the petition. He said he came from a communist country and understood the nature of the Communist Party and the reasons for the persecution.
"As a totalitarian regime," he said, "the CCP is always afraid of groups that are widely popular with the people, no matter what the people love, even if it is a good spiritual movement like Falun Gong, For such a government, especially the CCP, it always takes extreme repression. There are no words to describe the evilness of the CCP. They even kill innocent people for their vital organs–we cannot imagine what is happening inside China."
On the occasion of the Mid-Autumn Festival, Manh wished to extend peace and encouragement to Falun Gong practitioners in China who have been persecuted by the CCP. He said, "Falun Gong practitioners in China are the bravest. They may be persecuted, they may be killed, but they have never given up their beliefs. Compared with ordinary people, they are truly the bravest."
Manh also said that Master Li, the founder of Falun Gong, created such a profound practice to improve people's physical and mental health. Manh said, "These values are good for human beings. Once everyone's mentality is at peace, the society is at peace. A master who can achieve this is great."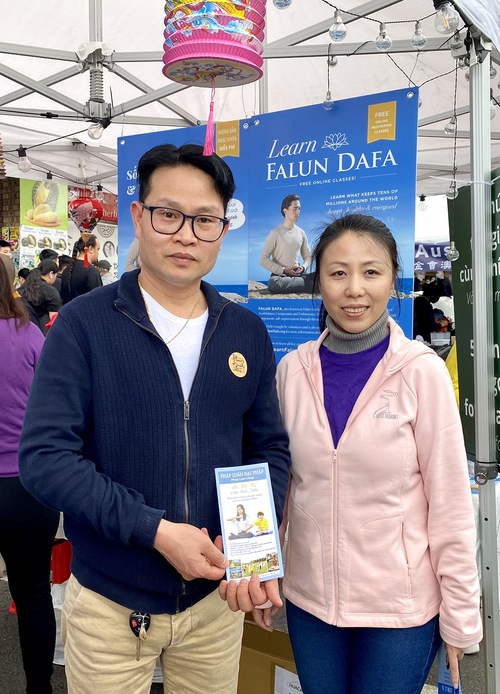 "This Voice Should Be Heard"
Lalita and her children are interested in Buddhism and meditation. They are always looking for a suitable practice. After five minutes of learning the first set of Falun Gong exercises, she and her daughters said they felt relaxed and refreshed.
Lalita is also interested in the universal values of Truthfulness-Compassion-Forbearance. "It's beautiful. It's the main thing in our society, especially truthfulness, and people need to be more objective and honest with themselves," she said.
Lalita was appalled upon learning of the CCP's persecution of Falun Gong. "We should experience freedom, and respect each other," she said. "If you're not hurting others, you shouldn't be persecuted."
She was shocked when she heard about the CCP's organ harvesting from living Falun Gong practitioners and wondered why no one had ever told her about it, and why she hadn't seen it on the news or social media. She encouraged Falun Gong practitioners to continue to raise awareness. She said, "This message must be heard."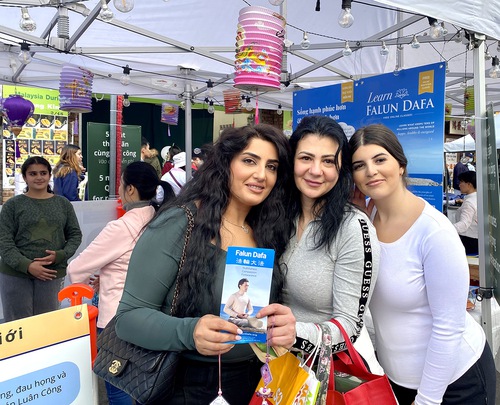 "Truthfulness-Compassion-Forbearance Should Be Admired"
Philip Li, a 21-year-old Vietnamese Australian, wanted to try the Falun Gong exercises, because he wanted to broaden his horizons.
"I had a complex upbringing that made me think differently than other young people," he said. "I heard about qigong and meditation at a fairly young age, like when I was a teenager. I believe there is a relationship between the universe and myself."
Philip said of his experience learning the movements, "I felt strong energy. I love it!"
Philip commented on the teachings, saying, "The universal values of Truthfulness-Compassion-Forbearance are quite virtuous, and should be respected by people." He added, "If you are not true to yourself in your life, and don't know who you are, you will not live well. Because you have a lot of ego, for example, you live for the outer you, which is not your actual self, and makes you live a shallow life."
When Philip heard about the persecution, he said, "Since this is a peaceful cultivation practice, Falun Gong practitioners should not be persecuted. They should not be suppressed for their belief.
"I don't think this persecution does anything good. I can't see any benefit to these persecutors. Their greed keeps them from exercising honesty and kindness in the face of the truth. They won't realise the persecution is wrong, I think it's a shame they don't realise they're swallowing poison."
Philip hopes more people stand up against the persecution, saying, "I think what's good for humanity is right and we must stand up for these things. If there are enough people to raise awareness and stop the CCP's persecution, there will eventually be enough power to end this persecution."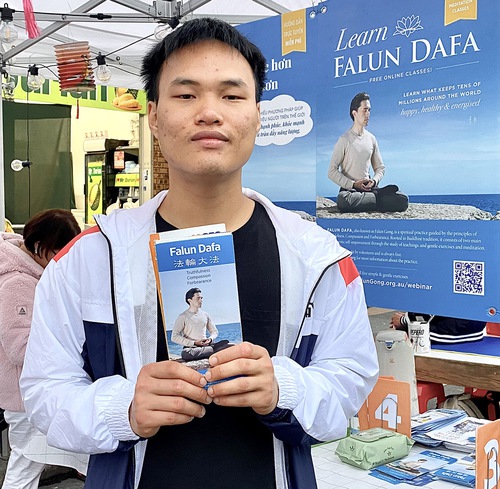 Background: What Is Falun Dafa and Why is the CCP persecuting it?
Falun Dafa (also known as Falun Gong) was first introduced to the public by Mr. Li Hongzhi in Changchun, China, in 1992. The spiritual discipline is now practiced in over 100 countries and regions worldwide.
Millions of people who have embraced the teachings, which are based on the principles of Truthfulness, Compassion, and Forbearance, and have learned the five exercises have experienced improved health and well-being.
Jiang Zemin, former head of the Chinese Communist Party (CCP), perceived the spiritual discipline's growing popularity as a threat to the CCP's atheistic ideology and on July 20, 1999, he issued an order to eradicate the practice.
Under Jiang's personal direction, the CCP established the 610 Office, an extralegal security organisation with the power to override the police and judicial systems, and whose sole function is to carry out the persecution of Falun Dafa.
Minghui.org has confirmed the deaths of thousands of practitioners as a result of the persecution over the past 23 years. The actual number is believed to be much higher. Countless practitioners have been imprisoned and tortured for their faith.
There is concrete evidence that the CCP sanctions the harvesting of organs from detained practitioners, who are murdered to supply China's organ transplant industry.
Chinese version available
(Clearwisdom)
Sydney: Mid-Autumn Festival Greetings to Master Li from the Vietnamese Community
37 total views