The Vietnamese community of Sydney held their largest event of the year, the Mid-Autumn Festival (also called the Moon Festival), on Cabramatta's Freedom Plaza on September 8.
Falun Dafa, also called Falun Gong, practitioners were invited to participate in the event, allowing them to introduce the spiritual practice to some 90,000 festival visitors.
Many people stopped by the Falun Dafa booth and left greetings for Master Li, Falun Dafa's founder, wishing him a happy Moon Festival.
Many festival visitors watched the Falun Gong exercise demonstration and talked with practitioners. Many had heard of Falun Gong, and had heard about the persecution in China. Some have family members who practice Falun Gong and took the opportunity to leave greetings for Master Li.
Le Thi Lan Anh said to a practitioner that her mother practices Falun Dafa. Her mother usually gets up at 3 a.m. to do the exercises. She said, "I know Falun Dafa is very good. My mother is now very healthy. She recovered from all her ailments without resorting to medicine." She is considering practicing Falun Dafa herself, once her child is a little older.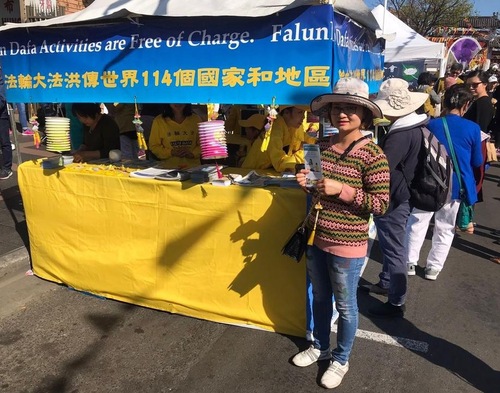 Lorna had received many fliers while visiting Chinatown, and had learned a lot about Falun Gong and the ongoing persecution in China. She said, "I believe the persecution is absolutely wrong. This crime should not have happened in the 21st century. I will talk to my friends, so we can work toward bringing this persecution to an end. Truthfulness, Compassion, and Forbearance are very good principles."
Mr. Ba visits the Falun Dafa booth every Moon Festival. He signed a petition to the Prime Minister of Australia requesting the government to take action to help end the persecution. He has also shared the facts of the persecution on his social media accounts.
Mr. Ba wished every practitioner a happy Moon Festival and said, "Falun Gong practitioners are very kind people. The persecution of Falun Gong is a violation of human rights. It's a terrible crime and is not acceptable."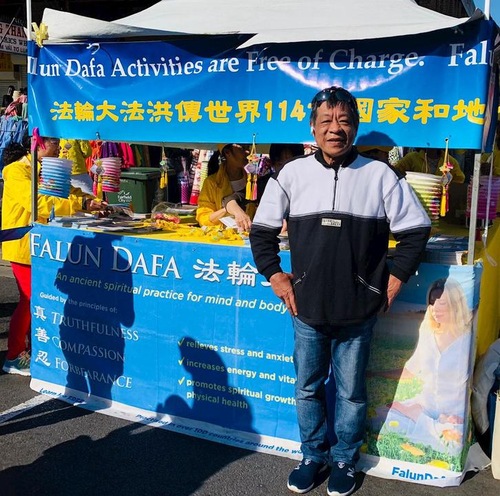 Another visitor, Chi Cuong Ly, said he had learned about the forced organ harvesting and the persecution of Falun Gong on Facebook. "I was shocked," he said. "This is very cruel, and unacceptable."
Chi's friend and some of his family members had regained their health and improved their characters after practicing Falun Gong. He remarked, "Falun Gong is a very powerful practice."
---
34 total views