(Minghui.org) The Melbourne Taiwanese Chamber of Commerce held its 30th Melbourne Moon Festival in Box Hill, a famous suburb where many Chinese people reside, on this year's Mid-Autumn Festival, September 10, 2022. Falun Gong had an eye-catching booth at the festival.
The festival was postponed for two years because of the pandemic but attracted many families from various cultural backgrounds this year. Many people stopped at the brightly-colored Falun Gong booth to watch the group of young practitioners demonstrate the Falun Gong exercises. Children were particularly drawn to the little hand-made lotus flowers at the booth.
People expressed admiration for Falun Gong practitioners who have been clarifying the truth to people for 23 years. Some people learned the exercises at the event.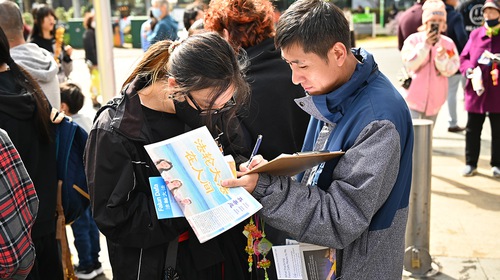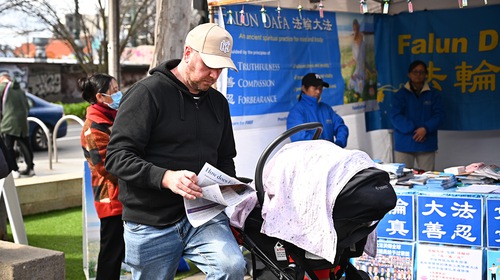 Former Member of the Victorian Legislative Council: Falun Gong Set a Good Example for People Who Fight for Freedom of Belief
Jan Kronberg, a former member of the Victorian Legislative Council and State MP, was at the Moon Festival with her husband. She greeted practitioners and commented that people "know the importance of truth" and that Falun Gong practitioners were trying their best to ensure people have such freedom. She acknowledged that Falun Gong practitioners have set a good example for people who fight for freedom of belief.
She said that what Falun Gong practitioners have been suffering has disturbed people all over the world and that it was very important to let the world know about the persecution of Falun Gong.
She said spreading the truth is very significant and she encouraged practitioners to keep talking to people. She also said they should be confident because they are imparting good information.
She said she would pray for Falun Gong practitioners' freedom.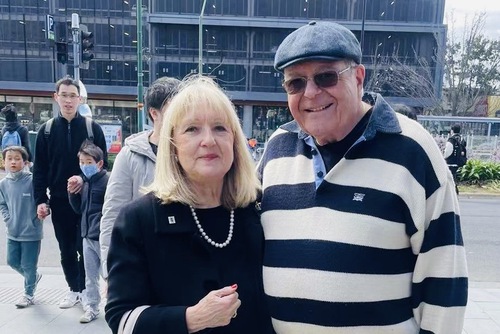 Teacher: Falun Gong Makes Me Calm
Thornly Talasaia, a teacher in Melbourne, stopped at the Falun Gong booth for a long time to watch the young practitioners' exercise demonstration.
Falun Gong had caught his eye when, as he said, "I saw the children sitting in the lotus positions. Their hands came down slowly in unison although their eyes were closed and they didn't communicate with each other."
He said that Falun Gong made people calm. When he learned that its practitioners are brutally suppressed in China, he shook his head and said that it was very unfair.
He encouraged the practitioners to attend more activities to spread such beautiful things and help more people learn the truth. He said that it was meaningful for them to attend the Moon Festival.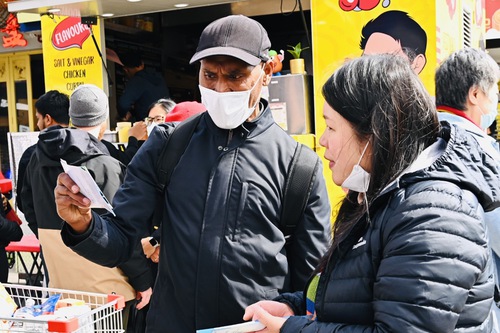 Veteran Overseas Chinese: I Admire Falun Gong from the Bottom of My Heart
Mr. Guo came to Australia from Shanghai more than 30 years ago. He had been a teacher in Shanghai. "Why did I leave Shanghai?" he asked. "I came here to escape communism. Communism violates basic human nature and morals. I've never had a good feeling about communism. What it has done is disgusting."
He expressed his admiration for Falun Gong practitioners who have persevered in clarifying the truth and opposing the persecution for the past 23 years.
"I admire Falun Gong practitioners. No other group or organisation dares to go against the Chinese Communist Party. But Falun Gong practitioners have done such a courageous thing. They have set an outstanding example for Chinese people to oppose the CCP, so I strongly support Falun Gong," he said.
"If the majority of Chinese people awaken, the CCP won't exist for long. Its draconian policy to clear away COVID-19 is against science, against human morality and social laws. It's going backwards. Chinese people are complaining," he said.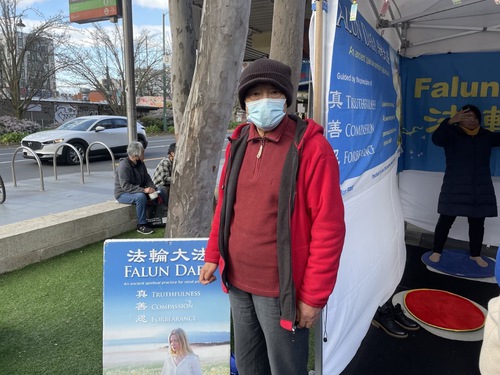 Mr. Liu came to Australia 45 years ago. He said, "Falun Gong keeps people healthy and fit. I am interested in it."
He said that he had passed out at home two months before and was diagnosed with diabetes. He learned that the Falun Gong exercises keep people healthy and fit, so when he saw the Falun Gong booth, he was very pleased.
A practitioner told Mr. Liu how she had recovered from her illnesses. He said he would go to the practice site in Box Hill Park to learn Falun Gong.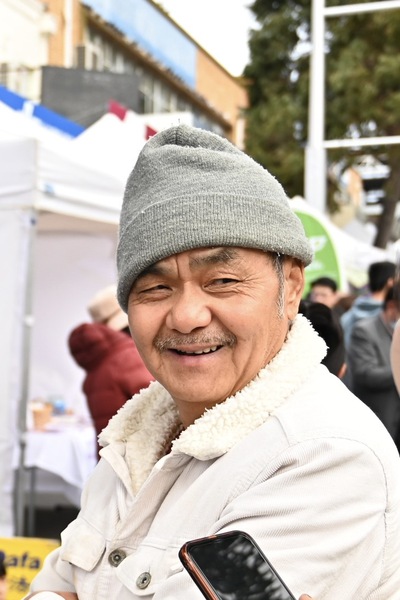 Aleksandra, a resident of Box Hill, was attracted to Falun Gong and decided to learn the exercises. She said that she would go to the practice site after she returned from her holiday.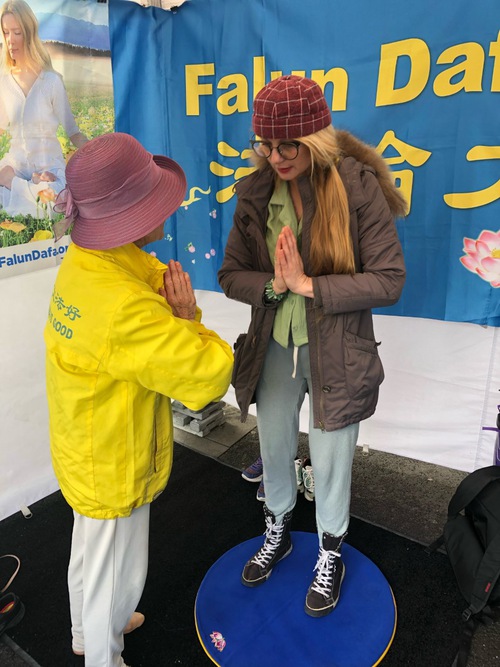 63 total views