_____________________________________
(Minghui.org) Despite the harsh winter weather, Falun Dafa practitioners in Helsinki, Finland held truth-clarification activities outside the Kamppi Centre on January 29, 2022. They handed out informational materials about Falun Dafa and told people how the CCP (Chinese Communist Party) persecutes the spiritual practice in China, including harvesting practitioners' organs while they are still alive.
They also collected signatures on a petition to end this egregious human rights violation. As part of the event, they held a candlelight vigil to commemorate practitioners who were persecuted to death. They told people that although it's Chinese New Year, many practitioners are unable to reunite with their family members in China due to the ongoing persecution.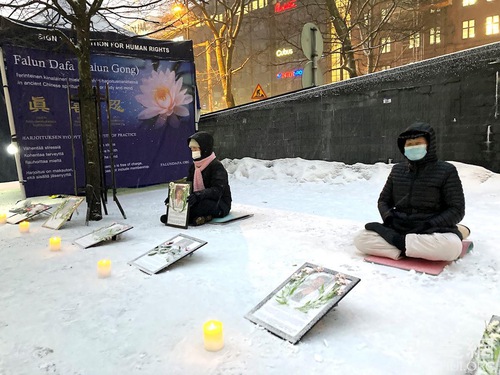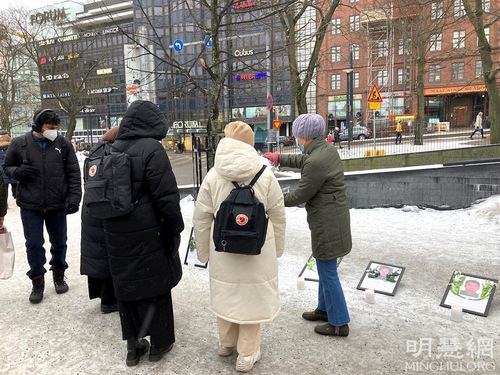 "If we do not stand up and speak for ourselves, we will no longer have freedom," said Mr. SD after talking with a practitioner. He signed the petition to condemn the CCP and explained that he saw the Truthfulness-Compassion-Forbearance International Art Exhibition last year. The art exhibition left a deep impression on him. Mr. SD said, "The reason evil still exists is because we aren't doing anything to suppress it. If we continue to remain silent, we will even lose our ability to resist. If we don't stand up for ourselves and speak out for what we believe in, we will lose freedom forever."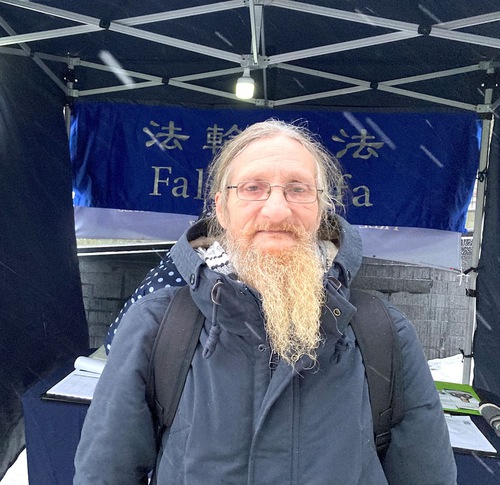 Local resident, Lisa, signed the petition and said, "The leaders of the CCP do not know the true meaning of human rights. Human beings all have basic rights. I've heard about Falun Dafa and how the CCP persecutes it. This persecution is neither beneficial to people nor to China. As the saying goes, 'What goes around, comes around.' The bad things that perpetrators do will one day come right back to them. Justice will always be on the side of the victims. We cannot let profits and gain take over our morals."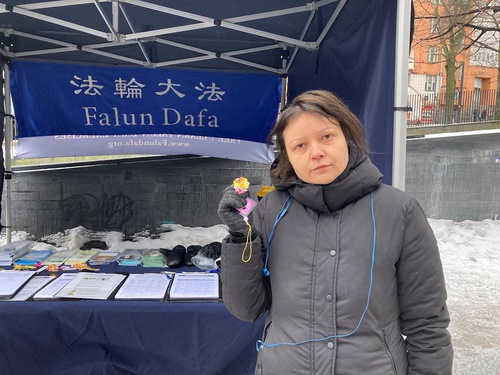 Laura came over to practitioners and said, "I was having coffee earlier at a shop, when someone came over and asked if I was a good person. That person said that if I was a good person, I should come here [to the Falun Dafa's practitioners' booth] to sign a petition." So Laura came over immediately and signed the petition.
A Chinese young man whose flight back to China was delayed met Falun Dafa practitioners at the Kamppi Centre. A practitioner asked if he had quit the CCP and its youth organisations.
"Do I need to quit if I was once in the Young Pioneers?" he asked.
"Of course," said the practitioner, "it may seem that you're no longer a member of the Young Pioneers since you are over the age limit. However, when you swore to 'struggle for communism all your life,' and that you'd 'give your life to the Party and never betray it,' you have already taken a part in its evil deeds. Do you want to be burdened and be the scapegoat of the Party's crimes?"
The young man immediately said, "Please help me quit the Party." The practitioner pointed out that it was not a bad thing that his flight was canceled, suggesting that perhaps it had been arranged for him to stay safe by quitting the CCP organisation. The young man smiled and agreed.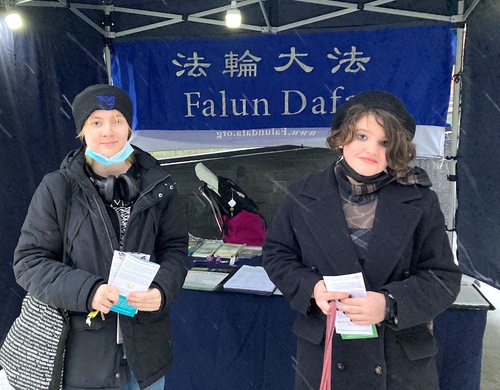 Background: What Is Falun Dafa?
Falun Dafa (also known as Falun Gong) was first introduced to the public by Mr. Li Hongzhi in Changchun, China in 1992. The spiritual discipline is now practiced in over 100 countries and regions worldwide.
Millions of people who have embraced the teachings, which are based on the principles of Truthfulness, Compassion, and Forbearance, and learned the five gentle exercises have experienced uplifted health and well-being.
Jiang Zemin, former head of the Chinese Communist Party (CCP), perceived the spiritual discipline's growing popularity as a threat to the CCP's atheistic ideology and on July 20, 1999, issued an order to ban the practice.
Under Jiang's personal direction, the CCP established the 610 Office, an extralegal security organisation with the power to override the police and judicial systems and whose sole function is to carry out the persecution of Falun Dafa.
Minghui.org has confirmed the deaths of thousands of practitioners as a result of the persecution over the past 22 years, though due to the difficulty in getting informaiton out of China, the actual number is believed to be much higher. Many more have been imprisoned and tortured for their faith.
There is concrete evidence that the CCP sanctions the harvesting of organs from detained practitioners, who are murdered to supply the organ transplant industry.
Views expressed in this article represent the author's own opinions or understandings. All content published on this website are copyrighted by Minghui.org. Minghui will produce compilations of its online content regularly and on special occasions.
47 total views