______________________________________
(Minghui.org) On May 5, 2022, Falun Dafa practitioners kicked off the day's events celebrating Falun Dafa Day by doing the exercises in the morning in front of the Customs House next to the renowned Sydney Opera House.
After the rally attended by local dignitaries, the Tian Guo Marching Band led a parade in the afternoon. In response to the uplifting music, colorful banners, Chinese waist drummers, and celestial maidens in the parade, people applauded and gave them a thumbs up. Many commented on how beautiful the procession was.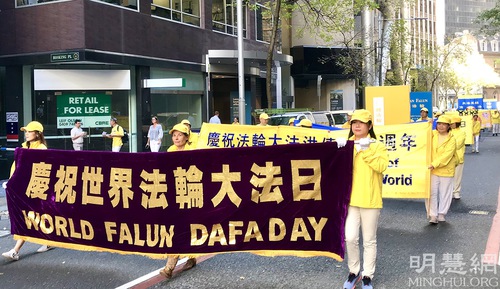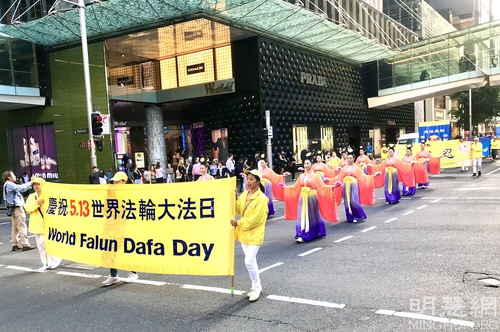 Member of Parliament: Truthfulness-Compassion-Forbearance Are Powerful Values
Dignitaries sent letters of congratulation for World Falun Dafa Day.
Senator Janet Rice wrote: "Truthfulness-Compassion-Forbearance are powerful values, and ones we would do well to learn from and emulate. I welcome Falun Dafa's deep moral and cultural tradition, and the contribution made by its practitioners here in Australia and around the world."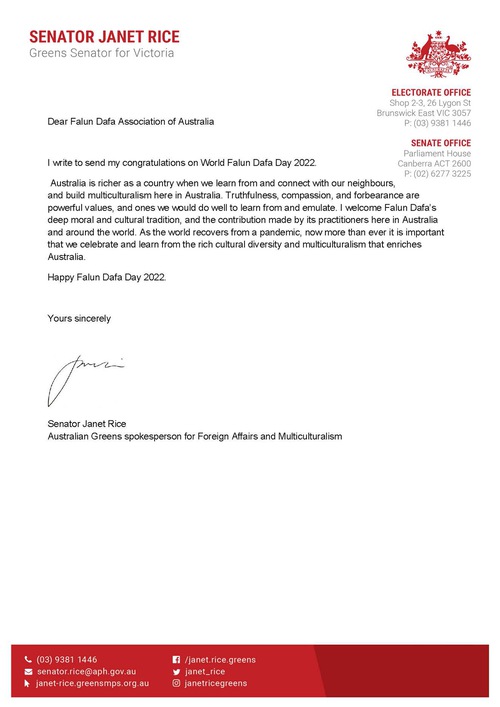 Senator Dean Smith wrote: "The strength, resolve, bravery, and courage in the face of belligerent force your community has demonstrated is to be commended. Through your peaceful actions, you have awakened others to the CCP's many human rights abuses."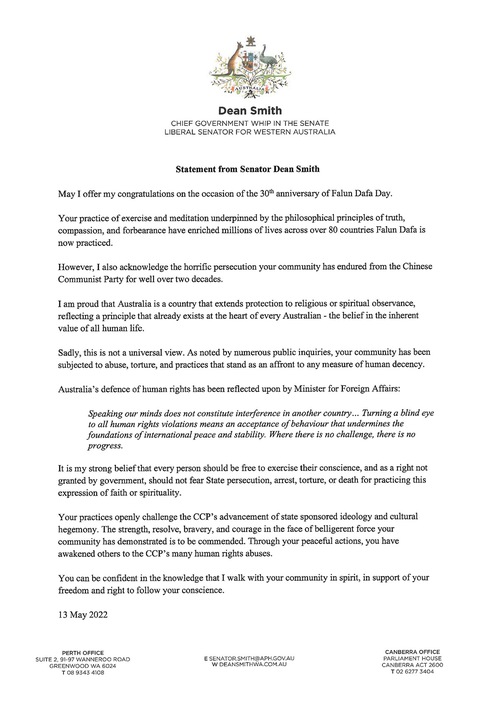 Luke Donnellan, state member for Victoria, wrote in his congratulatory message: "I understand that since 1996 many thousands of Australians have participated in your free meditation classes and that as a result of COVID-19 many more joined the online Learn Falun Gong seminars that were hosted by your wonderful volunteers.
"This important upcoming celebration is also a recognition of the courage and contribution the Falun Dafa community have made in Australia and the basis of Falun Dafa of truthfulness, compassion and forbearance has much to offer us all."
Deputy Lord Mayor of NSW Parramatta City Cr Sameer Pandey wrote: "I am always very supportive of organizations that work with the community to improve health and wellbeing, promote peace and harmony, provides hope and help and builds moral foundation for the community. I strongly believe that Falun Dafa does this for all of us in our community.
"I am very happy to see people across the world, including in our great city Sydney, who follow the practice and have found better health through the exercise and meditation teachings of Falun Dafa.
"I understand Falun Dafa is followed by 100 million people in over 80 countries,this is a testament to the good message and practices that Falun Dafa has for the people and the trust people put on Falun Dafa."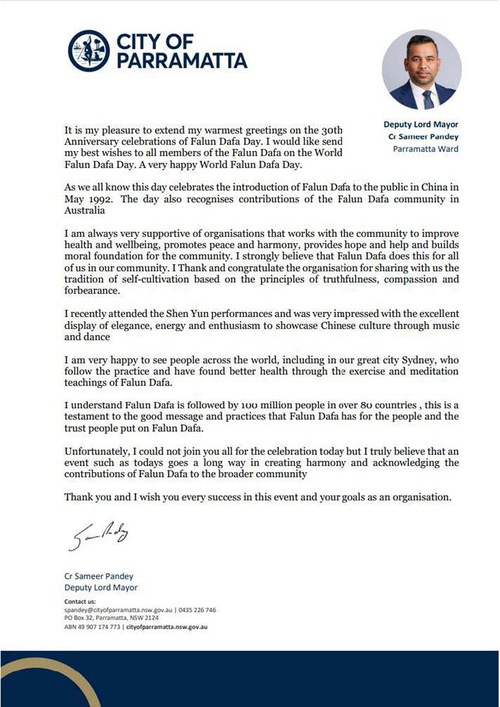 Sreeni Pillamarri, a Justice of the Peace in NSW and councilor in the City of Parramatta Cr, wrote in his letter of support: "I thank Falun Gong practitioners for sharing the Falun Gong exercises for many years and the contribution traditional Chinese culture has made to Australian society. The courage and resilience you have shown in resisting the CCP's human rights abuses have added deeper meaning to our democratic society."
The Universal Value of Truthfulness-Compassion-Forbearance
Dr. Lucy Zhao, President of the Australian Falun Dafa Association, said, "Today, we witness an important moment in history. Thirty years ago, Mr. Li Hongzhi introduced the practice to the public. This is an ancient, high-level cultivation practice from the Buddha school. Mr. Li believed Falun Dafa will benefit many people.
"Falun Gong is a traditional Chinese form of cultivation. By doing the five exercises and following the principles of Truthfulness-Compassion-Forbearance, one strives to be a good person. Consequently, over the past 30 years, we have heard many amazing stories of tens of thousands of practitioners benefiting from the practice. Many learned of the practice through word of mouth and started to practice with their friends and family, spreading it to many countries around the world, including the U.S, Canada, Australia, Germany, the UK, and so on. The main book, Zhuan Falun, has been translated into over 40 languages. It is one of the Chinese books translated into the most languages.
"Yet the popularity of the practice soon made the CCP jealous and fearful. In July 1999, it launched an illegal persecution campaign against Falun Gong, incarcerating, torturing, and, worse still, removing organs from detained practitioners and selling them for huge profits.
"Amid this unprecedented persecution, Falun Gong practitioners around the world and in China held on to their faith using peaceful, rational means. They showed great courage in this most brutal suppression, never giving up their conviction in the values of Truthfulness-Compassion-Forbearance or submitting to the terror. Once again, it shows the power of Truthfulness-Compassion-Forbearance. It can change an individual, several million people, even a country or the world.
"Let us continue to work hard in stopping the CCP's suppression of Falun Gong practitioners and other prisoners of conscience. Let us share the beauty of Falun Dafa and the universal values of Truthfulness-Compassion-Forbearance. I believe we will see more people and countries truly able to freely practice cultivation. One day, people will be able to practice Falun Dafa freely in China."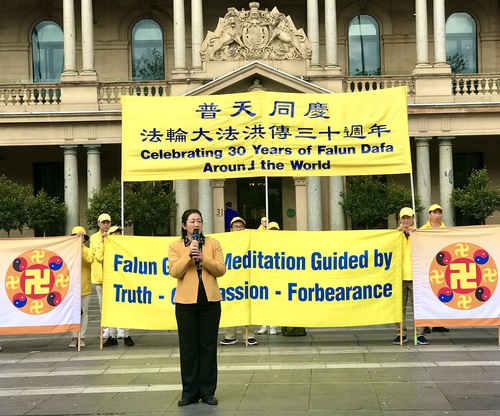 Former City Mayor: I Respect Peaceful Actions
Mr. Andrew Wilson, former mayor of the City of Parramatta, said he was skeptical when he first heard the CCP's propaganda vilifying Falun Gong.
He said, "Based on my experience, from my contact with Falun Gong practitioners, I think they are good people who live by the principles of Truthfulness-Compassion-Forbearance. Tranquility does not mean cowardice, Jesus and Gandhi were not cowards, good people who are peaceful does not imply they are weak. Nonviolence and peaceful actions requires exceptional courage. I respect this.
"I firmly belief one's free will cannot be suppressed forever. The CCP's persecution of Falun Gong practitioners will end one day and Falun Gong practitioners will regain freedom."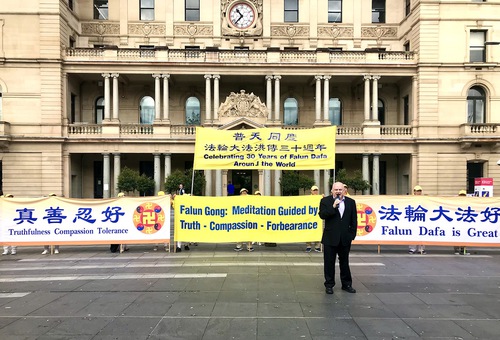 Falun Dafa Day Awakens People, The Free World is Threatened by the CCP
Mr. Bob Vinnicombe, a human rights activist, spoke at the rally, "Not only is today an important day for Falun Gong practitioners, it is also an important day for everyone in this country. The CCP's persecution of Falun Gong continues to this day, and not only in China. The CCP has extended its arms to the free world overseas. Officials in Australia have received warnings from the Chinese Consulate, threatening them not to watch Shen Yun performances because it depicts how the CCP destroyed traditional Chinese culture. Our universities and government offices have been infiltrated by the CCP, any criticisms of the CCP would be silenced very quickly.
"My point is, Falun Dafa Day has made everyone who values freedom aware their freedom is threatened by the same source, that is, the CCP. Even though they are 1000 miles away from Beijing, because the CCP has extended its influence far and wide, I call on everyone to celebrate this day, World Falun Dafa Day."
Bob Vinnicombe joined practitioners in their parade after the rally.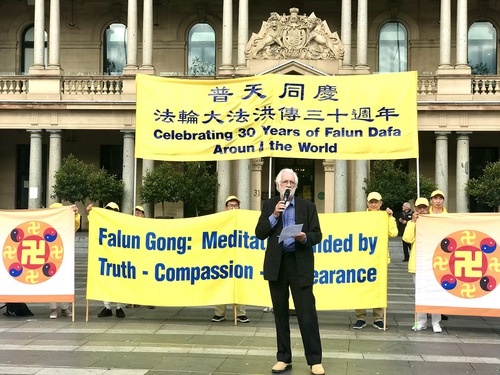 The World Will Be More Peaceful if We Follow Truthfulness, Compassion, Forbearance
Sam saw Truthfulness-Compassion-Forbearance written on the banner and said, "'Truthfulness-Compassion-Forbearance'—this is what everyone should follow." He voiced his support for practitioners being tortured in China for their belief, saying, "This is a terrible tragedy, it is a shame." He encouraged practitioners to be strong because the world will recognise this problem and support ending the human rights abuses.
Sam also wished Master Li Happy Birthday and wanted to tell him, "You are obviously a remarkable person. I wish you great happiness and a prosperous year!"
Margo Smith is aware that the CCP is a totalitarian regime that controls a lot of information. It made her worried for Falun Gong practitioners. She said, "This persecution needs to be stopped because it is a serious human rights problem."
She also said, "I agree with the principles of Truthfulness-Compassion-Forbearance and hope that Falun Dafa will continue to spread because, indeed, we need to understand the relationship between our body and mind as well as its impact on the future."
Lowana Mary said, "How can one feel threatened by people who follow Truthfulness-Compassion-Forbearance? There is no reason to persecute Falun Gong practitioners. They only want to follow Truthfulness-Compassion-Forbearance and be a good, healthy person. They want to have their own belief."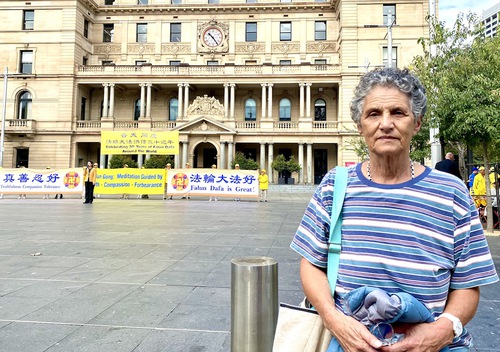 Glenyse Eagle said, "If we follow the principles of Truthfulness-Compassion-Forbearance in our everyday life, the world will be more peaceful. Master Li, Happy Birthday! I hope Falun Gong practitioners will stay true to their faith forever and regain their freedom soon!"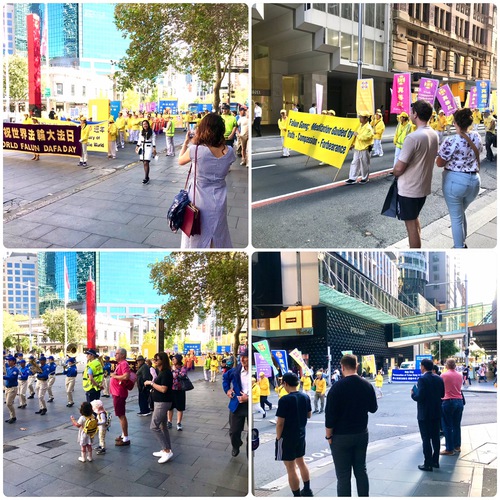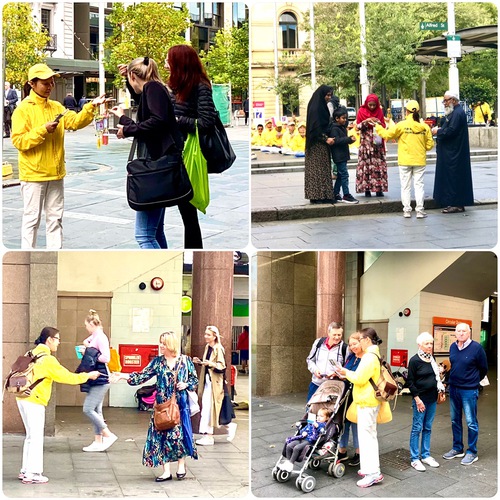 All content published on this website are copyrighted by Minghui.org. Minghui will produce compilations of its online content regularly and on special occasions.
49 total views