---
(Minghui.org) During the past two months (September and October 2021) 764 reports of Falun Gong practitioners being arrested and 1,199 harassed for their faith were recorded, bringing the total arrest and harassment cases reported this year so far to 4,939 and 9,435, respectively.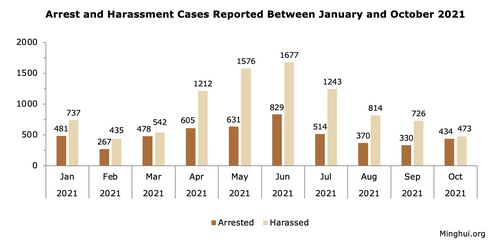 Falun Gong, also known as Falun Dafa, is a spiritual and meditation discipline that has been persecuted by the Chinese communist regime since 1999.
Hebei (353), Shandong (340), Sichuan (249), Liaoning (129), Hubei (128) and Jilin (107) were the top six provinces with the most total cases of arrests and harassments. Another 17 provinces had double-digit cases and 5 regions recorded single-digit cases.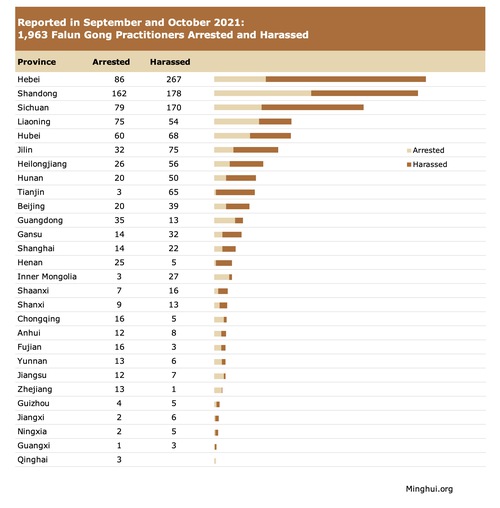 Among the total 1,963 targeted practitioners (764 arrested and 1,199 harassed), 36 were between the age of 65 and 70, 105 were in their 70s, 53 were in their 80s and 2 were in their 90s.
As a continuation of the "Zero-out" harassment campaign that was launched in 2020, the authorities targeted the practitioners and sometimes their family members, in an attempt to force every practitioner on the government's blacklists to renounce Falun Gong. Some practitioners who were tortured into disability or became incapacitated years ago were arrested again and face further prosecution.
Below is a sample of the arrests and cases of harassment that were reported in September and October 2021.
Police Violence
Heilongjiang Woman Beaten and Sexually Assaulted by the Police
Ms. Wang Jinxia, a 47-year-old resident in Shuangyashan City, Heilongjiang Province, was arrested on October 6, 2021 while shopping at a supermarket. Three officers arrested her, took her to their police station and beat her.
Ms. Wang said that she had just finished checkout at a supermarket when three officers suddenly appeared. They followed her outside and took her to the police station.
An officer beat her and kicked her to the ground. She tried to use her arms to protect her body. He then kicked her arms and caused them to become swollen and bruised. He also kicked her lower body.
The police dragged her by the neck to another room and ordered four other officers, including two males, to strip her clothes and search her body. Her jacket and scarf were taken off. They also searched the pockets of her pants. The 23 yuan cash she had was confiscated.
One officer inappropriately touched her. When she protested, the officer said, "I'm just touching you."
The police handcuffed her very tightly. When she asked them to open it, they further tightened it and punched her in the head and ears. One officer also slammed her head against the wall and made a hand gesture like a gun shooting at her. She was released at around 4 p.m.
77-year-old Woman Severely Injured after Five Arresting Officers Assault Her
Ms. Ma Fengqiong, a 77-year-old resident of Mianyang City, Sichuan Province, was savagely beaten by five police officers after she was reported for talking to people about Falun Gong.
Ms. Ma went to a local market to distribute informational materials about Falun Gong on September 1, 2021. A man reported her and five officers showed up to arrest her.
When Ms. Ma refused to go with them, one officer went behind her and pushed her face down on the ground. Then he handcuffed her, knelt on her back, put her in a choke hold, and tried to open her mouth with a finger.
She still refused to cooperate, so another officer used a metal bar to pry open her mouth, loosening her front teeth and injuring her tongue. Other officers then pulled her up, pushed her into the police car, and took her to the police station.
She refused to tell them her name and tried to explain the facts about Falun Gong. The officers verbally abused her in return.
Seeing that Ms. Ma had been severely injured, they took her to the hospital. She was given an injection, but wasn't told what medication it was.
Ms. Ma was later forced to reveal her name. Due to her age, the police gave her one month of criminal detention and fined her 1,000 yuan on the grounds that two Falun Gong flyers were found in her purse. The police didn't detain her right away, deciding to let her go home to recover.
Before she left, she asked the police to return her house key, but they said they'd lost it.
At home, she found four inch-long cuts on either side of her neck. Her lower front teeth were slanted and bleeding, and her tongue was black and blue. Her lips and face were swollen. A large area under her knee was scratched, and her hands, arms, instep, and toes were swollen and bruised.
For the next seven days, Ms. Ma was unable to eat due to the pain in her mouth and tongue. The pain later extended to her ears. She could only drink water and liquids.
Police Beat Shaanxi Woman, Break Seven Ribs
Ms. Zhang Junxiu, of Hanzhong City Shaanxi Province, was on an errand in nearby Chenggu County on June 18, 2021, when plainclothes officers followed and arrested her. They handcuffed her without showing any ID, so Ms. Zhang resisted. They then beat her so badly that they broke seven of her ribs, six on the right side and one on the left.
The police searched Ms. Zhang and confiscated her personal belongings, including 600 yuan in cash, an mp3 player, an electric motorcycle key, a 100-yuan gift card, and an umbrella.
Ms. Zhang was taken to the interrogation room in the police station. She refused to cooperate and simply told the officers the facts that practicing Falun Gong was legal in China and it was the police who violated the law by arresting innocent people without due process. The police laughed at her.
In the evening, the police went to Ms. Zhang's apartment and threatened to keep Ms. Zhang in custody if her husband didn't open the door. They ransacked the couple's apartment without a warrant and confiscated her laptop, Falun Gong informational materials, and books.
After they released her, the police warned her husband that they intended to prosecute Ms. Zhang and also ordered him to monitor her daily activities.
Targeted Despite Physical Condition
Having Been Incarcerated for Over a Decade, Older Man Detained Again Despite Medical Condition
A 72-year-old Mudanjiang City, Heilongjiang Province resident has been detained since his arrest on June 10, 2021 for his faith in Falun Gong. The authorities have refused to release Mr. Wang Xinmin despite his serious medical condition.
Mr. Wang was visiting another practitioner, Mr. Zhang Tao, at around 6 a.m. on June 10 when the police came knocking on the door. When Mr. Zhang refused to open the door for the police, they pried it open and sprayed pepper water onto his eyes through the slight opening of the door.
While Mr. Zhang stepped back due to the pain, the police barged in, held him on the ground and handcuffed him. They punched him in the ribs. The police initially refused to allow Mr. Zhang to wash his eyes, but relented as he was writhing in pain. His Falun Gong books, computer and cellphone were confiscated.
Mr. Zhang's two family members, as well as Mr. Wang, were arrested and taken to the police station. The two family members were released the same day. Mr. Zhang was released after 15 days of detention, while Mr. Wang was put on criminal detention and has been detained since. It's reported that he is suffering from extremely high blood sugar, but the authorities refuse to release him.
Mr. Wang, a retired senior agronomist for the Heilongjiang Tobacco Research Institute, has been repeatedly targeted for his faith over the past two decades.
He was arrested on October 22, 2003 and sentenced to 14 years in Mudanjiang Prison. He developed severe pancreatitis in early 2014 and was released on medical parole in June 2014. Before he fully recovered, he was taken back to the prison on June 4, 2015. He was released in 2016.
Prior to his latest arrest, Mr. Wang was arrested one more time on October 13, 2020, after being reported for talking to people about Falun Gong. His home was also ransacked.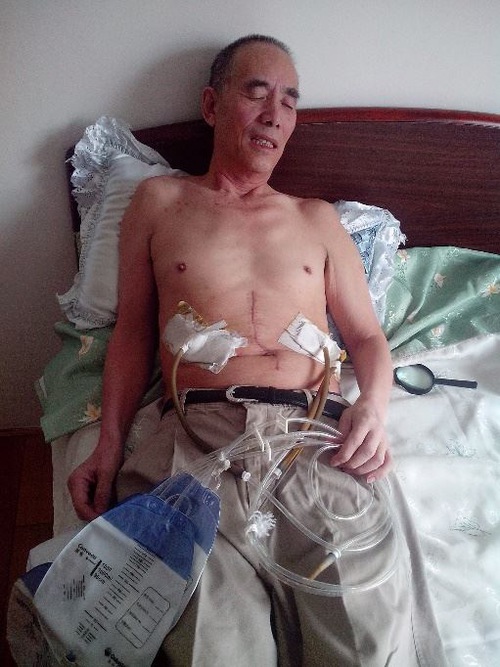 Liaoning Man Paralysed from Previous Imprisonment Faces Prosecution Again
A former engineer in Dalian City, Liaoning Province sustained a spinal injury and became paralysed after he was tortured in prison for 10 years for refusing to renounce Falun Gong.
Mr. Lyu Kaili's nightmare did not end there. The police recently broke into his home and arrested him on June 20, 2021, for "sabotaging law enforcement." Currently he is held in a detention centre and facing prosecution, after the police submitted his case to the local procuratorate on September 17.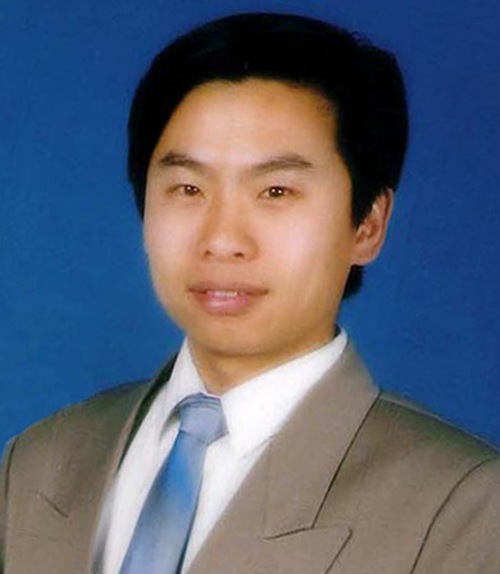 Mr. Lyu, 57, experienced seven arrests, two terms of forced labor camps, and one prison sentence for refusing to renounce Falun Gong since the onset of the persecution. He spent a total of 13.5 years in the past 22 years behind bars, and suffered torture such as the death bed, being hung up by handcuffs, and shocked by high-voltage electric batons.
After he intercepted TV signals to broadcast a video exposing the crimes of the Chinese Communist Party in 2005, he was sentenced to 10 years. The prison guards frequently shocked him with electric batons and each time for hours. In 2010, he jumped off a building roof because he could no longer tolerate the extreme physical pain. His tail bone was injured and he became paralysed and incontinent. He still walks with crutches.
Officers from Malanzi Police Station broke into Mr. Lyu's home and arrested him on June 20, 2021. They confiscated his Falun Gong books and personal belongings. After seeing that the couplets on his door frame praise Falun Gong, the police accused him of promoting the practice and requested his neighbor to testify against him. When the neighbor turned down the request, the police tore down the couplets and took them as evidence.
The police put Mr. Lyu in Yaojia Detention Centre on June 26. At first the staff members refused to take him because he was incontinent. The police coerced the staff member to take him and promised to bring diapers. Mr. Lyu's family received the police's call and brought diapers to the detention centre. Somehow Mr. Lyu never received them, and his life in the detention centre was difficult without the diapers, especially during summer time.
He had to make do with towels to cope with his incontinence, in addition to having to walk without a crutch. His family is worried sick about his current living conditions. They repeatedly demanded his release for medical reasons but the authorities always turned them down. The police transferred his case to Ganjingzi Procuratorate after his arrest was approved on July 8.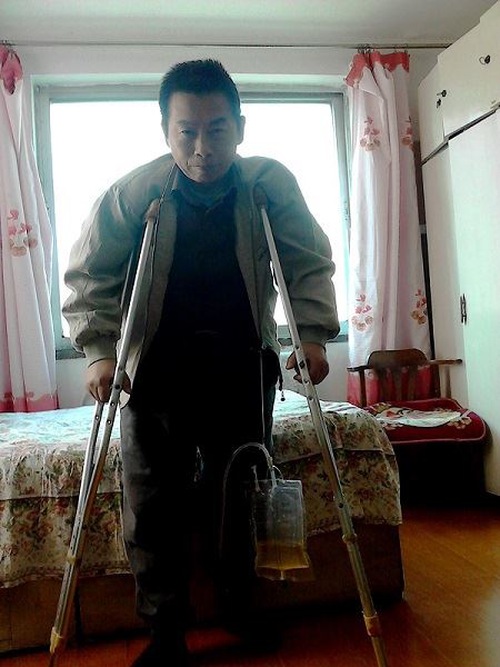 Man Beaten to Disability by Police Years Ago, Faces Prosecution Again
Mr. Wang Hongshu, 63, was completely paralysed from the waist down, but the local police in Shenyang City, Liaoning Province are still trying to send him to prison for practicing Falun Gong.
Mr. Wang was arrested on August 22, 2020, after being reported for using banknotes with information about Falun Gong printed on them. Due to strict information censorship in China, Falun Gong practitioners are using creative ways to raise awareness about their faith, including printing information on banknotes.
While being interrogated at the Nanyanghu Police Station, the steel plate implanted in his lower back due to injuries from previous incarceration for practicing Falun Gong suddenly broke. He became paralysed from the waist down. The police took him to three hospitals, which all confirmed that the lower end of the steel plate cracked. The police made four attempts to take him to various local detention facilities, but were rejected each time.
The police released Mr. Wang on bail on August 27, 2020, after forcing him to pay 5,000-yuan bond. They claimed that the money would be returned a year later, but his family would be implicated if he violated the bail condition.
Police officer Yang Peng called Mr. Wang's daughter on August 9, 2021, and asked her to tell him to come to the police station on the next day to answer some questions about his bail. Accompanied by his wife and son-in-law, Mr. Wang went there as required. Yang asked him whether he went out of town in the past year, whether he had contact with other Falun Gong practitioners and who gave him the banknotes he spent in 2020.
Yang said that as Mr. Wang's bail was expiring in two weeks, they had submitted his case to the Shenyang City Police Department, which would in turn forward it to the procuratorate and then the court. He ordered Mr. Wang to stay at home and prepare to be summoned at any time.
Yang called Mr. Wang's daughter again on August 24 and summoned her father for another interrogation a day later.
When Mr. Wang went with Yang to the Tiexi District Police Department on the next day, Yang videotaped him. The police also recorded his face for future facial recognition and examined the injuries on his back.
As Mr. Wang was unable to sit, he was laid on a bench. Wang Yu, the deputy police chief, accused him of promoting Falun Gong. He threatened Mr. Wang to not contact anyone and warned him to stay at home and wait to be summoned. He also asked whether Mr. Wang was planning to hire a lawyer. The interrogation lasted twenty minutes. Mr. Wang returned home afterwards.
Held in Psychiatric Hospital or Brainwashing Centre
Fired for Her Faith, Former Government Employee Sent to Brainwashing Center for Ninth Time
Having been held in various brainwashing centres eight times for practicing Falun Gong, a Wuhan City, Hubei Province resident was recently arrested again and taken to a brainwashing centre.
Ms. Zhou Ailin, 53 and former auditor of Qiaokou District Industrial and Commercial Bureau, was reported by three college students for talking to people about Falun Gong on the street on July 29, 2021.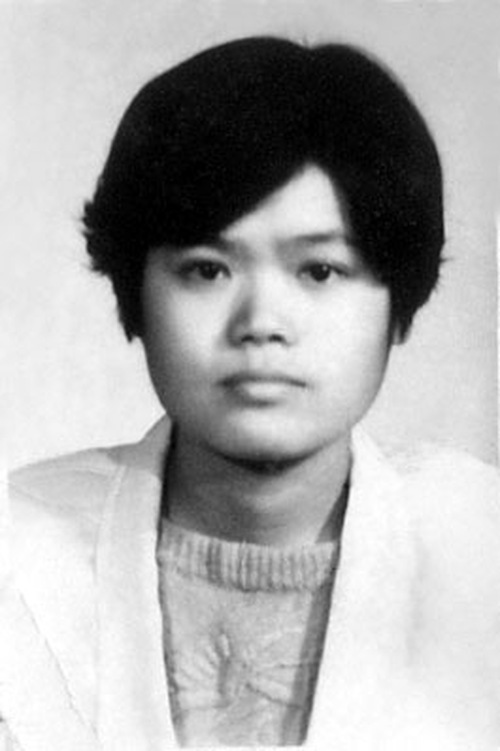 The police arrested her around September 14, 2021 and gave her 15 days at Wuhan City No. 1 Lockup. As she was released from the lockup on September 29, the police stopped her at the gate, carried her into the police car, and took her to the Etouwan Brainwashing Centre.
Prior to her latest arrest, Ms. Zhou has been held at the Etouwan Brainwashing Centre, Danshuichi Brainwashing Centre, Erdaopeng Brainwashing Centre and Hubei Province Brainwashing Centre in Wuhan a total of eight times. For not renouncing Falun Gong, she was force fed, beaten, held in solitary confinement and hung up by her wrists for days.
In addition to the incarceration, Ms. Zhou was also fired by the Qiaokou District Industrial and Commercial Bureau and transferred to a subordinate office to work as a secretary.
When Ms. Zhou was held in the Etouwan Brainwashing Centre following her arrest on October 2, 2014, the authorities ordered her work unit to provide two employees as "transformation companions," who would monitor her around the clock. When her work unit failed to do this, the 610 Office extorted 8,000 yuan from the work unit each month for two months, which was taken out of Ms. Zhou's wages, to pay for the people they hired to monitor her.
Ms. Zhou was arrested again in June 2016 for filing a criminal complaint against Jiang Zemin, the former head of the Chinese Communist Party who ordered the persecution in 1999. After 15 days of administrative detention, she was held at the Etouwan Brainwashing Centre for seven months, until the 2017 Chinese New Year. The authorities hired three people to monitor her and withheld 63,000 yuan from her salary to pay them (100 yuan per day for each person).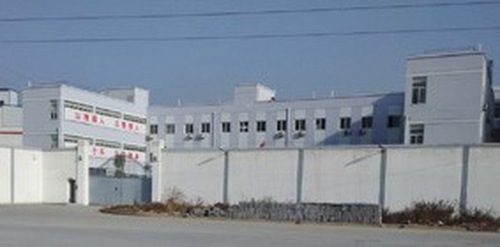 Shaanxi Woman Held in Psychiatric Hospital for a Month
Ms. Zhang Caixia, a hospital employee in Baoji City, Shaanxi Province, was arrested at work on August 26, 2021. She was first held at a hotel and then transferred to Wangjiaya Rehabilitation Centre, which is in fact the municipal mental hospital. Since the persecution began, the hospital has been used as one of the local facilities to detain Falun Gong practitioners for their faith.
Ms. Zhang's family didn't know about her detention location until they went to the local police station to inquire about her case on September 7. When they went to the psychiatric hospital to visit her, the guards didn't allow them to see her in person, but only through a video chat. It was reported that the Baoji City Political and Legal Affairs Committee ordered her arrest and would not approve her release unless she wrote a statement to renounce Falun Gong.
When her husband returned to the police station on September 13 to demand her release, the police also ordered him to write a statement to renounce his shared faith in Falun Gong and threatened to arrest him.
Ms. Zhang's arrest came when her daughter, Ms. Wang Juxiang, a mother of two young children, was still serving a four-year term for practicing Falun Gong.
Ms. Zhang was held at the mental hospital for a month and released on September 30.
Ningbo City, Zhejiang Province: Ten Falun Gong Practitioners Held in a Brainwashing Centre for a Month
Ten Ningbo City, Zhejiang Province residents were arrested on August 26 and 27, 2021 for practicing Falun Gong. They were held in a brainwashing centre for a month and subjected to intensive brainwashing aimed at forcing them to renounce their faith.
The ten practitioners included Ms. Zhu Peiting, Ms. Jiang Chunya, Ms. Shen Xiaohui, Ms. Jin Hua, Ms. Ruan Ling, Ms. Zheng Aiyin, Ms. Li Caijun, Ms. Zhu Aihua, Ms. Guo Chunjuan, and Ms. Guo Chunxi.
The brainwashing centre was located at the Zhifeng Vocational Skills Training School in Xiangshan County. The school has been frequently used by the Xiangshan County Police Department as its training centre.
The brainwashing centre was funded by the Ningbo City Political and Legal Affairs Committee, an extra-judiciary agency tasked with overseeing the persecution. The Ningbo City 610 Office, an extralegal agency created specifically to persecute Falun Gong, managed its daily operation.
Tong Weichang, head of the Ningbo City 610 Office, who often participates in brainwashing the practitioners himself, called it the "reverse brainwashing," for the practitioners to abandon Falun Gong and re-follow the Chinese communist regime's ideology.
The brainwashing centre had three sessions each day, including morning, afternoon, and evening. In addition to Tong, Gu Liangjun and Liu, both of whom had practiced Falun Gong before but later gave it up and became specialised in transforming the practitioners, also gave lectures. Gu published a book to smear Falun Gong and he often used the book as reference in the brainwashing session.
The authorities also hired staff members from the residential committees, psychologists, and qigong experts to have frequent one-on-one sessions with the practitioners.
Every practitioner was forced to finish daily assignments, which were designed to reveal their mental state, and for the authorities to find breakthroughs to destroy their willpower. Those who refused to answer the questions were forced to sit all night without sleep.
After the brainwashing session finished on September 28, each practitioner was taken back by their respective local police stations and residential committees.
Elderly Not Spared
85-year-old Woman Arrested and Put under House Arrest
Ms. Zhou Weiqun's son was having lunch at her home in Changsha City, Hunan Province on September 24, 2021, when the police broke in and arrested the 85-year-old retired employee of Hunan University. The police claimed that Ms. Zhou was reported by some students for distributing leaflets with Falun Gong content.
They ransacked her home without a warrant and confiscated photos of the founder of Falun Gong, over 40 Falun Gong books, and exercise tapes, among other personal belongings.
The police took Ms. Zhou to the Changsha City No. 1 Detention Centre. They took measurements of her height and weight and collected her fingerprints, toe prints, blood and saliva samples.
They originally planned to hold Ms. Zhou in the detention centre, but it refused to accept her due to her advanced age.
The police placed Ms. Zhou under house arrest and forbade her from leaving Changsha City. She was released at around 2 a.m.
After Years of Repeated Arrests and Brainwashing, 80-year-old Arrested Again and Her Family Threatened
Since the Chinese communist regime began to persecute Falun Gong in July 1999, Ms. Yang Huilan, an 80-year-old Kunming City, Yunnan Province resident, has been arrested nine times, held in a brainwashing centre twice for 20 days, and sentenced to three years with four years of probation.
Most recently, Ms. Yang was reported for handing out Falun Gong fliers to a shop clerk on August 20, 2021. The police caught her on her way home and took her to their police station.
During the interrogation, Ms. Yang insisted what she did was legal and refused to cooperate with the police. Through facial recognition technology, the police obtained her name and address.
Nine officers took Ms. Yang with them to search her home. When Ms. Yang refused to reveal the code for her digital lock, the police called her daughter. When she heard what had happened, her daughter said that her mother did not do anything wrong and refused to go home to open the door for the police.
The police continued to call Ms. Yang's daughter and son-in-law. Eventually, the daughter came and let the police in. They ransacked the home and confiscated the Falun Gong materials. Believing that the search was illegal, Ms. Yang and her daughter refused to sign the list of items confiscated.
When the police ordered Ms. Yang to go back to the police station for more paperwork, she refused. After 20 minutes of a standoff, four of the officers grabbed her and tried to drag her outside. Two other officers fended off her daughter and son-in-law when they tried to prevent the police from taking Ms. Yang away. When the couple took out their phones to record the incident, the officers took both phones. Two officers then twisted the son-in-law's arms and forcibly held him down when he tried to retrieve his phone.
When the police videotaped Ms. Yang's son-in-law, her daughter yelled, "You ransacked our home, kidnapped my mother, and robbed us. Why don't you record your illegal conduct?"
Ms. Yang was carried into a police vehicle before she had time to put her shoes on. Her daughter followed them to the police station and waited there from 6 p.m. to 1:30 a.m. before she could take her mother home. The police indicated that they were planning to pursue the prosecution of Ms. Yang.
74-year-old Woman Detained for Posting Falun Gong Information Four Years Ago
After living away from home for over three years to avoid persecution for her faith in Falun Gong, Ms. Rong Tiewen, a 74-year-old native of Jilin City, Jilin Province, was arrested in July 2021 and detained at the Jilin City Detention Centre.
Four years ago on October 6, 2017, Ms. Rong was arrested while putting up Falun Gong information posters. The police raided her home and confiscated over 100 Falun Gong books, more than 70 Falun Gong posters and a picture of the founder of Falun Gong.
Despite that Ms. Rong was found to have dangerously high blood pressure, the police still forced the local lockup to detain her. Six days later, when she was transferred to the Jilin City Detention Centre, the guards there also refused to admit her, but were still forced by the police to do so.
Ms. Rong was stripped naked for a body search upon her arrival at the detention centre. She was force-fed pills claimed by the guards to lower her blood pressure. The detention centre doctor said that she must take it no matter what.
Ms. Rong was first forced to take a white pill every day for two weeks and then a red pill every day for one month and six days.
When Ms. Rong was released on bail on November 14, 2017, after paying 5,000-yuan bond, she was incoherent and couldn't recognise her family. Days later, her face began to swell, her hands were festering and her fingers were blistered. Her left thumb didn't recover even after six months.
A prosecutor called Ms. Rong on March 27, 2018, and ordered her to go there to renew her bail documents. Upon arrival, she was told that she would need to go to the court to have the documents renewed.
When Ms. Rong went to the court on April 20, 2018, she was arrested and shoved into a metal cage after refusing to renounce Falun Gong.
The court attempted to get Ms. Rong's son to persuade her to sign a guarantee statement to renounce Falun Gong, but she refused to comply.
Ms. Rong was held in the cage for almost the entire day. In the evening, she was taken to the Jiangnan Police Station, where the police forcibly took her photos and collected her fingerprints.
After the Jilin City Detention Centre refused to admit her, she was taken back to the court, where she was ordered to sign a renewed bail document that contained a paragraph defaming Falun Gong. Ms. Rong refused to sign, and the court staff members had her sign on a blank bail release form before releasing her.
Ms. Rong was informed in July 2018 that the court had scheduled a hearing of her case. To avoid further persecution, she lived away from home and remained displaced for three years. She was arrested again in July 2021, shortly after she returned home.
66-year-old Woman Detained for 19 Days for Seeking Justice Against a Previous Wrongful Sentence
Ms. Zhai Yanan, a 66-year-old Hefei City, Anhui Province resident, was detained for 19 days as she tried to seek justice for a previous prison term she had received for her faith in Falun Gong.
Ms. Zhai was arrested in October 2018 for distributing informational materials about Falun Gong. She was tried through a virtual hearing on May 26, 2020 and sentenced to 2.5 years in prison with a 3,000-yuan fine on August 24, 2020.
After she was released on April 8, 2021, Ms. Zhai filed a motion to reconsider her case with the Hefei City Intermediate Court on July 22. She also sent the motion through registered mail to the leadership of the court, as well officers of the Jinggang Police Station that arrested her, and the prosecutors and judges who handled her case.
In early September 2021, Ms. Zhai continued her effort by mailing her motion to the mayor of Hefei, Party Secretary of the city, secretary of Political and Legal Affairs Committee, and the head of Hefei City Police Department.
On September 10, four officers of the Yiminjie Police Station, as well as a few staff members from the residential committee and property management of her neighborhood, showed up at her home.
"You wrote a letter to the secretary of Hefei Political and Legal Affairs Committee. Now the secretary of the district Political and Legal Affairs Committee wants to talk to you," the deputy chief of the police station said to her.
Ms. Zhai refused to comply and said that everything she wanted to say had been written in the letter. The officers insisted that she go with them. Although they had issued her a subpoena and Ms. Zhai had put it in a box at home, they secretly took it back after Ms. Zhai was arrested later in the day.
Ms. Zhai was held in a hotel for 19 days. Every day, the officers, who refused to reveal their identities, ordered her to write statements to renounce Falun Gong and stop mailing her motion. They said if she had to do it, she couldn't mention anything about Falun Gong in her motion. Ms. Zhai insisted that she was exercising her constitutionally protected rights in practicing Falun Gong. She held a hunger strike for five days to protest the arbitrary arrest and detention. She was released on September 28.
Family Affected
Liaoning Woman and Four Guests Arrested While Celebrating Her Mother's 89th Birthday
Ms. Pan Jing of Dandong City, Liaoning Province, was hosting a birthday party for her 89-year-old mother on September 3, 2021, when a group of police officers suddenly broke in and arrested her and her four guests.
The police later revealed to Ms. Pan's family that she was reported a month ago for talking to people about Falun Gong.
The police ransacked Ms. Pan's residence. They also moved her bedridden mother to the floor and then searched under the mattress. Ms. Pan's printer, computer, Falun Gong books, photo of Falun Gong's founder, and informational materials were confiscated.
While Ms. Pan's four guests were later released, she remains detained at Dandong Detention Centre.
Doctor Arrested Six Days Before Holiday for Family Reunion, Detained Incommunicado
For Mr. Jia Guojie's mother, the recent Mid-Autumn Festival (which fell on September 21, 2021) was especially lonely. Six days before the traditional holiday for family reunion, her son was arrested again for his faith in Falun Gong.
In the past two decades, the elderly mother has witnessed first-hand the persecution against Falun Gong. She said she couldn't even remember how many times her son was arrested. When the persecution first started, he was still in his late 20s and had just started his career as a doctor.
As he held firm to his faith in Falun Gong, he lost his job and has been sentenced three times, totaling eleven years. The constant worry about his safety took a toll on the health of his father and grandmother, who both passed away prematurely.
The authorities continued to harass Mr. Jia after he was released in 2018 after serving the third prison sentence. In November 2020, while he had gone out of town to work, the police summoned his mother, who is in her 70s, to the home of village head Zhang Hongyi and questioned her on his whereabouts. Although the elderly woman had stopped practicing Falun Gong herself years ago, she was also forced to sign a statement, promising that she wouldn't practice it again.
Upon learning that Mr. Jia was working in a hospital in Xi'an City, Shaanxi Province, the Jishan police went to Xi'an in late 2020 and pretended to be patients to collect information about Mr. Jia.
Guo Tiashan, the deputy head of Yuncheng City Domestic Security Office, Ren, the director of Jishan County 610 Office, township secretary, village secretary and a few police officers found Mr. Jia in Xi'an on July 30, 2021 and ordered him to attend a brainwashing session in a hotel after work.
Guo tried to persuade him, "If we arrest you at your workplace, you will lose your job. If we arrest you at your apartment, your landlord will evict you. We are (doing you a favor by) wearing plainclothes. You must come to the hotel for the classes."
After Mr. Jia refused to comply, Guo threatened to treat him as "a key target."
Mr. Jia was arrested at work on September 15. He is now detained incommunicado and the authorities refused to reveal to his mother his whereabouts.
Mother Arrested for Displaying a Banner, Son Detained for Supporting Her
On May 8, 2021, a banner with the words "Celebrate 5.13 World Falun Dafa Day" appeared in the Gudao Area of Shengli Oilfield, Shandong Province. Ms. Wang Ying and Ms. Bai Wenxing, who hung up the banner, were arrested about two months later. The police ransacked their homes. Ms. Wang's son, Mr. Li Long, who doesn't practice Falun Gong, was also arrested and detained for supporting his mother's faith.
At 7 a.m. on July 15, 2021, about 11 police officers broke into Mr. Li's home without showing any ID or searching warrant. While four of them held him down on the sofa, another two arrested Ms. Wang and took her away.
An officer named Zhang Rui put on gloves to search the apartment. Mr. Li asked him to show a search warrant, and Zhang took out a "Searching Certificate," which cited Article 87 of Public Security Administration Punishment Law of the People's Republic of China as justification.
Mr. Li said, "As far as I know, Article 87 is only for searching public places. If you want to search a private residence, you must have a search warrant; otherwise, what you are doing is illegal." Zhang suddenly became furious and ordered three officers to handcuff Mr. Li.
The officers searched every room and videotaped Mr. Li in each, as if he had given permission for the search. They put confiscated items, including two Falun Gong books, a computer, an external hard drive, an MP3 player, a handbag, two cellphones and six flash drives, into a box labeled "evidence box." They also confiscated Mr. Li's home key and car key and searched Mr. Li's car, before taking Mr. Li to their police station. Mr. Li was forced to sit in a metal chair and had his hair sample collected and blood drawn.
Although Mr. Li and Ms. Wang were soon released, he was arrested again one month later on August 27. The police searched his body, confiscated his keys and brought him to an interrogation room. They didn't allow him to call his lawyer and fabricated interrogation transcript, claiming that they had the right to choose what to record and what not to record. Mr. Li refused to sign the transcript. He was released around midnight.
Husband Under House Arrest After Hiring Lawyer to Defend His Wife for Refusing to Give Up Her Faith
Ms. Wang Zhiyan, a Taiyuan City, Shanxi Province resident, was arrested by seven plainclothes officers waiting in ambush outside of her home, as soon as she returned from visiting her parents on May 13, 2021.
After the police submitted Ms. Wang's case to the procuratorate, her husband Mr. Gao Xiubing, who also practices Falun Gong, hired a lawyer to defend her. Zhang Xiaopeng from the Taiyuan City 610 Office warned him, "If you hire a lawyer, we have all kinds of ways to deal with the lawyer and your family."
As Mr. Gao insisted on keeping the lawyer and seeking justice for Ms. Wang, the authorities attempted to take him to a brainwashing centre. When he refused to comply, the police stayed outside of his home and turned away any visitors. Mr. Gao and his elderly mother were stranded at home without food and necessities.
The authorities not only put Ms. Wang's husband and mother-in-law in harm's way, but also intimidated her own 83-year-old mother and younger brother, who is nearly blind from previous prison torture while serving time for practicing Falun Gong. The family of her older sister, who is also a Falun Gong practitioner, was harassed as well.
Ms. Wang was later indicted. Yet the authorities barred her lawyer from visiting her.
One Year After Husband Dies of Torture, Wife and Family Repeatedly Threatened for Their Faith in Falun Gong
The authorities in Chengdu City, Sichuan Province repeatedly threatened local resident Ms. Yi Shuying and her family that her granddaughter would not be allowed to go to college because of her faith in Falun Gong.
Ms. Yi, 68, has been arrested multiple times and tortured in the past 22 years for upholding her faith. The latest harassment of her and her family happened in October 2021, only one year after her husband, Mr. Chen Huagui, passed away due to injuries from the police beating for his faith in Falun Gong.
Nine people, including officials from 610 Office and the village committee, came to Ms. Yi's home on October 14, 2021 and ordered her to sign a letter renouncing Falun Gong.
They threatened Ms. Yi's son and daughter-in-law that their own daughter, who was in junior high school, would be denied admission to college in the future if Ms. Yi didn't renounce Falun Gong. Ms. Yi refused to comply.
Since then, the officers have been calling Ms. Yi's son and daughter-in-law every day to threaten them.
Harassment Cases
Hubei Physician, Demoted for Practicing Falun Gong, Is Harassed Again
Dr. Wang Lidi, a 56-year-old resident in Xianning City, Hubei Province, was summoned to his workplace, the School of Medicine at Hubei University of Science and Technology, on September 15, 2021, for a talk with four police officers and a section chief at work.
While one police officer claimed his surname was Zhao, Dr. Wang knew from his previous encounters with local police that Zhao's real name is Xiong Kai and he is the director of Yihaoqiao Police Station in Wenquan District Xianning City. The other three officers were Li Zhihua, Huang Yan, and Ye from the residential community.
As soon as Dr. Wang arrived at his school, officer Li turned on his police recorder. Dr. Wang told him to turn it off, accusing him of infringing upon his rights. Li turned it off.
Xiong Kai said, "We just came to see if you need our help."
Dr. Wang replied, "Thank you. However, it has been 22 years since the persecution started. I don't need any of your help, but I think you need to know the facts about Falun Gong."
He explained that Falun Gong is a spiritual discipline based on the principles of Truthfulness-Compassion-Forbearance, and that he simply strives to be a good person by following these principles.
He showed the officers two documents. One was about the Chinese publication bureau revoking the ban on Falun Gong books and publications in 2011 and the other that Falun Gong wasn't on the cult list announced by the Ministry of Public Security.
The officers checked the documents carefully and took pictures. Dr. Wang said it seemed as if they had never heard about these documents.
Dr. Wang also urged the officers to stop participating in the persecution that didn't have any legal basis. "You will eventually be held accountable for persecuting Falun Gong practitioners. I sincerely hope that you all have a good future. Do not become the sinners of history."
They all listened quietly. When they left, they took the documents with them.
Dr. Wang has been repeatedly arrested and detained for his faith since the persecution began in 1999. He was sentenced to three and a half years in prison after he was arrested on September 5, 2005. He was tortured to temporary paralysis on three occasions during his imprisonment.
Dr. Wang's wife was missing when he returned home from prison on April 11, 2009. He was told that his wife had developed schizophrenia because of her constant fears from the arrests of her husband. It took Dr. Wang four years to find his wife. Their son was also diagnosed with schizophrenia in 2015.
The school passed Dr. Wang up for promotion in 2002 because of his faith in Falun Gong. They removed him from his teaching position upon his prison release and transferred him to an affiliated hospital, where he was paid only a fraction of his previous salary. In 2017, the authorities further demoted him from seeing patients and instead reassigned him to work as a lab technician.
"We Will Make Your Mother Suffer Every Day"
Ms. Kou Huiping, a Lanzhou City, Gansu Province resident, got a call from her local village secretary on August 18, 2021, asking her to go to his office for an urgent matter. She didn't go, and the secretary called again on August 20. With Ms. Kou's consent, he came to her home at 10:40 a.m., but with a group of police officers.
The officers recorded the visit and they claimed to be carrying out the "zero-out" campaign to "transform" Falun Gong practitioners. They attempted to force Ms. Kou to sign a statement to renounce Falun Gong. She refused to comply.
The officers brought instant noodles around noon, preparing to stay at Ms. Kou's place and take turns pressuring her. They first threatened to take her to the local brainwashing centre, and later said all of her family members' jobs would be impacted. They searched her family members' information online in front of her, in order to intimidate her. They also called Ms. Kou's brother and ordered him to persuade her. Ms. Kou still refused to comply.
The police ordered another group of officers to harass Ms. Kou's elderly mother. At around 3:00 p.m., those officers came and showed Ms. Kou pictures of her mother looking terrified after being threatened. Ms. Kou refused to look at the pictures.
They said, "We will make your mother suffer every day like this. She is already so old. If one day she can't stand it and passes away, it will be all your fault!"
The officers then resorted to deceiving Ms. Kou by claiming that several practitioners that she knew had signed the renouncing statement to give up their belief. "As long as you don't go out to promote Falun Gong or distribute flyers, you can practice however you want and nobody will bother you," they said, still trying to persuade her.
Ms. Kou responded, "The Constitution grants citizens the freedom of speech and the freedom of belief. What you are doing is against the Constitution."
Qi Guohong, former head of local 610 Office, called Ms. Kou's elder brother on August 26. They said that if Ms. Kou refused to give up her belief, he would not be able to emigrate abroad.
Qi and two officers also went to Ms. Kou's elder sister's home and threatened to shut down her private business. They also called the landlord of Ms. Kou's younger brother and told the landlord not to rent the apartment to a Falun Gong practitioner's family member. As a result, the brother's own business and his child's schooling were severely disrupted.
Additionally, the officers harassed Ms. Kou's mother again, as well as Ms. Kou's daughter, who had just graduated college and was in her first month of her new job's probation period. The police threatened that the daughter would lose her job because of Ms. Kou's practice. Ms. Kou's daughter called her and said she was driven crazy by the harassment.
70-year-old Woman Harassed Again for Her Faith
More than ten plainclothes police officers pounded on Ms. Wu Derong's door at 8:30 a.m. on September 22, 2021. When her neighbors asked what was going on, the police ignored them and just kept yelling, "Open the door! Open the door!"
Ms. Wu, a 70-year-old resident of Luzhou City, Sichuan Province, asked through the door, "Who are you? Where are you from?" She heard someone say that they were from the Yongning Police Station. Then the officers continued pounding on the door. Mr. Wu told them that she wouldn't open the door until they showed their identifications and search warrant. They responded by pounding harder and harder.
Moments later, two more officers came. They yelled while pounding the door, "We are the police, open the door, quick!"
Ms. Wu replied, "I am not going to open the door because you are the police. I dare you to show me your ID and the legal documentation to search my place. You are doing things that are only hurting yourselves. Don't you know that the government is investigating police violation of the law over the past 30 years? I know you intend to forcibly take me away like you did four years ago because I practice Falun Gong. I will not let it happen again."
When the police realized that Ms. Wu wouldn't open the door for them, one of them began to claim that Falun Gong has been banned by the government and that it was illegal for Ms. Wu to practice Falun Gong.
Ms. Wu told them that the persecution of Falun Gong has no legal basis in China. Falun Gong wasn't on the list of cults announced by the Ministry of Public Security and the Chinese Publication Bureau also revoked the ban on Falun Gong books and publications in 2011.
She continued, "More than ten years ago, when I was not at home, you broke my lock and took away my husband's 5,000 yuan from a drawer. The last time when you came to harass me, on September 17, 2017, you ransacked my residence without a search warrant and confiscated anything that you thought was valuable without giving me a list of confiscated items."
Ms. Wu recalled, "You also fabricated evidence against me. When you asked whether I put up any posters about Falun Gong, I told you that I helped a retired person put up two posters to sell his house. Then you accused me of putting up two Falun Gong flyers. You found two Falun Gong books at my home and you said there were 80. While I was serving three years in prison because of that, my house in the countryside collapsed and we couldn't afford to fix it. I have been persecuted for over a decade. Now I'm living at my son's home and you still won't let me alone, as if we haven't suffered enough."
A policewoman in the group threatened to find a locksmith to force open the door. Ms. Wu said that if they dared to do so, she would expose them. She continued, "Think about what you police have done over the past 20-plus years. Instead of protecting the people, you spent all your efforts attempting to force Falun Gong practitioners to renounce their faith. You turn practitioners' children against their parents. So many families have been torn apart because of that. Good receives good and evil receives retribution. Whatever bad things you did will bear consequences."
Then the officer softened her tone and said, "Hey, can you come out to take a look at something? Is it yours?" Ms. Wu replied, "I don't keep anything outside. I don't care what it is. If you like it, you can take it." Another officer threatened that if Ms. Wu didn't open the door, they would stay outside and block her from leaving her apartment.
These people continued pounding on the door for another half hour before they finally left – but not before cutting off Ms. Wu's power again.
The next day at 11 a.m., another five or six agents again pounded on Ms. Wu's door. They said they were delivering something to Ms. Wu. They later changed their narrative and said that they had come to provide Ms. Wu with some health-related information. They insisted that she open the door. But Ms. Wu again refused.
After they left, a neighbor told Ms. Wu to be extra careful because he saw that the officers had handcuffs and shackles with them.
Related reports:
All articles, graphics, and content published on Minghui.org are copyrighted. Non-commercial reproduction is allowed but requires attribution with the article title and a link to the original article.