---
(Minghui.org) Tongliao City of Inner Mongolia was hit with a 46-hour snowfall from November 7 to 8. As of November 9, the accumulative snowfall was 81.3 cm (or 32 inches) and snow depth was 59 cm (or 23 inches), breaking the snow depth record from 1951. Meteorologists anticipate severe impacts if the snow does not thaw in a relatively short period of time.
Cold Wave and White Disaster
Chinese media reported that the blizzard had caused 5,609 injuries and one death as of 4:30 p.m. on November 8.
Although the heavy snow had passed, a small amount of precipitation continued on November 9. Because of heavy snowfall during this cold wave, meteorologists predicted a possible snow-white disaster. That is, as grass is covered up by long-term deep snow, livestock has insufficient food, resulting in fat loss or even death.
Some media articles indicated that this cold wave can have a severe effect on livestock. Together with food shortages, the snowstorm and low temperature could also trigger cold, tracheitis, and other diseases. Occasionally, it can cause the livestock to pile onto each other for warmth, which may lead to stampede deaths. Additionally, livestock may simply freeze to death.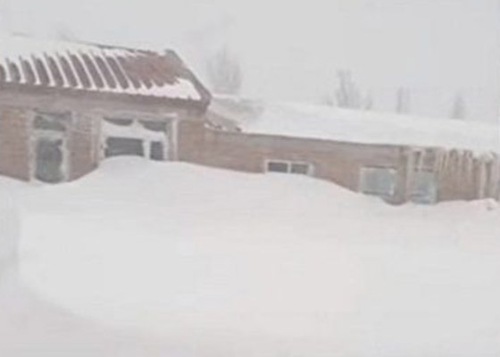 Record-breaking Precipitation in Northeast China
Besides Inner Mongolia, constant snowfall also occurred on November 6 and 7 across many areas including Beijing, Tianjin, Jinan (in Shandong Province), Lanzhou (in Gansu Province), and others.
According to Chinese media reports, a heavy snowstorm broke out in northeast China starting on November 7. Precipitation from 33 weather stations in the region has broken records. Similarly, many weather stations in Liaoning Province, Inner Mongolia, and western Jilin Province also observed record-breaking snow depths.
Due to poor weather, 63 sections of highway roads were closed as of 6 p.m. on November 8. They ranged from Hebei Province, Liaoning Province, Jilin Province, Heilongjiang Province, and Shaanxi Province.
About 10 serial rear-end collisions occurred in Shenyang City of Liaoning Province on November 8 with over 130 vehicles involved.
After the snowfall, many areas announced school closures starting on November 7.
Weather agencies predicted more cold air activities in January and February 2022. As a result, some regions in central and eastern China will likely have temperatures lower than normal years. The chance of extreme cold wave events will also increase.
All articles, graphics, and content published on Minghui.org are copyrighted. Non-commercial reproduction is allowed but requires attribution with the article title and a link to the original article.
8 total views