Falun Dafa practitioners in Montreal, Canada, held a large parade on Saturday, November 7, 2020, calling for an end to the Chinese Communist Party's (CCP) persecution and to support more than 360 million people who have withdrawn from the Communist organisations.
Headed by police cars, the parade consisting of several formations of large banners, display boards, and a motorcade. The procession started on Square Cabot, marched four kilometers along major streets, and wrapped up in Chinatown.
Their messages read: "360 Million Chinese Have Quit the Chinese Communist Party," "CCP's Lies Cost Canadian Lives," "Stop the Persecution of Falun Gong," "Stop Organ Harvesting," and "The Chinese Communist Party Is the Responsible for the Pandemic" etc.
Many people came out to watch the parade. Several took pictures, cheered for the parade, and even joined practitioners.
Many people signed a petition calling for sanctions against those CCP officials who have persecuted Falun Dafa. Some told practitioners, "We know what's happening in China. It must stop!" One woman said, "I sign all petitions to stop the CCP's murders."
Lisa, a local resident, said that China has an admirable ancient culture, but she's saddened by the CCP's violations of human rights of its own people. Tears came to her eyes when she learned about the CCP's organ harvesting. She couldn't imagine such evil crimes were happening in the world. Lisa told practitioners, "What you are doing is great! We, the whole world, need people like you!"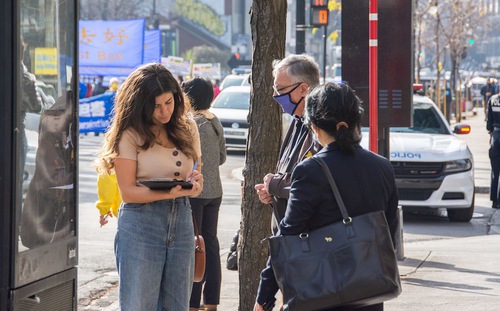 Quichou and her daughter were happy to see the parade. Quichou said that she's from Algeria and that many people emigrated to Canada to escape socialism. She supported practitioners' call to end the CCP. "We shouldn't keep silent," she said. "If you don't question totalitarianism, it will control us. I encourage the Chinese people to safeguard their rights. It concerns the freedom of you yourselves and your children. It's important for our future."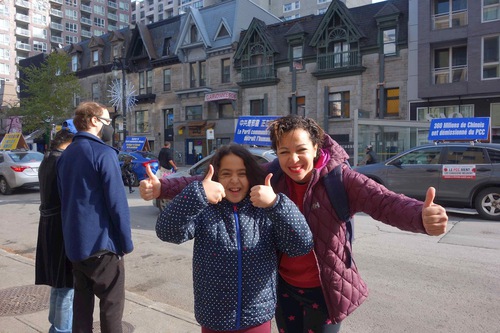 When the parade arrived in Chinatown, Mr. Zheng, a Chinese immigrant, noticed the message about quitting the Communist organisations. When he was told the significance of quitting these organisations, he happily agreed to quit.
Practitioner Gao Shubin held a banner that said, "All People Awaken. Disintegrate the CCP." She was detained in Masanjia Forced Labor Camp for two years and was tortured for upholding her faith, Falun Dafa. She was rescued to Quebec through the United Nations. She hopes more people will awaken to the CCP's brutalities. She hopes Western societies will realize the tragedies the CCP is responsible for and denounce Communism.